Posted on:

October 27, 2020
An enterprise's guide to remote workforce control in 2021
Get Started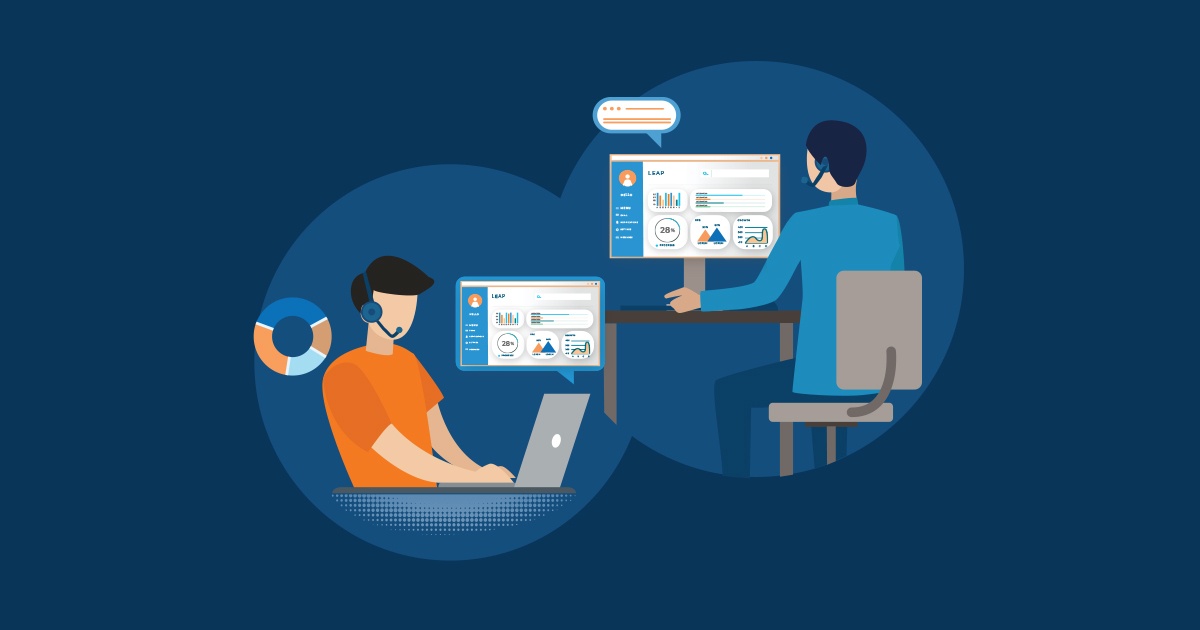 Remote workforce control is a set of strategies or practices that are mainly focused on effectively leading and managing employees who primarily work off-site from a location other than a traditional office space. As the term suggests, each person is working from separate locations, the plan of action for them needs some customized and distinct features other than regular management strategies. Under normal circumstances, employee management planning consists of a framework like training and development, daily distribution of tasks, reporting, business forecasting, and so on.
In the case of remote working, the first challenge is, ensuring every member of the team is connected and their work & productivity monitored. And another factor comes in terms of data safety and security. An optimum solution to overcome both difficulties is adopting the right remote working management platform that can operate as a one-stop solution for your entire remote workforce. From team collaboration to sharing reports, this platform should work as a real solution to your remote workforce control, while safeguarding every data-points of your business.
Remote working trends in a pre-COVID world
It's true that the global health emergency arising out of the outbreak of Covid-19 elevated the demand for work-from-home worldwide. However, especially in the last decade with some impeccable improvement of technology and digitization, many people chose to work from home either partially or fully. Actually, the remote operation comes with two folded beneficiaries for both employee and employer. Firstly, remote working enhances work-life balance for employees. And for employers, it ensures continuity in business operations.
According to Global Workspace Analytics, a study shows that around 5 million employees in the USA (nearly 3.6% of the workforce) were already working remotely either fully or partially.
Obstacles that organizations are facing while implementing gainful remote workforce control strategies
In response to the uncertainties presented by Covid-19, companies worldwide have had to either minimize operations or move entire workforces on remote contingencies. Although work from home is not a very new concept, however with the sudden demand for remote working at a large scale due to this pandemic, many companies are facing challenges to fulfill the platform for remote operation.
While basic practices from an employee's end are required to ensure operational efficiency, more efforts are needed from a manager's end. At the supervisor level, proper collaboration and monitoring tools must be made available to effectively manage and enhance the productivity of remote teams. Remember, a two-way communication channel always helps to enhance the integrity of the entire team. Whether talking about the personal level efforts from the employee's side or the team collaboration part both can be optimized and supervised by choosing the right remote working solution.
The two major steps that come under remote workforce control are
analyzing employee productivity accurately while monitoring them closely and
keeping data security unscathed
Besides these factors, the management of many organizations still struggles to find the best solution. So that can be used for both communication and report management simultaneously with productivity measurement and data security promise. Fortunately, customized workforce management strategies and selecting the right tool for the remote workforce will definitely help to sustain it. In fact, management even can notice an upsurge in the overall productivity of the entire remote workforce. And adopting such plans and tools will be fruitful both for the present time and upcoming years as this pandemic situation will take a longer time to settle.
5 Things to keep in mind while choosing a completely remote workforce control solution
From effective monitoring to a proactive communication tool, there are several points that should be covered under the effective management of remote teams.
1. Monitoring and Productivity
Effective monitoring is not only about snooping into an executive's system; it also helps to understand how the employee spends his/her time during the working hour. Also, a live barge-in helps as an assistant in case of assistant or troubleshooting. A perfect work-from-home solution will always enable supervisors to keep an eye over the team members so that productivity should not get hampered while respecting employee privacy simultaneously.
2. Collaboration
Employee engagement is another big part of an effective remote workforce control solution. Pro-active communication within the team, especially when everybody is working remotely, always helps to improve the integrity within the team. Quick and secure employee collaboration not only gives a sense of belonging, but it actually helps to cascade work strategies fast and effectively. Communication channels like live video calling platforms, live chat, etc. provide the leverage to have instant and effective collaboration among remote team members. Also, a secure team collaboration channel helps supervisors to broadcast important announcements for their team members comfortably.
3. Publishing Reports
Whether on-site or off-site working, every person of an organization should know the outcomes of their efforts. But under remote working, there is always a headache of sharing reports with everyone at the same time. To overcome this issue, the best way is to publish every report under a common single-page viewing dashboard option. Reports related to payroll, performance, attendance and log-in hours, etc. can be easily uploaded/ modified under such a unified platform. This will always be very effective for the entire remote team. Because it helps them to get a holistic and analytical view of their performance in a much easy way.
4. Scheduling Training Sessions
To achieve the desired level of productivity and to grow apposite skills among team members, arranging effective learning and training sessions are essential. This is why under remote working a secure way to conduct training sessions is crucial. Live virtual classroom sessions and a knowledge base that works as a self-learning tool for remote employees are best in this section. An ideal knowledge base should be easily navigable for its users. And can be used to store every required training material and guidelines of every particular line of business. Proper learning and development channel can accelerate the effectiveness of remote workforce control strategies by multiple times.
5. Workplace data security
With a certain upsurge in the work-from-home framework, one of the challenges that organizations are facing is the constant fear of data leakage and cyber-crime. From March onwards, a variety of advanced cybercriminals are actively attempting to take advantage of the vulnerable infrastructure exposed by the massive number of employees working from home due to this COVID pandemic. Security experts from Microsoft detected a massive phishing campaign, that uses 2300 different web pages attached via emails that actually lead to a sign-in page to capture personal credentials.
It's not only always about external threats. An employee's side is also vulnerable to any data leakage as well, especially during remote operations. That's why it's very important to ensure that the entire remote team is working under a secure and unified platform. Fortuitously, with the help of today's AI-based technology and secure VPN path, data leakage can be minimized both from user-end and external threats simultaneously.
Going for the right tools and technology for efficient remote workforce control
The major challenge that organizations face while implementing remote workforce control strategies is the lack of a perfect platform that can serve as a one-stop solution for remote operations. Leapmax as a remote working solution helps you to get overcome every bottleneck of work-from-home. At the same time, it safeguards your business data secured and fortified from any threat. It comes with single and unique log-in credentials for every user. Apart from as a workstation tool to communicate with customers; it also comes with live chat and video conferencing tools for team huddles. Also, it is integrated with knowledge base software. This works as a tool that makes self-assistance really easy for every user.
It's true that more or less, every company is facing challenges due to a sudden shift in the workspace. That's why each facet of Leapmax is targeted to overcome these constraints arising due to this unexpected situation. In short, this platform is specially designed to combat every challenge of remote operation that companies are facing nowadays. To know more about Leapmax and why it can be the best one-stop solution for your remote workforce management program to be effective with this new normal.