Posted on:

October 27, 2020
5 principles for enterprises to simplify remote workforce control in 2022
Get Started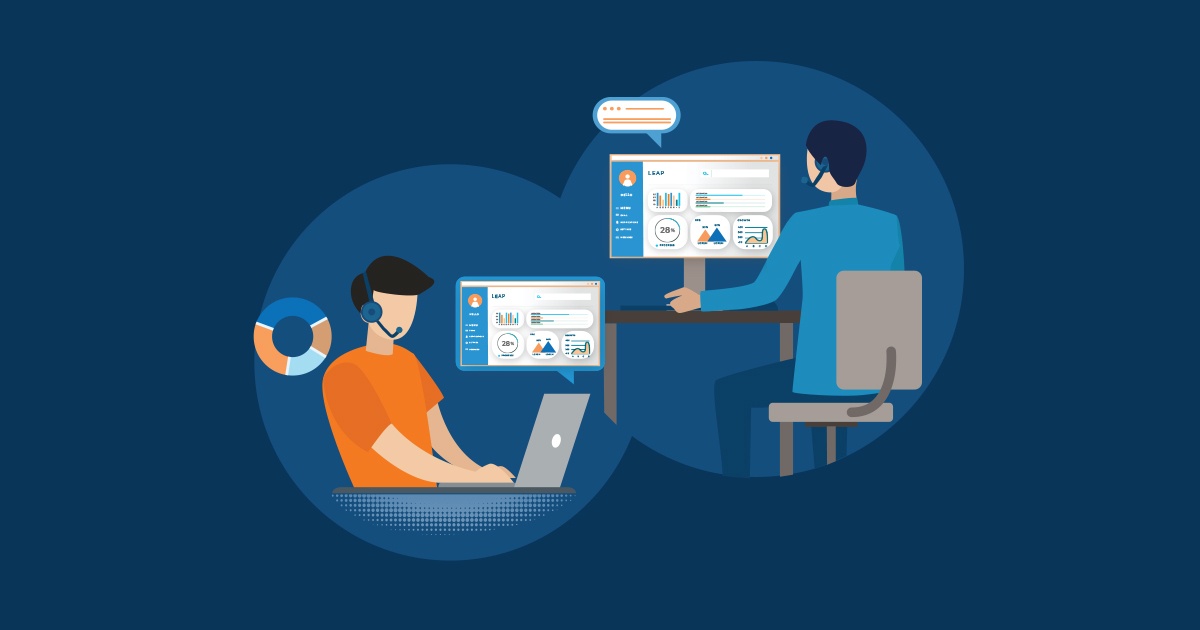 Remote workforce control is a set of strategies or practices that are mainly focused on effectively leading and managing employees working remotely.  People working from different locations need a comprehensive and effective plan of action for them to thrive.
Under normal circumstances, remote workforce productivity management planning consists of a framework like daily distribution of tasks, reporting, business forecasting, and so on.
On the contrary, the key challenge in remote workforce management is ensuring every member of the team is connected while securing data security. An optimum solution to overcome difficulties is that remote work projects are adopting the right strategy. A suitable remote workforce control tool that can operate as a one-stop solution to cater to all your challenges such as:
Managing productivity of the employees
Helping them communicate with each other and supervisors
Detecting and preventing scope of data theft
Case Study: 98% lead validation for global telecom
Download Now
Beginning from tracking employee productivity to enabling seamless collaboration among hybrid teams, a platform like remote work monitoring software is the ultimate solution for enterprises. "Hybrid is the future" and businesses need to enable effective solutions and strategies to sustain longer in a competitive market.
Remote workforce monitoring software for enterprises and BPOs
According to Global Workspace Analytics, a study shows that around 5 million employees in the USA (nearly 3.6% of the workforce) were already working remotely either fully or partially.
In the coming years, workers across the globe would prefer to work remotely for a better work-life balance. So, the chances of this partial working from home or office might turn to full-time working from anywhere in the world.
Thus, businesses should be ready to enable set-ups that do not need to transform or create panic among workers when unforeseen circumstances happen. There, an employee monitoring system for remote teams step in and help to keep up with the new normal.
What obstacles does this remote workforce monitoring software encounter?
Whether talking about the personal level efforts from the employee's side or the team collaboration part, both can be optimized and supervised by choosing the right remote working solution.
But firstly, businesses need to identify the loopholes in the productivity level of employees by closely analyzing their performance behavior. If employers are not aware of what they need to act on, managers might not be able to understand where progress is needed.
We are mentioning certain challenges that might be faced by employers providing work-from-home opportunities. Take a look:
Measuring productivity of employees throughout their workday. What they did, on what platforms, how much time they took for completing activities, and more.
Tracking quality and compliance refer to if employees were following their KPIs like not using phones, someone else was working on their behalf, or delaying practices that might hamper the overall customer experience.
Employees are available on workstations throughout their shifts and do not slack off from their duties while working remotely.
While basic practices from an employee's end are required to ensure operational efficiency, more efforts are needed from a manager's end. At the supervisor level, proper collaboration and monitoring tools must be made available to effectively manage and enhance the productivity of remote teams and ensure that all of the above challenges are properly addressed.
Maximize your hybrid team productivity
Know more
5 crucial aspects to keep in mind while choosing a completely remote workforce control solution
From effective monitoring to a proactive communication tool, there are several points that should be covered under the effective management of remote teams.
1. Monitoring and Productivity
Effective monitoring is not only about snooping into an executive's system; it also helps to understand how the employee spends his/her time during the working hour. It is more of understanding their work patterns to improve employee productivity during remote work.
Also, a live barge-in through remote co-browsing tool helps supervisors to assist agents in making the customer experience easier. A perfect work-from-home solution will always enable supervisors to keep an eye over the team members so that productivity should not get hampered while respecting employee privacy simultaneously.
2. Collaboration
Employee engagement is another big part of an effective remote workforce control solution. Proactive communication within the team, especially when everybody is working remotely, always helps to improve the integrity within the team. Quick and secure employee collaboration not only gives a sense of belonging but actually helps to cascade work strategies fast and effectively.
Communication channels like live video calling platforms, live chat, etc. provide the leverage to have instant and effective collaboration among remote team members. Also, a secured remote team collaboration tool helps supervisors to broadcast important announcements for their team members comfortably.
3. User behavior and analytics
Whether on-site or off-site working, every person of an organization should know the outcomes of their efforts. But under remote working, knowing about the background of what is happening is the key to generating accurate insights. Identifying the use behavior through machine learning-backed analysis helps to make things easy for managers leading to better feedback reports. Reports can be related to payroll, performance, attendance log-in hours, etc. can be easily uploaded/ modified under such a unified platform.
4. Compliance and quality assurance
In any industry, the most critical part that decides the overall business excellence is the compliance followed and the quality delivered by workers. That is why compliance teams ensure this quality by monitoring the activities of remote workers. The remote work scenario makes it even more important as supervisors do not have access to all employees working remotely. Remote employee monitoring tools assist supervisors proactively and bridge the gaps between supervisors and workers digitally.
5. Workplace data security
With a certain upsurge in the work-from-home framework, one of the challenges that organizations are facing is the constant fear of data leakage and cyber-crime. It's not only always about external threats. An employee's side is also vulnerable to any data leakage as well, especially during remote operations.
That's why it's very important to ensure that the entire remote team is working under secured connectivity. With the help of today's AI-based remote employee monitoring tool, the scope of data leakage can be minimized both from user-end and external threats simultaneously.
Go for the right tools & technology for efficient remote workforce control
Today, it's the era of hybrid working. Businesses are thinking more about creating revenues from this expanding scope of avenues. Thus, it becomes crucial that your business is completely guided on the basis of what to look for and how to run that process smoothly.
Our remote employee monitoring solution Leapmax helps you to overcome every bottleneck of work-from-home. At the same time, it safeguards your business data and prevents your data from being harmed by any threat. It is designed to combat the challenges projected by remote work.
Businesses need to identify their necessities to streamline their remote work. Without knowing or understanding the core aspects that create the actual difference in employee performance, challenges can never be resolved completely.