Posted on:

March 30, 2021
Hybrid office model- The new normal for business workforces
Get Started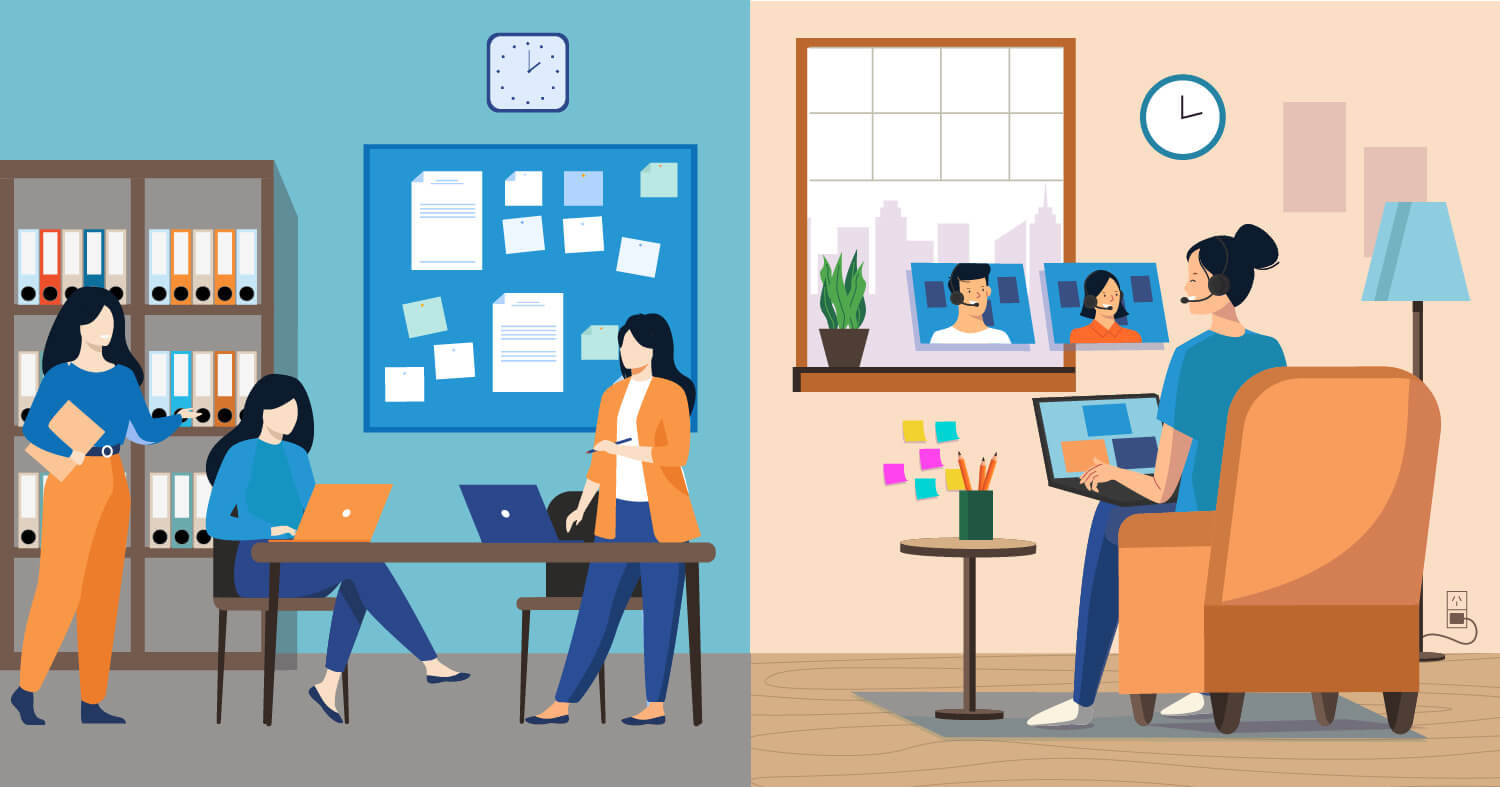 Since the beginning of the pandemic, organizations have had to adjust themselves to new ways of working which in the beginning was to adopt a work from home system. However, as companies have opened their offices and a few employees have started on-site working while others are continuing to work from home.
The concept of a hybrid office is not relatively new for organizations. But, the concept was only existing in the risk management files. Now, it has become a phenomenon and businesses are looking to build a hybrid work environment for their employees.
In a survey with 600 respondents conducted by Xerox, it was found that about 58% of companies worldwide plan to modify their work from home policies within the coming years.
Before digging deep into its changing policies and future, let's clear our basics first.
What is a hybrid office?
Hybrid work is a combination of onsite working and remote working where there may be some operations where physical presence is mandatory and other functions that can be handled remotely. Here, for the remote workforce, the company may or may not permanently approve them to work remotely and ask them to come to the office a couple of days in a week and work remotely for the remaining days. This would be applied vice-versa for on-site employees as well.
"Hybrid office is all about optimizing your workforce in a crisis."
However, to make the hybrid working profitable and operational, the companies should declare their policies with transparency over the different verticals. It requires on-site presence in few departments like production, logistics, material handling, warehousing and the rest can work remotely. Therefore, employees should be well-informed and fully updated as to the expectations set by their organizations.
How to establish a hybrid office?
Following are some of the essential requirements for setting up a hybrid office:
1. A clear-cut hybrid policy to be laid out is mandatory
It should be known to all the workforce who are suitable for remote working and to those who require physical on-site presence. There may also be specific guidelines for remote workers who may come to the office for some days in a week and on other days' work remotely. If these policies and guidelines are in place, it will keep the workforce well informed and updated about what organizations are expecting from them. Adequate investment in cybersecurity cannot be ruled out as remote workers are most vulnerable to such threats.
2. Re-configuring the office
In pre-lockdown, limited office space was packed with workstations as WFH was not so critical at that time. Now, it is the new norm that offices will be small with the dynamic layout of seating arrangements which will save on rent, electricity, logistics, security, providing for the ergonomic work environment.
3. Need for right tools and technology
The company should have a clear and transparent policy about how to help the remote workforce to set up their workstation. For example, what accesses are required for each level into the company dashboard, what types of authentication tools are required to make it safe from cyber-attacks, what type of tools for communications via audio and video conferencing, how to send confidential heavy files, and much more.
Effect of hybrid working on HR policies
In the post lockdown scenario, when things are rapidly changing and new norms of corporate culture are coming into existence; a great responsibility lies on the HR managers to ensure continuity of operations of the organization in order to maintain its relevance in the times to come. Due to rapidly changing technology, HR personnel should upgrade themselves from transactional activities to hiring the best talent, who can work both on-site and remotely. Besides, it should have empathy and an emotional quotient for the existing workforce. They have to transform themselves on a 360-degree basis.
How businesses will manage hybrid offices in the coming future?
Businesses are undergoing a challenging phase in post lockdown and maintaining a hybrid office is an extremely delicate balancing act. The management needs to make sure the remote worker should not feel like a second-class citizen in his company since they are not working from the office.
The leaders and HR personnel should ensure to keep up their motivation level and instill in them a feeling of inclusiveness into the company's structure. There should be clarity of expectations from them and priorities should be set in advance so that they remain focused.
Communicating with each and every employee by supervisors and HR managers is essential because it helps to create a sense of belongingness towards their company. Be empathic to them and think of their pain areas by putting your own foot into their shoes. Through humility, empathy, and tactfulness, try to address their genuine concerns and provide the solution.
Earmark some periodic happy hours where participation should be for all through Zoom or Skype and such interaction should be without an agenda where they can discuss anything including work.
Besides this, some tools are also necessary for employee activity monitoring to ensure the best performance from them and to provide them security from cyber-attacks. These may include the following:
1. Block key combination
Where certain key combinations are blocked for the users if the admin feels that such combinations will dilute cybersecurity.
2. Website Whitelisting
Access only those websites which the user is permitted to browse.
3. VDI Integration
Working in Virtual Desktop Infrastructure within virtual machines where logging is done through multiple authentications. Here, the user works in the shared dashboard where penetration is almost impossible unless its authentication is compromised by the user.
4. User Image records
Through the web camera of the users' system, the admin can take pictures of the user to limit the chances of fraud.
5. Regular Screen Capture
Admins can take screenshots of the user's monitor if they find that the user is deviating from his path or indulging in any unusual activities which can affect the organization.
Takeaways
The time has come for the organizations to brace up the challenges posed by hybrid working through empathy, humility by leveraging artificial intelligence. This will keep employee attrition in check and retain talented resources.. All the employees should have a sense of belonging towards the company regardless of whether they are remote workers or onsite workers.