Posted on:

March 17, 2021
Remote team collaboration: Stay social with hybrid teams effortlessly
Get Started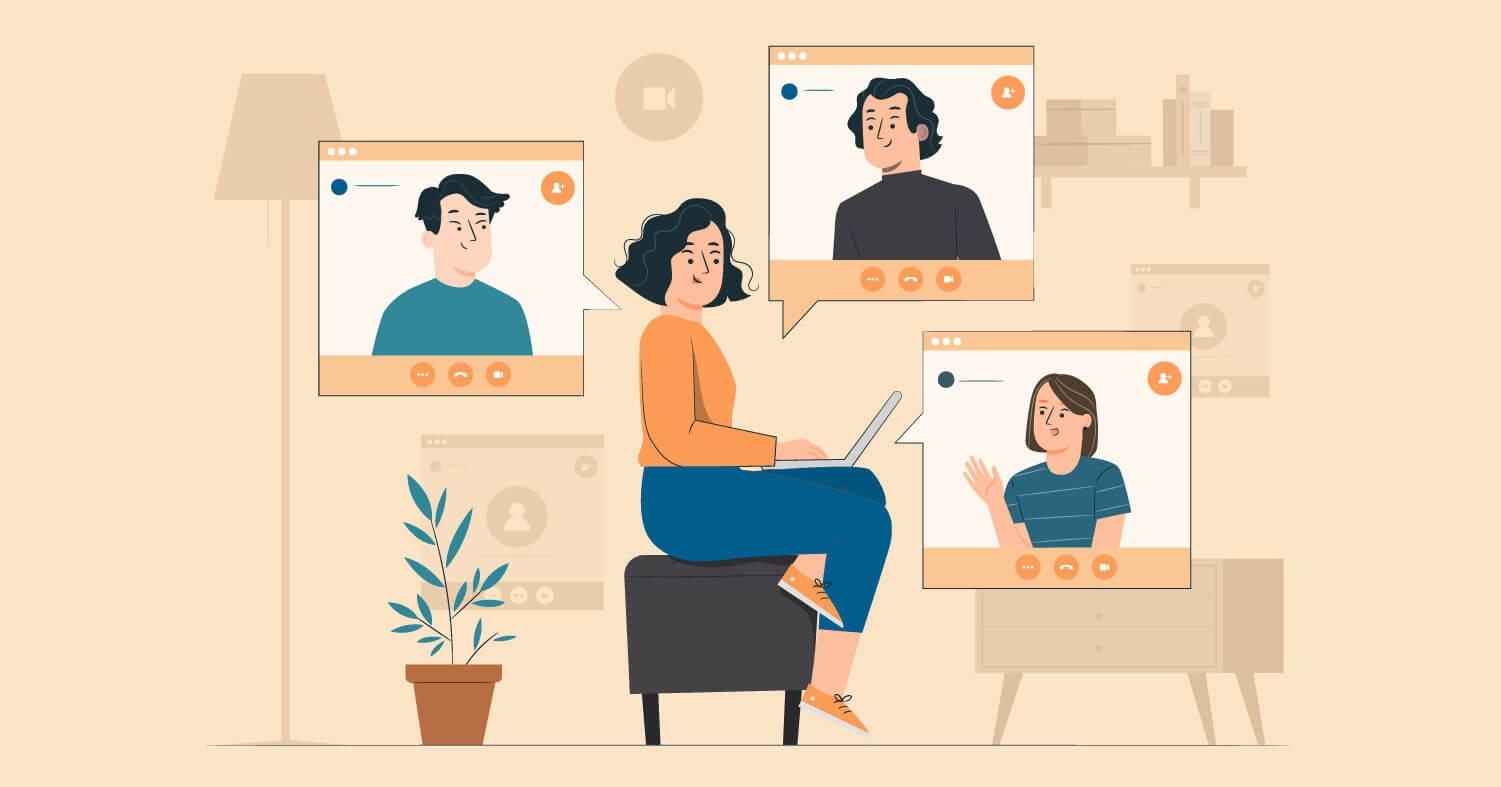 How are workforces able to be in synchronization even after being away from each other? Remote team collaboration software is the major reason that organizations are opting for virtual interactions and flexible work facilities for employees.
Embracing the seamless virtual connectivity
Organizations with hybrid workforces thriving in different working styles, geographies, time zones, and flexible work hours may experience rapid growth in upcoming years. No matter what the department or location of the workforces will be, representatives can decide to work both remotely and at workplaces according to their convenience, offering a great deal of adaptability. Be that as it may, it requires communication, proper management, and trust among colleagues.
Working from home has opened up new avenues for organizations and allows them to manage and design their new ways of working. It has given managers the flexibility to focus on their core business activities while the remote team collaboration helps them and employees to be on the same page. People working from home may feel a distinction from their on-site peers but technology is always there to help. It is very important to make hybrid teams feel connected with each other and their supervisors to maintain remote workforce management.
Learn from the few tips mentioned below on how businesses can stay in touch with their employees operating remotely.
Manage your hybrid workforce seamlessly
Learn more
1. Organize short breathers
Since employers who have no idea of the visibility of the remote employees cannot indicate about their frequent or extra breaks while working from home. Employees do have the right to enjoy breaks and have those office-like watercooler chats.
To help employees have breaks and chat with fellow remote and on-site colleagues, the remote team collaboration tool integrated into the employee productivity tracking platform can enable a virtual stress buster that will help remote employees feel connected to each other. It's fundamental to keep your off-site workforce feel energized and enthusiastic about the work they do by transforming the culture they thrive in.
2. Energize virtual learning
Numerous organizations have put resources into e-learning stages and representatives will actually want to master new abilities and up-skill their current expertise in the additional hours. Businesses are looking to draw rules for representatives and train them while they work from home.
The real agenda behind this can be how employees can upskill themselves in their loop of working hours and feel ever connected to the organization. Employees also love to engage in tasks that encourage them to master new abilities and grow. At a point when businesses are looking to expand, up-skilling support staff and agents become crucial. It will naturally keep them inspired and allow them to contribute more to business growth.
3. Support groups chats
Your representatives don't like to work consistently. Even though everybody is working from home, that doesn't mean your staff wouldn't value the opportunity to get in touch with their colleagues. Considering the fact of employee engagement, setting up a weekly virtual gathering could be a better idea. These virtual interactions will allow your remote staff to bond with each other. However, it will not offer an office-like ambiance but still can help them in knowing about their co-workers to form better work relations.
You can leverage different tools for team-building activities for video conferencing and live chat tools integrated into the platforms like productivity tracking software. The objective of these specialized tools ought to be to improve on things, not make them more difficult. Businesses can utilize various features to stay connected to their agents.
4. Enable remote workforce training
Learning management software can offer great help to enterprises and BPOs when it comes to making learning and training convenient for both supervisors and agents. Businesses can easily train their employees while keeping a constant check on their work performance and productivity.
Yes, that is possible! Technology like employee monitoring systems can provide access to learning and knowledge management tools to push employees to perform better. Virtual team-building endeavors in conference calls comprise a few painstakingly planned methodologies, games, and exercises that are intended to carry more human collaboration to remote work.
5. Use technology to facilitate remote collaboration
Technology helps to fulfill commitments and allows off-site agents to feel attached to the team. Set up a hybrid work model by utilizing advanced transformations like an employee productivity tracking platform with access to remote collaboration tools for, empowering daily discussions, tracking employee project deadlines, and making remote teams feel connected to the organization. With AI-backed tools, businesses can easily make stronger connections between remote and in-office employees without involving much human intervention.
Conclusion
It is pivotal for your business to help the teams stay connected with each other for better functioning and understanding of each other's work criteria seamlessly. Besides, you must make sure that employees do not underperform because of any glitches in communication or collaboration with their supervisors and teammates. Enterprises and BPOs can achieve such efficiency in remote team collaboration with the above-mentioned tools and tips especially catered to today's hybrid work needs.