Posted on:

March 18, 2021
Remote work- What are the obstacles organizations can face?
Get Started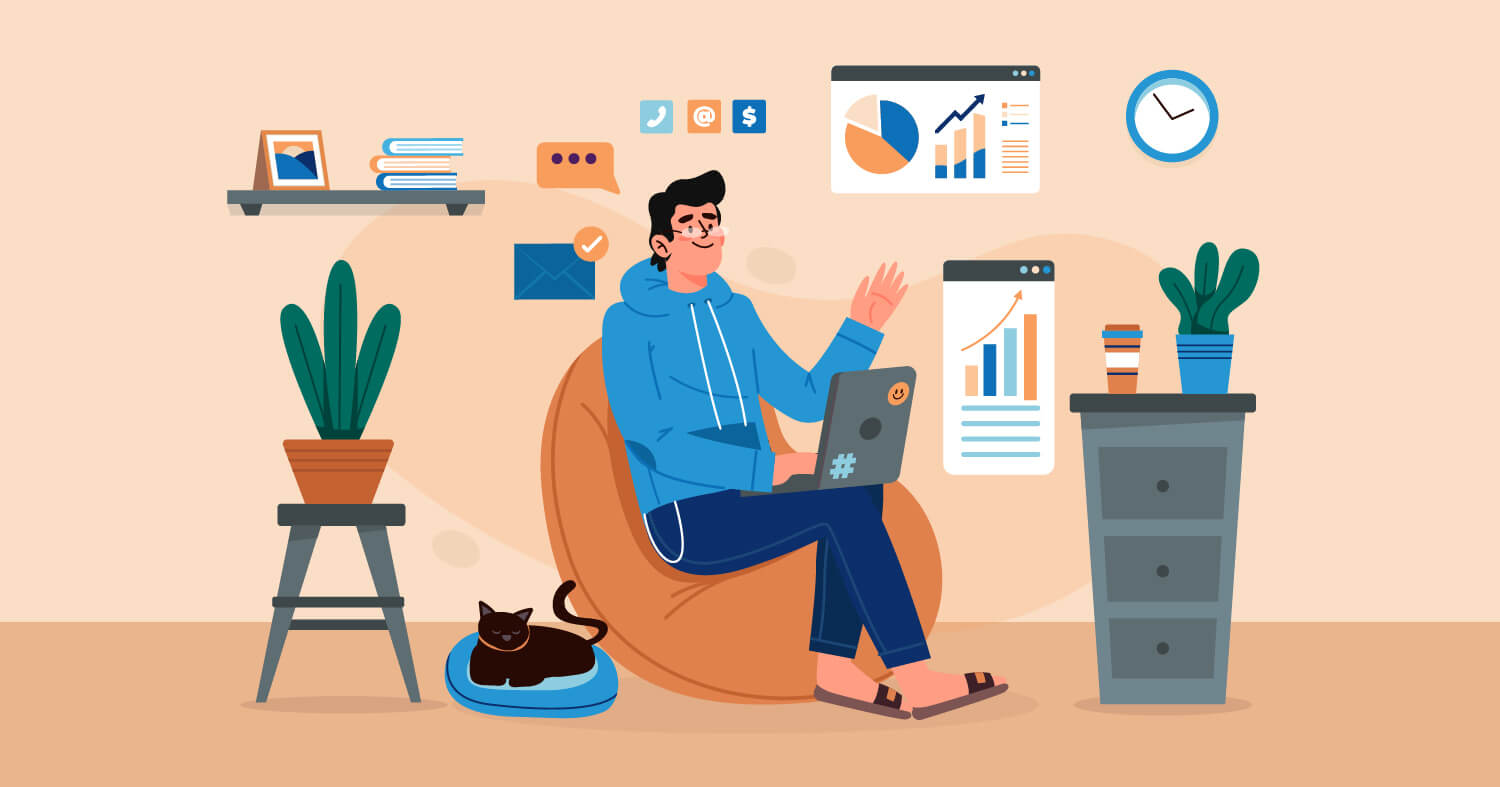 Remote work or work from home is not a new theory to encounter by the enterprises. Many organizations across the globe were way more ahead in terms to implement a hybrid work model where employees could work from anywhere when needed. Some companies only chose to plug in work from home environments during an emergency.
For instance, the COVID-19 pandemic sparked the revolution among companies where they had nothing else to choose but work from home for employees. Somehow, they ended up being laggards in remote work when the pandemic happened and are still facing consequences with no right tools, strategies, and backup in place. Remote work is here to stay and will eventually see some growth in the upcoming years.
According to a report, 73% of all the departments will have remote workers by 2028 where 33% of the employees will be fully remote. (Source)
Employers understand the well-known benefits of how remote work is feasible to cut down on extra operational expenditures, and employees feel elated when they save commuting expenses or have the flexibility to work.
Why companies hesitate to enable remote work?
Companies would always be skeptical about employees slacking off from their workspace during work from home as the teams work far away from each other with no supervision. Whatever the situation or crisis seems, organizations must have a solid work from home policy and tools to foster staff productivity and give them chance to work while collaborating remotely.
How can remote work fully be achieved when companies at least need a majority of the staff in the office? This is, especially, true with the staff who is new and cannot be trusted with remote work. Their work can be traced but not the timings they complete their tasks assigned.
Organizations know the value of investing in any individual whether it is a trainee or a person with long-term experience. It is all about gaining the trust of employers till the time employee is credible enough to gain the benefits of remote work. Therefore, companies have some legit reasons to not make work from home a full-time priority.
5 challenges employers face during remote work
Let's explore the reasons and find out why companies won't let all the employees work from home indefinitely except the emergency scenarios.
1. Team building and collaboration
Collaborating remotely is the key to making work from home successful. However, a little collaboration over messages and long meetings without end goals would be of no use. High-priority tasks that need constant updates while knowing what teams should be working on them, and when they need to collaborate with other team members on the project should be the core elements in collaborating remotely.
Remote work collaboration is not as same as meeting co-workers in person. It requires more planning, remote collaboration tools for keeping every team member on the same page. It makes sense that companies require high-quality collaboration, else, would want employees back in the office.
2. Social connectivity and engagement
Remote workers can feel out of the team if there is no engagement involved. Work-time conversations and water-cooler chats have become the things of yesterday when every team member could feel included. Today, when virtual connectivity is there, supervisors have to make sure that every employee contributes a bit in social interactions.
In the digital world, it may be possible to chat, text, and talk through video conferences but we cannot estimate what does the mental health of a person looks like. Thus, companies worry about employees who live alone under work pressure and feel the need for social aspects might exclude themselves and leave, eventually.
3. Productivity measurement
Are your employees working? Are they even working or sitting in front of the screen? Are supervisors appreciating every employee's work equally? Who knows what employees do when they work remotely?
Management has to take care of every task while retaining employees and making sure that they do not lose a client because of one stupid mistake in the extensive project. Everything depends upon staff productivity and how things are aligned.
Tracking productivity is one thing but keeping everything in line seamlessly is the crucial aspect. Companies' are concerned about such things during remote work implementation. Technology like employee monitoring software allows employers to monitor only what is important.
4. Work from home environment
For all employees, working from the home environment doesn't need to be the ideal solution. Companies fear that not every employee can handle both work life and personal life together. Even if they do, it can take a toll on their mental health and productivity.
While some employees ace remote work and go the extra mile in completing the tasks, even sit at night and showcase how dedicated they are; others who have family around them need to manage everything. That is why not all employees prefer remote work and choose in-office work instead.
To keep everything equal, companies have to bifurcate everything smartly so that the choices of the employees with different perspectives do not contradict. Keeping such circumstances in mind, companies may not give work from home or choose not to go remote entirely.
5. Data and network issues
We know the consequences of working on several devices. When we do remote work, things can go out of hand. Employees do not know which site can be harmful to the information they are working on, or crucial data is vulnerable to cyber hackers and malicious activities.
Companies understand this and want to streamline data leakage detection during remote work. Combined projects where some employees are working in-office and others from home need many apps and software for collaborating remotely. This can lead to cyber-attacks and loss of control of the data stored. Data protection software with VPN troubleshooting capabilities can be of great help to companies.
How employee monitoring software solves these challenges mentioned above?
Time-tracking and monitoring employee screens are not the end goal of the organizations. They need effective digital tools to make employees collaborate remotely, prevent data theft, assist in VPN (virtual private network) troubleshooting and boost the productivity of the employees at the same time. Employee activity monitoring is a solution to streamline work from home and redefine how companies would see remote work as a bigger advantage to business growth rather than fearing certain circumstances.
Conclusion
With an efficient hybrid work model and remote collaboration tools, businesses can have long-term benefits while making employees believe they can work both ways without interruptions or missing the social aspect.