Posted on:

March 21, 2022
An All-New Approach to How You Measure Employee Productivity in 2022
Get started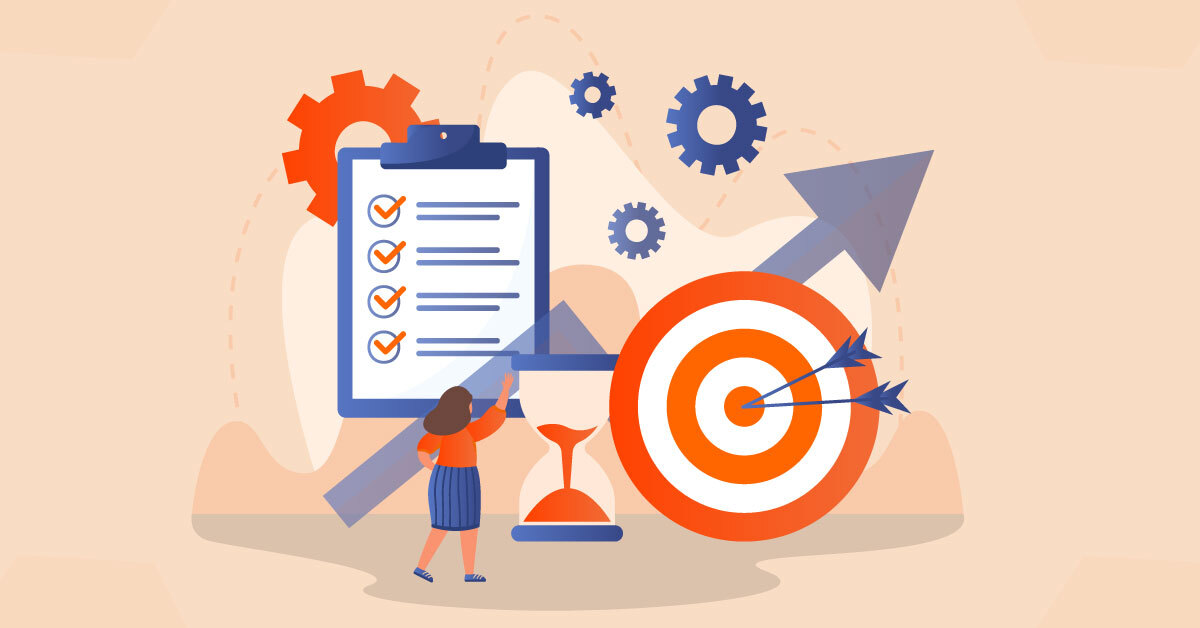 One of the most important driving factors of a healthy business is employee productivity. The way we measure employee productivity has been evolving for years. To manage today's workforce, companies need to continue to embrace new tools, boost employee engagement, set clear expectations and regularly stay in touch. It is the only way for enterprises to compete successfully in a technological reality that is undeniably here to stay. Measuring employee productivity boils down to identifying what the employees are delivering!
It is also crucial to determine employee performance while the new normal pattern of hybrid work in 2022 mixes with remote culture. We will touch upon all new approaches that best suit employee productivity measurement.
Employee Productivity
Employee productivity is a result of measuring an employee's efficiency to do work against time. Productivity is an important part that leads to success and growth. It is a fact that employees play an important role in a company's growth and progress. One of the best practices of organizations is measuring employee productivity.
One of the most important factors in employee performance is to achieve goals. It is one method of assessing how employees fulfill the duties of their role, complete required tasks and maintain good conduct at the workplace. Successful employees meet deadlines, make sales and build the brand via positive customer interactions. When employees do not perform effectively, consumers feel that the company is apathetic to their needs and seek help elsewhere. The measurements of performance include the quality, quantity and efficiency of work.
Measure Employee Productivity
A productivity measure is necessary for competitive advantages, and to help management take timely business decisions.
Measuring employee productivity is vastly changing in every industry. Employers are relying more on technology than on the workforce. A whole slew of apps streamlines employee management toward building stronger goal-setting cultures. The market is packed with all kinds of user-friendly, easy-to-use and engaging apps that promote autonomy and boost productivity. These programs manage projects excellently. They keep track of individual tasks and performance by measuring the time to complete a task and comparing the expected and actual results.
Case Study: 98% lead validation for global telecom
Download Now
Best Ways to Measure Employee Productivity
HR often looks for ways to know how to improve workplace productivity.
The following are some of the best methods when the accountability of employees matters, including those in a hybrid workforce.
1. Develop Productivity Measurement Policy
Create a policy for measuring in-person, work-from-home and remote employee productivity. Besides the conventional baseline to measure output per unit of time, identify and add more business-oriented measures like customer experience (CX), increase in website traffic, and leads turned deals. The policy should clearly define the objective, tools, and process of how the measurements are done. The transparency in the process will build trust with employees and help them prioritize their work.
2. Define KPIs
Key performance indicators provide the workforce with useful metrics to measure effort and benchmark progress. Identify key performance indicators (KPIs) for each role in your remote team that is measurable and achievable. For example, a sales target to a sales representative or call resolution rate for a customer service agent could be the right indicators. These KPIs are purely intended as high-level markers to indicate overall employee productivity. They allow businesses to quickly identify potential problems, which are often the result of wider operational issues, resource availability and workflow bottlenecks.
3. Define Baseline for Metrics
The method to set standards for every role is the expected output for this task. The industry standard targets could benchmark different tasks your employees perform. The baseline guides through the roadmap while employees work on the tasks. Both a manager and a team member will have clarity of what is expected.
Employee productivity is a metric calculated based on the time it takes to produce a project. It can also be measured against the productivity standard or 'basis' for a group of workers doing the same work.
4. Create Milestones
Task breakdown into milestones helps track work progress when clear milestones are defined. For example, the progress report regarding milestones gives visibility to task status, burnouts, and projected resources.
5. Set Goals
Identifying and aligning employee productivity outcomes contribute to reaching the business objectives of the organization. A periodic assessment of employee goals thus helps plan any corrective actions in processes. Also, with a handy performance status, HR can easily complete employee appraisals.
6. Set Estimate to Complete  
Experienced managers can set an estimated time to complete a task. Several factors are being considered when a time estimate is derived. Benchmarks should refrain from any overquoting or underquoting. This approximation serves as a baseline after it is verified and refined for actual findings of similar work.
7. Focus on Work Quality Than Time
The time spent on a task does not rightly reflect productivity, rather it captures the number of tasks. A right measure of possible tasks in a day can be standard to measure. For example, metrics like how many average-rating call center tickets can be processed in a day, and how many lines of code can be developed by a programmer can give a more comprehensive picture of the scenario.
8. Track Employee Level Progress
Many teams contribute to the total outcome of a business. Therefore, your system should have the ability to trace what an individual employee contributed. Measuring the realization of the effort an employee spent indicates performance. The ratings thus help decide productive employees.
9. Track Time
Time-tracking is the basis to derive workplace efficiency. Time-tracking is one way of seeing the reality of your working processes. With an embedded feature in employee productivity tracking and monitoring tools, you can create a new productive normal. The tool helps in identifying if any employees are overworking or underworking. You can also spot inefficiencies in your working process when you track time diligently.
Workmanship
Encouragement adds to performance, and performing employees are considered a valuable asset to the organization. Some employees give every kind of work their best shot regardless of reward or appreciation. For some, they lack pride in duty. However, the human element always accounts for company productivity as a whole. In addition, cultural alignment and cultivating trust at work may result in some employees bringing a unique set of innovative ideas and skills to the workplace.
In addition to standard productivity tracking software, optional collaborative tools like Google Drive/Dropbox, Slack or other meeting channels available online complement work bonds with a remote team.
Technology-Aided Approach
The tech approach helps boost productivity measures in one or several ways.
1. Utilisation Analysis
While the nature of tasks and targets are defined, the employee's progress in a given time reflects their efficiency, often proportionate to performance. It is therefore essential to track how much time an employee spends on work. A series of online time-tracking software is available to help automatically track employee time spent on work. The analytics of this type of data is further used to generate reports and rate employee performance and aid in management decisions.
2. Report (Daily)
Tools that capture daily progress conveyed and registered by employees help the manager check the health of the project at hand. Regular feedback regarding status will motivate team members to affirm they are doing right and being productive. A robust reporting structure is recommended to help identify potential problems and act on time. Also, the frequency of reports should not be stretched for weeks or months. Prolonged reports carry no dynamism. The project or time-tracking tools facilitate a variety of reports.
3. Make Use of Software
In a distributed environment, cloud-based tracking software helps keep everyone on the same page. The tools enable managing a team-based workgroup and keeping track of the tasks scoped in the project. JIRA, for example, is a great software for tracking software development activities. For managing projects in the marketing domain, Trello or Asana offer excellent features.
4. Automate
Multitasking sometimes impacts employee time. They might adopt technology wherever routine tasks and less important small jobs can be done with machine-based automation, such as schedulers. Examples include email campaigns, survey analyses, and even lead-generation work.
5. Employee-Linked Business Productivity
Productivity means adding value to any activity performed in the scope of business operations. From the business perspective, business productivity monitoring is essentially exploring the employee productivity findings and ensuring the business growth is on track. The productivity increases enable organizations to turn resources into revenues, pay and reward stakeholders, and keep a reserve.
The key objective of employee monitoring software for remote teams is to keep the workforce focused and improve productivity. While remote employee monitoring is a necessity today, organizations need to strike a balance between the need to monitor employee activity and an employee's right to privacy. Employees should not feel offended, and they should accept the arrangement as a part of work processes to measure employee productivity.
The Outcome
Workforce productivity, often referred to as staff productivity, measures an organization or company, a process, an industry, or a country. Improving efficiency in the workplace is about your employees working smarter, not harder; it is not enough to crack down on employee efficiency. Workforce productivity, commonly referred to as employee productivity, is a measure for an organization or company. Improving employee efficiency in the workplace means that your employees are convinced and trusted by the tracking and monitoring policy. As a result, they mutually reciprocate the work positively – most top-ranking tracking software bundle the above discussed new ways of measuring employee productivity.