Posted on:

January 15, 2021
A guide to managing your new employees working remotely
Get Started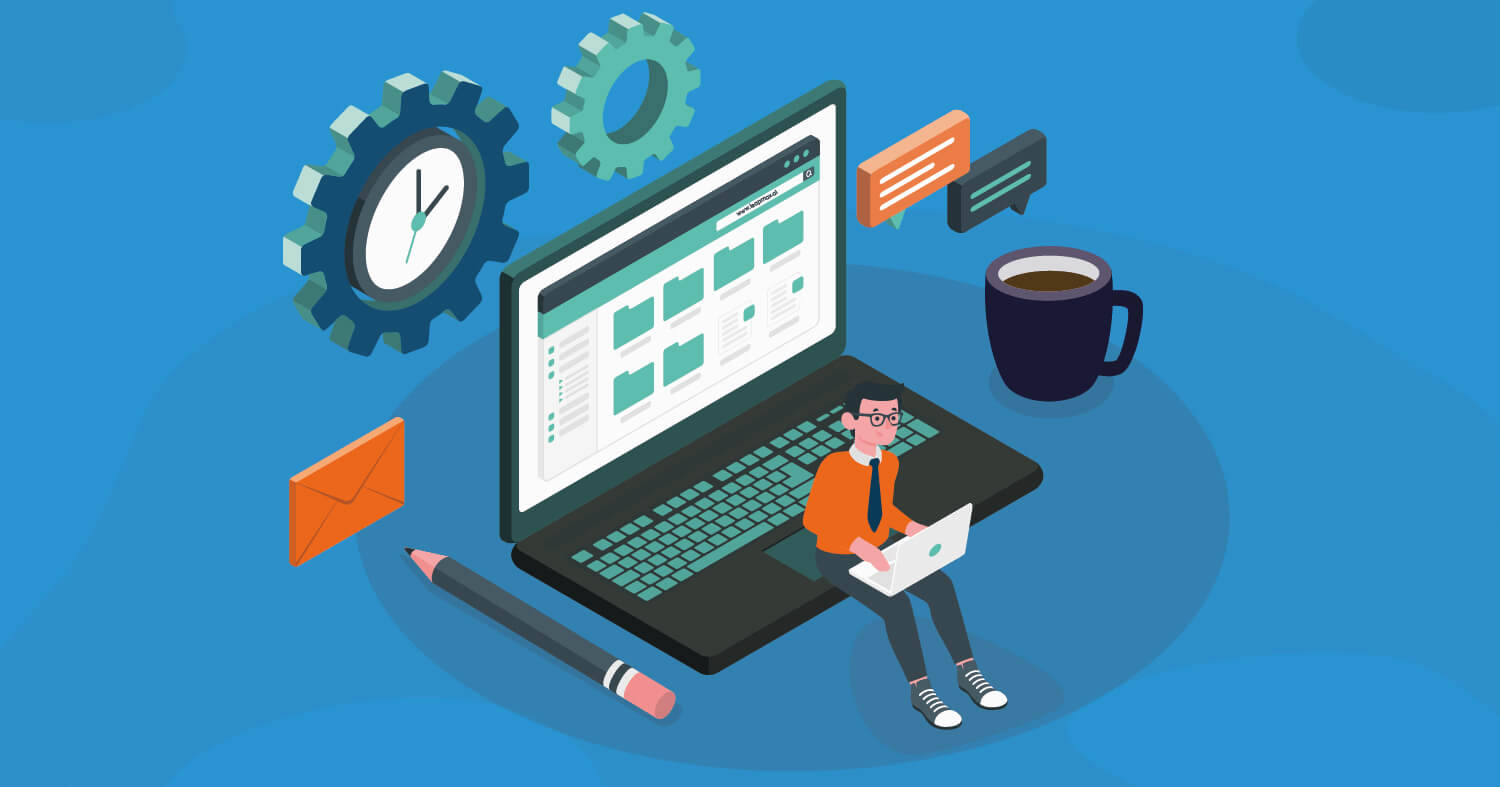 The Covid-19 pandemic has changed the way people are working and collaborating. In a stressful situation such as this, employees of organizations across the world have adapted to new ways of working remotely. For a long, working from home was viewed as working from a 'non-official environment'. But now, given the current situation, working from home is seen as effective, cost-efficient, and safe.
During the pandemic, 88% of organizations made it mandatory for employees to work from home (Gartner). This means that the entire global workforce is engaged in a virtual working environment. Remote workforce monitoring solutions have provided an edge for industries whose employees are working remotely. It presents unique challenges, some of them unprecedented, for people managers. Although more than 75% of employees say that they are more productive working from home (CoSo Cloud), reports indicate that employees have to be engaged even when working remotely. Otherwise, many issues may arise that relate to communication gaps, misinterpretations, lost opportunities, psychological problems, etc.
The following section discusses how to effectively manage employees working from home and gives a complete guide to working remotely.
5 Benefits of remote hiring
Now that it seems that working remotely has more advantages, companies have begun to realize the benefits of remote hiring. The following are some of the benefits of hiring remote workers for organizations.
1. Remote employees turn out to be more productive
Research by TINYpulse and Global Workplace Analytics suggests that 91% of employees who are working remotely felt more productive. The reasons being that employees save time in traveling, are less distracted, can work during their favorite timings, feel valued, and feel in control. Importantly, employees can stay with their family, friends, relatives, children, wives, husbands, pets, etc. All of this creates a positive experience. The employee does not feel the need for work-life balance as their families are only an arm's length away.
2. Access to a wider talent pool
Restricting hiring to only local candidates or candidates who can relocate to a place is counterproductive. It is restricting talent. If a good candidate is at a particular location and cannot relocate for some reason, then the organization traditionally may not have considered hiring this candidate, although unwillingly so. But now the situation has changed. Location does not matter. The candidate could be anywhere. An organization is more than willing to hire this candidate remotely and allow remote working. By doing this the organization has access to a wider pool of talent from anywhere across the world.
3. Reduce business cost
Studies have estimated that hiring remote workers saves the business more than $10,000 per year per employee. Much of the savings come in the form of real estate savings. Costs incurred on furniture, cleaners, office supplies reduce.
4. Reduces wasted productivity hours
Research shows that working remotely reduces wasted employee hours or billable hours. On average, employees could be wasting eight hours per week on activities that are not related to work. With remote workers, hours working on projects are the only hours that are billed. Organizations are not concerned about wasted billable hours.
5. Reduces costs/expenses for the employees
It's not just employers that benefit from remote working. Employees save a lot of money too. Expenses related to renting payments, lease payments, maintenance payments for their apartments, household expenses, relocation costs, travel expenses, taxes, electricity, gas, phone bills, equipment usage payments, internet expenses, and several other allied or hidden costs can be reduced. Although these costs may seem negligible at first, at the end of the year, cumulatively, the costs turn out to be a huge expense. Saving this expense is not just money saved, but value-added.
Common challenges organizations face with a 'Work From Home' policy
With all the good things being said about working remotely and understanding tips on working remotely, there are challenges too. Work from home policies is yet to mature. Work from home companies has now started to embrace a WFH culture. The evolution of processes and technologies to support such a paradigm shift will take time. The following are some of the challenges that organizations might need to address in this regard.
Lack of a face-to-face welcome
After an employee has been onboarded remotely, an organization might need to have orientation and induction programs for the new hire. Typically, these are held face-to-face and for a few days. But with the new situation, organizations are needing to find ways to accommodate induction and new hire orientation programs online.
Information accessibility
Not all information is accessible remotely. Some sensitive information is restricted to be accessed within a corporate Local Area Network (LAN). But remote working has created the need to access such information resources from outside corporate LANs. Although VPN (Virtual Private Network) technologies exist that allow safe access to network resources, VPNs are not always foolproof. Because everyday network attacks are becoming sophisticated. So much that organizations are simply reluctant to let anything out yet.
Social isolation
The pandemic has made remote work from home employees sit inside the confines of their homes. They dare not step out because of fear of transmitting the virus or catching the virus from others. Studies indicate that employees are feeling socially isolated when working remotely. They are becoming depressed. More so because they are not able to get outside their homes. Ideally, they would want a mix of visiting the office sometimes and working from home sometimes.
Network issues
Network technologies are not yet evolved to support the high demands of remote working. Offloading traditional corporate LAN and WAN-based tasks to the open wireless and wired Internet infrastructure is exerting the network infrastructure. Public network infrastructures are still being fortified for integrity, speed, fidelity, and security. The technologies are still evolving. So it is common to hear from employees that they were not able to download something, or unable to attend a meeting, or are unable to send across an important piece of information because of network issues.
Staying motivated
Working from home means not interacting personally and face-to-face with colleagues and peers. Staying in touch with them in the physical world could have a positive effect on the psyche of the employee. The employee could feel motivated to accomplish their duties when in constant interaction with their stakeholders. But when working in isolation, the same level of engagement could go missing. There could be misunderstandings that may arise.
How as a business can you support your remote employees?
Communication
First and foremost is to engage constantly with the employees daily or at a periodic level. The more the communication from the organization, the more the employee feels integrated, secure, and involved when working remotely. The employee will feel less of isolation and be more aware of the context they are in.
Trust
Organizations should learn to trust their employees. When organizations invest in trust, they reap trust. Even if a few employees could become vagrant, a large number of employees would reciprocate favorably. When a business trusts an employee, research suggests that the employee feels valued. They take extra efforts to repay the trust by working effectively.
Virtual fun activities
Nothing stops the human resources department of a company from conducting fun activities virtually for employees. Virtual fun Fridays are becoming the norm. At the end of the week, employees congregate virtually and have a fun-filled interaction with each other. This increases team bonding and team interaction.
Why enterprises are choosing Leapmax?
Leapmax is a complete work from home solution that enterprises have implemented. Leapmax is an artificial intelligence-enabled remote worker, remote employer platform with a slew of integrated solutions. Allowing workforce monitoring, remote collaboration, remote learning & training, reporting & analytics, data security, network health check, etc. Leapmax is complete employee management, mentoring, monitoring, and productivity solution for enterprises.
Conclusion
Remote working and work-from-home will stay here for the long term. Studies suggest that soon this could become the norm. Businesses have begun to understand the huge cost savings associated with virtual working and management. Therefore, they have to look in a new direction to find ways to improve the 'work from home' paradigm and create policies that promote it.