How to use work insights
to build productive hybrid teams?
Build high-performing hybrid teams
Learn more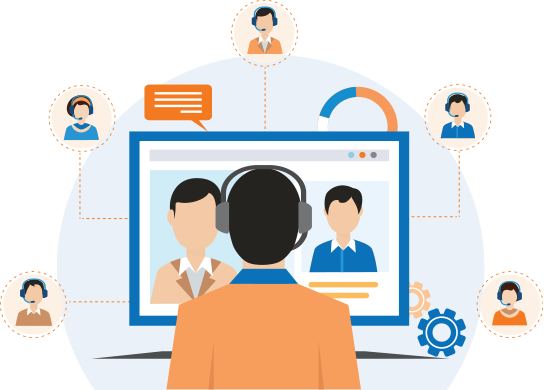 Effortless conversations with Leapmax's remote team collaboration software
With zero need to switch apps or screens, Leapmax allows for seamless remote collaboration within teams and organizations using controlled private channels, groups, and broadcast features. Users can connect with their trainers, supervisors, and subject matter experts instantly with one-on-one messaging or group chats. The platform also allows supervisors to broadcast important updates, avoiding the need to send email blasts and make individual phone calls. With its remote team collaboration software, share ideas, assist team members, and build morale.
Why should a two-way remote team collaboration tool be an integral part of a remote working team?
Effective communication among team members is one of the paramount aspects of any business. However, there are some misconceptions that while working remotely people are on their own; or more precisely, creating a feeling of 'out of sight, out of mind'. What is important, is the lack of communication adversely affecting the productivity and integrity of the entire team. Some of the major reasons why any business needs an effective collaboration tool for its success under a work from home setup:

Helps to interact faster and work on feedback in real-time

Enhance employee morale in making them feel connected

Prevent data theft with integrated collaboration space

Instant help from supervisors with proactive notifications
How can Leapmax's communication tool for remote workers help?
Quick and secured remote team collaboration tool that not only gives a sense of belonging but also helps to communicate goals and strategies. Leapmax, as a communication tool for remote workers, leverages live communication from individual to group level. For supervisors, it allows broadcasting important announcements across teams.

From one-on-one window to group level, a user-based chat option

No need for external apps or platforms to communicate within workforce

Broadcasting team-based alerts is easy and smooth

Being an integral part of Leapmax, sharing certain confidential information is safe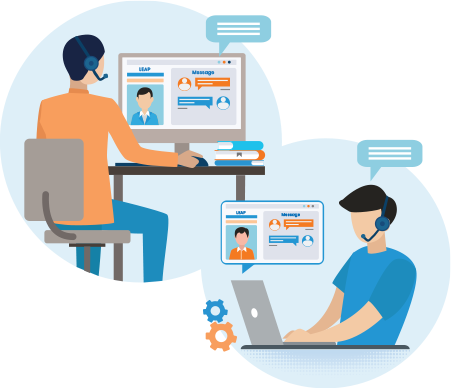 Built-in live chat tool
The communication tool for remote workers can help hybrid workers communicate easily, It does not require any external or additional sign-ups. There is no need to switch between the windows as Leapmax provides a unified space to foster collaboration across teams by providing access to group chats, video conferencing as well.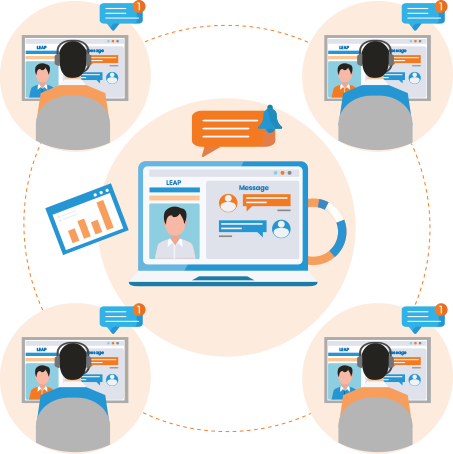 Circulating team-based alerts and notifications is both trouble-free and fast
One of the collaboration features of Leapmax is broadcasting. It allows admins and super admins to disseminate any important message instantly to each active user of Leapmax. By using the broadcast messaging tool, an admin can draft and share any notification with his team members. The announcement/alert flashes across every user's platform, while ensuring zero interruption on receiver's monitor during a customer interaction.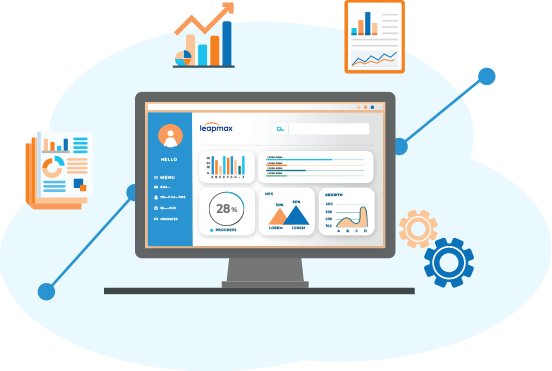 Eliminates all chances of data leakage
As this live chat tool is an integrated feature within Leapmax, there is almost zero chance of any data leakage. Being an in-house feature that renders any requirement of using external chat tool, it also makes communication fast and safe all at once. Leapmax with its impeccable monitoring and AI-based workplace security features operate as a perfect remote team collaboration tool while meeting all security protocols of remote working.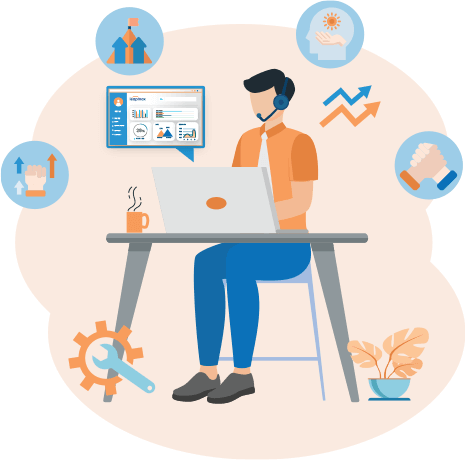 Credit where it is due
With teams working remotely, there maybe gaps in morale or motivation. While its important to maintain team morale, is also equally important to give credit where it is due. Appreciating and acknowledging the work your teams put in is important. And that's why we, at Leapmax, use our broadcasting and collaborative tools to ensure our teams feel cared for by appreciating good work done. Because at the office or not, each one deserves to be seen.
You'll never want to go back
once you Leap
Get a Demo