Posted on:

January 5, 2022
4 critical ways remote workforce management software helps you in 2022
Get started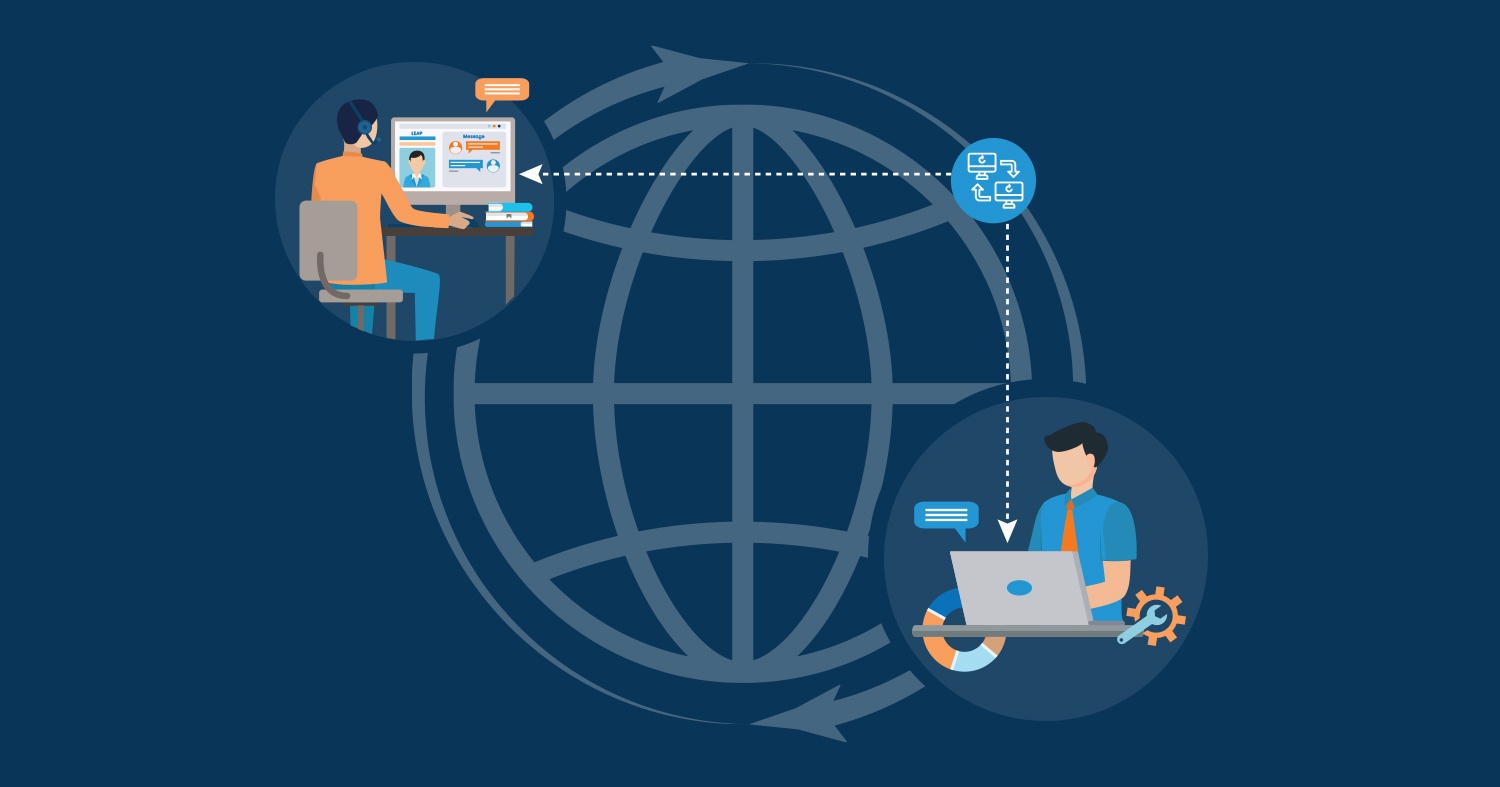 Remote workforce management software has become a crucial aspect for maintaining business efficiency since it created opportunities for businesses to track and monitor the productivity of the workforce remotely.
Work from home getting on a bigger scale needs massive support technologically that has a tendency to be cost-efficient and help businesses thrive productively.
This is where the employee productivity tracking platform steps in and makes things easier for businesses like contact centers that need smooth-running of daily operations.
Why do you need a remote workforce management tool?
The fundamental objective for any organization under remote operation is to make sure that the productivity of its workforce should not shrink compared to its on-site operation. To achieve this, organizations must make sure that every remote employee should have access to information needed for daily operations, and can easily communicate irrespective of the location they work from.
Secondly, it's not only about monitoring time-sensitive activities, endpoint data security is another major concern under remote work. The chances of data leakage or any sort of data-theft activities can be avoided. Therefore, companies should look for a one-stop solution that will work both as a monitoring tool and will also ensure a data-secured pathway.
Some best practices to exercise while managing large remote teams
Although remote operation organizations get benefits like saving office expenses or leverage to hire the best talent irrespective of location, managing remote employees is not that easy. Firstly, under the individual platform, the remote employee should be self-motivated and disciplined enough to get the job done. So, clearing out the expectations and drawing realistic deadlines are very important under remote operation.
Team communication is a very important aspect that helps to enhance the integrity of the entire team which in turn increases the overall productivity of employees. Supervisors can cascade work strategies on a daily basis through a dedicated team huddle platform.
A remote team collaboration software can also be used to conduct virtual learning and training purposes as well as new employee onboarding for your remote workforce. Besides getting the job done, a two-way communication channel always works as a mental booster for remote employees and eliminates the feeling of disconnection among them.
Apart from collaboration, live monitoring always amplifies the visibility of an employee's approach towards a particular task. Employee monitoring while respecting their privacy helps to understand how a person used to spend the entire working hours. Real-time tracking clubbed with a perfect communication channel also helps employees to get live assistance in any task-related query or guidance.
Having a proper set of remote working tools renders numerous benefits for your team that in turn boost the productivity of the remote team. The employee monitoring software for the remote workforce should be capable to bring all the required tools for operation under one umbrella. From video conferencing to endpoint data security, the management tool you choose should enhance the visibility and enable productivity analysis of the entire team.
Let's highlight the major parameters that remote workforce management should consist of so that it can fortify the best performance among employees regardless of different locations.
4 major modules to check for effectively managing a remote workforce
1. Measuring Workforce Productivity
Real-time monitoring clubbed with effective workforce management strategies always improves the overall operational productivity of a team. Remote workforce management software that enables you to "keep an eye" over the entire remote working team is best. Under remote working the major bottlenecks organizations faces while measuring employee productivity are:
Mapping activity and log in hours accurately
Real-time monitoring to get an insight into employee productivity
To get the whole picture, live monitoring should measure actions like average time spent by employees to complete a task, approach towards executing a task, and so on. Real-time activity tracking helps to get a clear picture of website usage.
This ensures data safety concerns, which are especially vulnerable under off-site operations. Choosing from the options of employee monitoring software should depend on measuring productivity to data security is always worthwhile.
2. Collaboration & communication
Whether under remote work or on-site operation, collaboration is the primary factor that maintains connectivity within a team. Proactive communication always helps to cascade work strategy easily and keeps the entire remote team on the same page. Besides, a two-way work strategy sharing channel, assisting through live chat helps a remote employee to be in sync with a supervisor.
An employee productivity tracking platform with the capability to foster collaboration among remote teams can also eliminate the chances of data leakage as supervisors can keep track of things in real-time connectivity.
3. Workplace data security
Along with maintaining productivity, "data safety and security" is the other principal concern that companies are facing with remote operations. With the rise of the work-from-home concept due to Covid-19, the vulnerabilities of data security can be found easily.
Any sort of unauthorized access or activity can be prevented with proactive alerts from employee monitoring software. To make the entire data safe and remote operation smooth, businesses must go for a solution that consists of features like website whitelisting, AI-Based user validation along with live monitoring, and activity tracking.
4. Quality and Compliance
Reporting works as the fuel of the practice called business intelligence. And this is why reporting is the primary component to take future business decisions. Under remote operations, things can be a little hard or arduous leading to loss of improvement opportunities.
That's why going for monitoring software for remote employees that has a user-oriented single-page dashboard viewing option is always helpful. Also, the admin can easily filter or customize data according to business requirements. Generating reports from regular activities of employees gives you an insight into the scope of improvement and feedback of employees.
Ending Remarks
3 major aspects that remote workforce management strategy should focus on:
Real-time productivity tracking
Data security
Staying connected with remote teams
Quality assurance of remote teams
Leapmax as a remote workforce management software is specially designed to cope with these remote work challenges. With unique log-in credentials for every user; it uses AI-based user validation technology that ensures the authorized person is only working on the system and not slacking off from the work. It comes with an integrated collaboration tool simultaneously that enables you to conduct communication and connectivity between hybrid teams.