Posted on:

April 23, 2021
Work from home experiment- How employees typically work at home
Get Started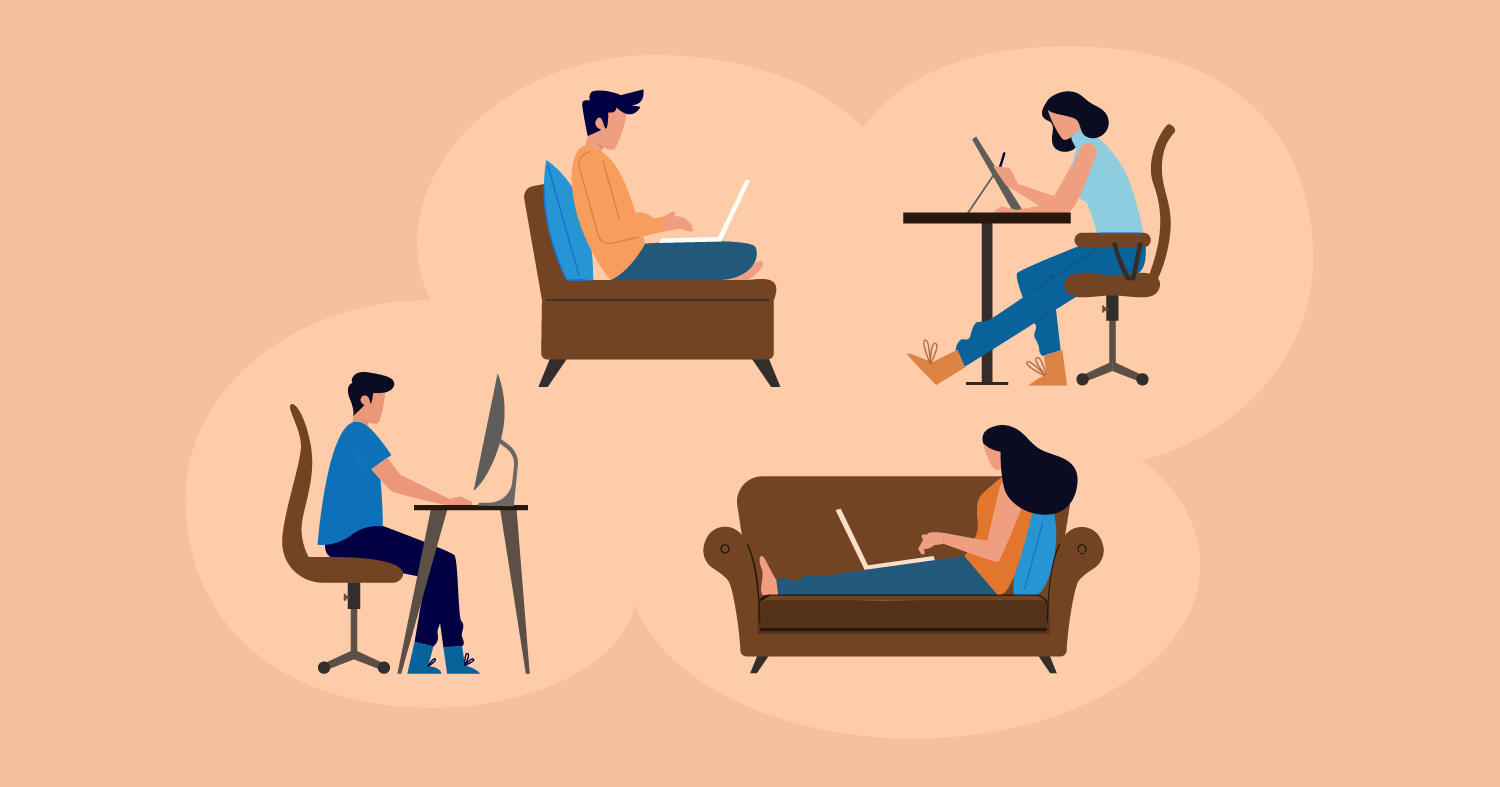 2020 was the year when the pandemic led to the mass transition of office work culture to work from home implementation. No business is predicted to adapt to remote work in such a way. This led to spending hours and hours at home, no outdoor activity, and limited access to social life.
How would it feel to live under so many restrictions because our safety was a major concern? This massive shift involved all of us so much than we could have in the usual mechanics of work at home. Organizations were compelled to do this makeshift including a bigger staff because of the pandemic, which they would not do, otherwise.
However, the employees have become used to work from home culture and the figures supporting this work from the home strategy are astonishing.
According to remote work statistics, a gigantic 97% of respondents would love to have a flexible working plan in the long run. (Source)
While many organizations already had this remote work flexibility in place with a chosen number of employees and not the entire workforce, this bigger transition offered the toughest challenges to the management of the companies.
Swinging between work-life balance at home
Here we are, a year later; still affected by the consequences of the COVID-19 and making our way to survival in hard times. Work from home shift has become a journey full of trials while giving us realizations to learn about what could go wrong and what alternatives we can adapt to keep things in motion. Businesses cannot stay stagnant when there is too much to handle, and too many employees to feed and train.
As employees moved from office to work from home, supervisors were always concerned about employee productivity without being present in the office. Management always wanted to know the tasks that employees were working on and employees making sure they could go the extra mile in achieving tasks effortlessly.
Conquering excellence in work during these unprecedented times was not easy either. It took plenty of effort by the employees to figure things out and employers to keep helping them in staying sane.
In such times, when everyone in the company had to deal with work issues at home, the other issues at home were serving as utmost distractions. This was making things more difficult to tackle, maintaining work-life balance was getting out of hand for all.
Thus, what employees and employers learned from this shift because even now most businesses are thriving online and there is a probability that businesses are not completely going to their physical space soon.
4 Lessons learned by the business not understanding how remote work would benefit them, jumped to conclusions too soon. Had they been into technologies like remote employee monitoring software and concrete strategies, they would have had better outcomes in the beginning. Let's see what could help them in making their remote work more strategic and aligned with the points mentioned below.
1. Efficient communication tools
Having the right tools and strategies in place to enable communication was the fundamental aspect. When employers had anything with them for remote work assistance, they felt the need to go digital. Digital tools like employee monitoring software could help employees to fill the trust gap of communication between employees.
If employee monitoring software was enabled by the companies, in the beginning, that technology was useful in finding the staff productivity and gaining insights on the work progress of every employee. All of this raised questions on the employer's part that how hard they needed effective communication tools even when they are in office.
2. Asynchronous work communication
Majorly, internal workplace communication has been in a way where teams are synchronous with each other. They work on the same projects, at the same time, and in a similar environment. Remote work boosted the daily communication among team members through constant video calls, online meets, and live chats. It was understandable that managers always wanted to keep tight checks on employees and ensure that work levels do not drop.
While this created a fear among the management to interact in sync, asynchronous communication was the best thing to do without expecting an immediate response. It prioritizes focusing on amplifying productivity and where employees do not have to prove constantly that they were working hard.
3. Company culture
Culture is the secret sauce in any office environment that keeps the employees and clients happy. It is said that good employees do not leave leaders or companies; they leave the organizational culture which is the main aspect in keeping them motivated throughout. In the absence of a centralized physical office work culture, the fear surrounded companies that they would not thrive in remote working environments.
There is no good thing that the pandemic happened, but there have been surprises coming out positively. This is true especially for the way it equalized everyone and went beyond the geographical limitations. Companies, however, need to adapt to new technologies that will make company culture more manageable during work from home.
4. Sustaining Productivity
Productivity is something that goes hand in hand with a seamless work environment. To achieve everything streamlined in remote work, employers had to go through network issues, website attacks, and device configuration issues faced by the employees. Such problems were the major roadblock in employee productivity that companies could not afford to have during troublesome times.
Attaining that productivity was simpler if companies had technology like employee monitoring software to enable seamless VPN (Virtual Private Network) connectivity, whitelisting websites to prevent malicious cyber-attacks, and so on. When companies can have reliable solutions, there is no way that employee productivity will suffer.
Employers or companies need to have employee-centric solutions to save the moments that matter and avoid mistakes in the times we are currently facing. One of the many priorities should consider employee wellness in a holistic way like looking after them in the physical, mental, and social aspects.
The environment that works in a way catered to the employees' needs is much likely to win even in remote work. Creating virtual meetings for team-building activities through video conferencing platforms can do wonders. This will nurture and foster their active participation.
The teams will feel connected to each other, and employers can also check their work getting done with strengthened morale.
How employees could foster remote work flexibility?
Flexible work must be deployed both ways to get things done. Work from home should not only be employee-centric but also be beneficial to the employers. Workers need to figure out the challenges that the company might face. It can work like sharing information clearly and convey to the employers what is not working instead of keeping things negative.
This can help in making employees proactively collaborating in business strategies to solve problems. Such communication should come from the leadership and disseminate information among employees in an extremely transparent manner which will build trust for the future.
Work from home has always come with assumptions. Where employers feel the urge to supervise, employees face challenges that do not end with good feedback. Healthy remote working needs, uninterrupted internet access, reliable network keeping everything functional which is certainly not in the hands of the employees.
They can still try to do their level best. There comes a tool like an employee monitoring software with integrated features to make VPN connectivity clear and deter data theft by whitelisting websites that are of no use originally.
Employees know that they have to work harder beyond doing the assigned work. Remote work is a great opportunity for the employees to learn in their respective fields. They can take assistance in LMS training from their employers to learn industry skills from the comfort of their home and contribute a lot more than is expected of them.
Summing Up
Work from home started with all, whether it was the employer or the employee. It made everything equal no matter who was doing what work. Collaboration was highly needed and digital tools were required to make work from home simpler than ever. Those who practiced remote work were quite a way ahead but the challenges were difficult to handle for every industry.
The lessons learned by the employers and the employees have paved a new pathway for them to experience and taught them to be future-ready every day with ever-evolving technologies.