Posted on:

October 27, 2020
Make everyday work conversations effortless with a team collaboration software
Get Started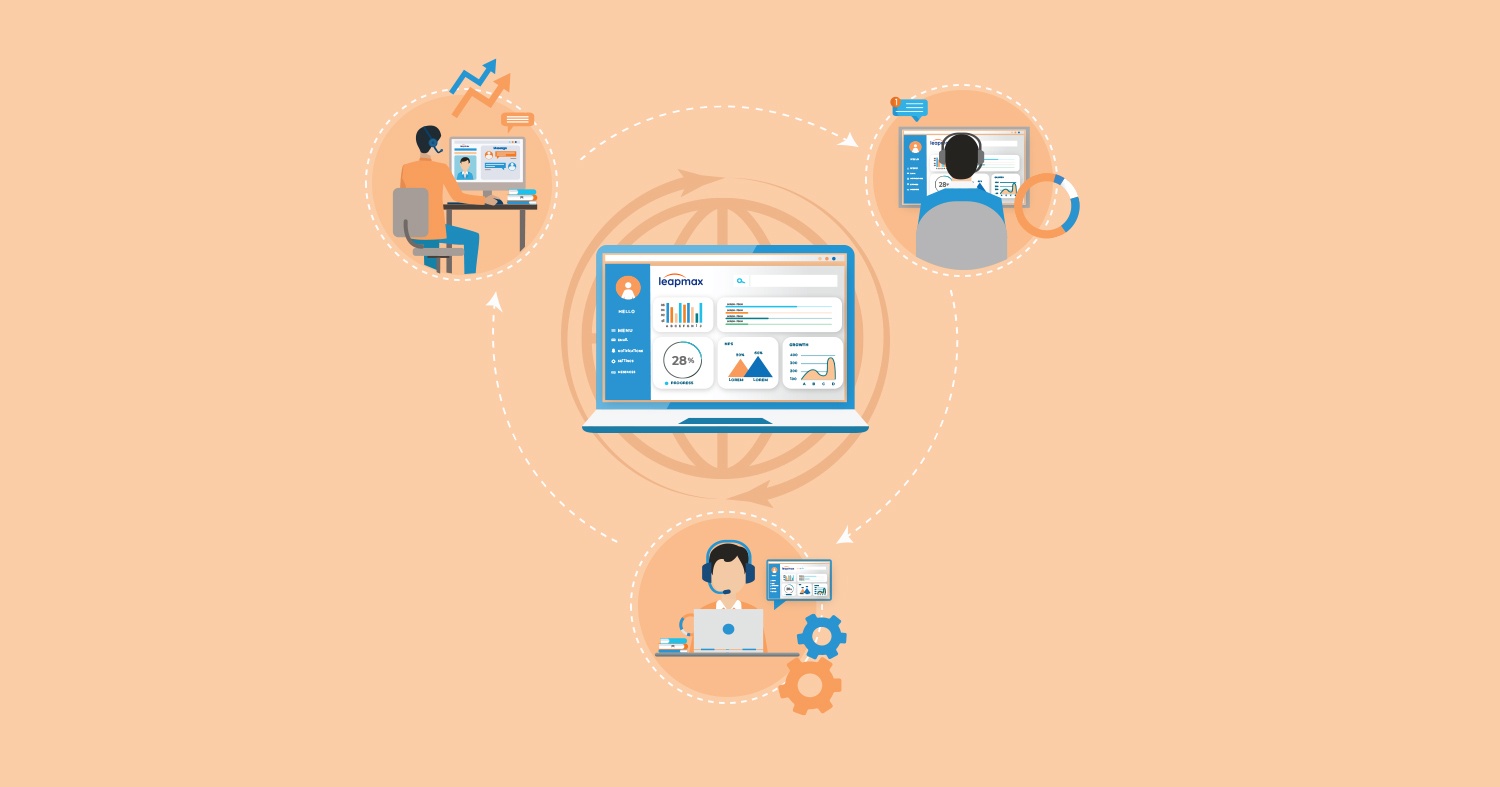 Whether working from home or within office premises, communication is necessary to enhance integrity and establish trust within a team. And when it comes to remote operations, using the best team collaboration software for daily communication is one of the pivotal parameters for smooth business operations. Yes, remote work indeed comes with tons of perks like a healthy work-life balance for employees. But when it comes to team communication, a majority of the remote workforce lacks in this path.
Since teams are no longer just desks away, team collaboration through any virtual platform becomes the cornerstone of that remote team's success. And here comes the role or need for good team collaboration software. The first thing to keep in mind while choosing such a team communication tool is that all communication is encrypted for maximum protection. Besides data security, that tool should possess more than one medium of communication. For instance, it has platforms like live chat, video conference, file/ report sharing column at the same time.
Remote team collaboration and employee engagement
Humans are social beings and a normal on-site workplace is no different than other parts of our lives. This is why whether to share a work strategy or just to conduct an employee engagement program, we need to connect and collaborate with others. Effective communication helps to feel every team members' included and aligned which eventually can boost overall performance.
But with remote working conditions, since every member is working from a different location, keeping everyone on the same page is more important and simultaneously doing so is a little bit harder. To overcome this, team huddles are necessary. There should be one-to-one and team-level conversation platform through a secure communication channel.
Communication helps to share work strategies, enables employees to share their feedback as well. In fact, team collaboration also can be used to conduct virtual classrooms (L&D training) for your remote working team. What should be the primary object of team collaboration should be, it should work as a boosting factor towards maintaining workforce integrity. And its positive vibes, in turn, enhances productivity, employee engagement, and operational efficiency.
How constructive team-huddles can enhance overall productivity of your remote contact center team
Under a traditional contact center, from management to agent level, it's easy to draw employee management planning through team meetings and sessions. And in most cases, contact centers have to fulfill daily tasks, or more specifically, their KPIs are mostly based on day-to-day work. This is why under remote working contact center also it is important. In fact, regular team collaboration is considered as the first step to draw daily strategies of fulfilling those KPIs. From the daily distribution of tasks or reporting to scheduling and conducting training and (call-quality) feedback sessions, team collaboration is the cornerstone.
Traditionally, contact centers have two major two departments amongst other support staff:
Operations
Quality and Training
Now the dimensions and requirements of daily team collaboration are slides different for both departments.
The exigency of team collaboration from an Operations Team perspective
Operation Team works as the frontline for any customer support team. And hence it works as the direct revenue-generating team as well. Every agent under a team leader needs regular updates that relate from meeting KPIs to employee engagement. And this remains the same under remote operation as well. This is why real-time team communication is so crucial for a customer support team. Both team-based and one-on-one communication between supervisors and agents helps to understand every challenge, helps to focus on team-building tactics, identifying and discussing customer experience (CX) improving area, etc.
This is just the tip of the iceberg. And yes, communication for the Operations Team does not only reveal one-way conversation from the team leader to the agents' side. Brainstorm via secure team collaboration software helps to build integrity within the remote working customer support reps. So they can discuss, solicit their ideas which in turn enhances the operational efficiency of the entire contact center.
Need for team collaboration from the Quality and Training team's perspective
To get the desired level of expertise and quality while handling customers, every contact center has dedicated quality management and training conducting team. The basic target of this team is to ensure that all customer support agent meets every pre-decided parameters of customer engagement. And that's why just like the traditional brick-and-mortar call centers, sharing feedback or conducting training sessions should be continued under remote operation as well. Team collaboration via a digital platform is the only solution for the same. Going for a team collaboration software that has facets like a live-chat tool, video conference platform with virtual classroom tools to conduct training sessions for agents is always effective.
3 Features to look out for in a team collaboration software to add value to your remote customer support team
Team collaboration through a secure path not only helps to share work strategies or goals but also promotes a sense of belonging amongst employees. And it's very natural; a healthy and happy mind always becomes more efficient and productive in work or any aspect of our life.
In the case of a remote working contact center, the need for a live virtual team huddle platform is much needed both in workforce engagement and operational sense. Every customer support team should look for a team collaboration software that works as a one-stop solution to meet this necessity. Before choosing the right collaboration platform, parameters like data security, availability types of channels, etc. should be kept in mind. What is the final goal is; the communication platform should be capable to make communication just like our daily life face-to-face conversations. And that too with a data safety impression.
1. Live chat tool
Live chat is effective for any sort of remote operation, especially for remote contact centers. For instance, a conversation between a remote agent and a customer is live. While talking, if the agent has some doubt or needs assistance in a particular query of the customer, they have easy access to subject matter experts or supervisors for help.
Here a separate live chat channel integrated with the remote working customer support solution itself is helpful. Firstly, it takes less time than a call or email which means lesser hold time or less AHT. And secondly, if this comes within the remote working solution, it eliminates the use of a third-party platform as well. Also, live chat is a great way to promote both group-based announcements and individual ways to make asynchronous communication.
2. Video Conference
Under remote operation, it's a bit challenging to keep on improving the work experience of every employee. Fortunately with today's "digital transformation", picking the right team collaboration tool can improve employee satisfaction and operation efficiency together. Making video calls, in this regard is very effective. For example, a short video conversation is always more effective than holding a conversation via email. Like time-gap can interrupt or slow down an email conversation. Live video collaboration can also be used to conduct virtual classes for your remote working customer support team. And virtual class via a secure video communicating platform always makes your remote training schedule faster, productive. And most importantly only video conference makes interaction face-to-face. That's why a remote team collaboration software that has both live-chat and video conference platforms is always preferable. As it will make team communication more productive and conducive.
3. Using team collaboration toll to circulate broadcasting messages
With live-chat and video conferences, sometimes supervisors need to cascade important messages; And that too simultaneously to every team member. Broadcasting such team-based alerts is easy in the case of on-site operations. But under remote operation, it's sometimes challenging to share such notifications for every team member through live chat or video calls. For example, there may be some connection issue or time-lapse or simply the person may be busy in other work. That's why the better option is if remote working software has a broadcasting message tool, that can just pop up/ flash through the screen. What's important here, this message should not interrupt the agent's screen during a conversation with a customer. But the message received, should flash every user's platform a second after it is delivered by the supervisor or admin.
Leapmax: Your next level team collaboration platform for your remote workforce
Whether working from home or in-house operation, team collaboration is considered the first step to sustain the overall robustness and coherence of a workforce. And under remote operation, communication is more important as it lacks face-to-face interaction. Standing in 2020, there are numerous virtual team collaboration platforms. But sadly there are very few that are specially designed to run team collaboration for a remote contact center.
What makes remote contact center slightly different; it not only deals with a brand value, it also deal with customers' personal details or information directly. This is the reason while dealing with such a sensitive matter; every team communication channel should be ensured with the highest level of data security. What is more important here; the team collaboration software should work as an integrating factor for your remote operating contact center team. And this will in turn enhance customer satisfaction, which is the final goal for any customer support team.
Leapmax, as a remote team operating software, is dedicatedly designed to deal with this challenge. With other aspects like team monitoring or reporting; it comes with an in-house live chat tool, video conference platform, and broadcast sharing tool simultaneously. And as mentioned earlier, being an in-build feature, they come with the data safety assurance from Leapmax. So to make your remote team collaboration genuinely purposeful and secure, contact us.