Posted on:

September 9, 2021
Managing employee burnout during remote work- Data is the key
Get started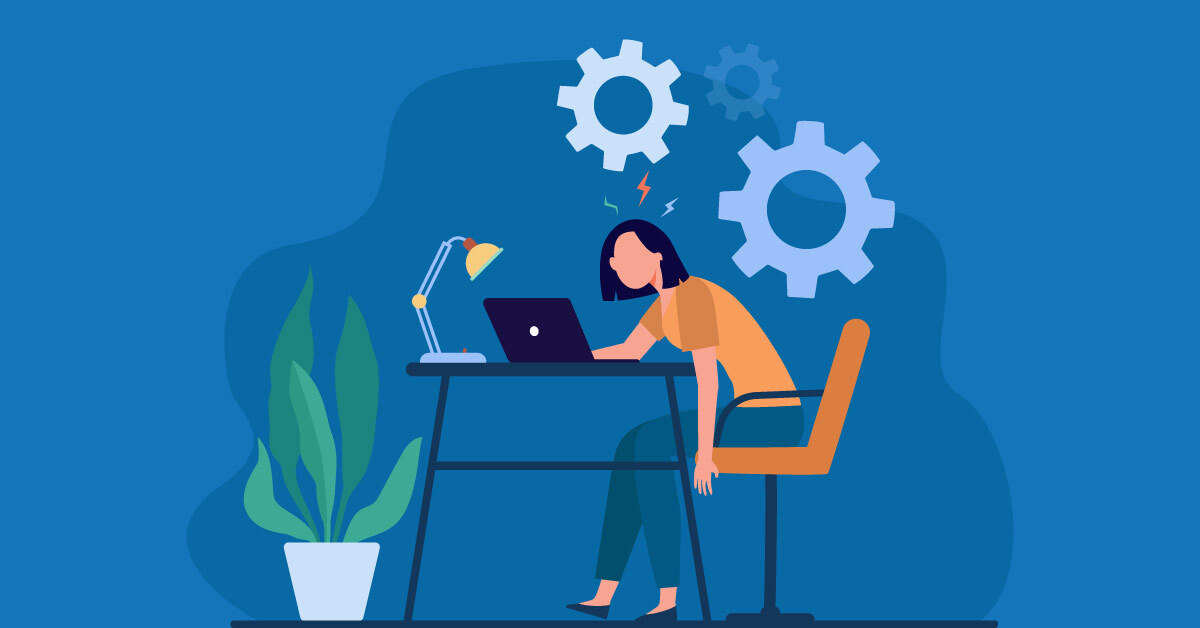 Managing employee burnout became an essential aspect when pandemic-induced hybrid work expanded at a sky-rocketed speed. Remote workforce management opened many opportunities for businesses to work through the hardships but at the same time challenged employees to balance between work and life. Generally, when too much work and confusion pile up together, things can lead to chaos or even worsen.
Solve the worforce burnout issues in hybird scenerio
Learn more
What leads to employee burnout?
Workplace stress – widely known as the workload leading to employee burnout is not a new term to hear. It was there before the businesses switched their employees to remote or hybrid workforce completely. Employee burnout is commonly associated with physical and emotional exhaustion, cynicism, lack of professional efficacy, engagement, and depleted energy. It does not happen or get triggered overnight. A series of triggers play a vital role in pushing such burnout circumstances to occur. The colleagues or superiors may not figure out when a particular employee's behavior changes due to work overload.
A survey states that 70 percent of professionals feel their employers are not doing enough to alleviate burnout at their workplace (Source).
The top factors associated with employee burnout prior to the Covid-19 pandemic could be recognized as:
Unfair treatment at work
Unmanageable workload
Unclear communication from managers
Lack of leadership and support
Unreasonable time pressure
It does not matter if employees work from home or office or the burnout became more prominent prior to a pandemic or after. What matters is that employee burnout is real and organizations should adopt effective measures to curb such issues while letting their employees work with dignity and passion.
3 prime indicators that can help to deal with employee burnout
There is much more to dealing with employee burnout rather than just implementing a well-being program. Dealing with employee burnout is not an easy thing. There are always signs or indicators that help to understand things better and on time. We need to recognize them for making things easy at an organization for employers a well as employees.
Some warning signs may include:
Poor productivity and increased absenteeism
Detached from workplace culture
Disengaged in team-building activities
Inability in decision making
Loss of enthusiasm for the job
Companies often try to reverse this by providing more fun perks rather than addressing the root cause of employee burnout. While offering perks like more money or a new title could be a short-term solution but it will inevitably resurface again – leading to employee and company partying ways eventually. So, how do you find a long-term and effective solution for managing employee burnout?
I have listed down the three prime indicators that will help you understand employee behavior in data. The better the data will be, the more it will assist you in recognizing the warning signs of employee burnout.
Take a look
1. Employee activity trends
Employee behavior is the key to knowing how they show up throughout their working hours including time spent on digital tasks, collaborative tasks, and idle time. Any shift in employee work-related activities will indicate a change in their performance behavior and attitude towards work.
2. Time-tracking and productivity analytics
From the time an employee does log in till logging off from the shift hours if you have data related to how productive they were, it will give you an overview of their behavior. If that shows a reduction in productivity time and lack of focus on critical projects, it would be a warning sign.
3. Employee engagement insights
These insights will give you a broad picture of employee interest and engagement in team meetings, remote team collaboration activities, and training or development opportunities. Take these data insights as a warning sign to change in employee commitment towards work.
Leveraging a data-based view of these indicators will help employers to recognize signs of employee burnout before it takes a toll on their performance behavior.
5 data features that can help in managing employee burnout?
Data plays a crucial role in mitigating risks of employee burnout. It helps in making informed decisions while providing opportunities for fostering conversation around what's working and what is not!
Here's how teams can utilize data to benefit employees and boost productivity at the workspace.
1. Data enables better workload management
The cases of employee burnout can be varied but the major factor affecting is work overload or too much of the wrong task for a certain employee. Armed with data gathered through productivity analytics software, managers can divert the workload from burnout employees and find an additional resource to fill the gap by getting a holistic view of the entire team.
2. Collect and analyze productivity metrics
Creating the productivity goals will set some transparency between employers and employees. With clearly defined goals and productivity metrics, managers can spot changes in employee behavior quickly and will get a clearer picture of areas that need attention on the employee's part.
3. Encourage feedback and acknowledge pain points
Organizations need active and visible support for managing burnout initiatives like employee activity monitoring tools. This starts with better communication and a greater focus on setting clearly defined goals. If data can indicate multiple burnout patterns shown in employee behavior, employers can find opportunities for increased dialogue and alleviate overwork situations.
4. Identify the gap between productive and idle hours
Employee productivity data paves the way for managers to identify the gap between non-productive and overworked employees. Employee monitoring software helps to fetch micro-segmented insights based on employee actual work hours or the time wastage on non-work-related platforms. When managers have these insights, they will automatically reduce the workload from actual working employees.
5. Data helps managers engage employees more effectively
Disengaged employees are at an enhanced risk of facing burnout. Certain tactics are already available to foster engagement among employees but the thing that should be on priority for organizations is to find disengaged employees. Workforce monitoring software that aggregates employee behavior data involving what employees want, decisions that are affecting them, why they are disengaged and struggling.
Summing up
Managing employee burnout is possible and already existing burnout can be identified if companies take necessary initiatives with data-based solutions. A little flexibility in adjusting and reinventing policies can go a long way. To be most effective, business leaders should utilize this data and employee behavioral analysis to nurture employee productivity, not rebuke.