Posted on:

March 23, 2022
Redefine the Power of the Productivity Baseline Through Measurable Metrics
Get started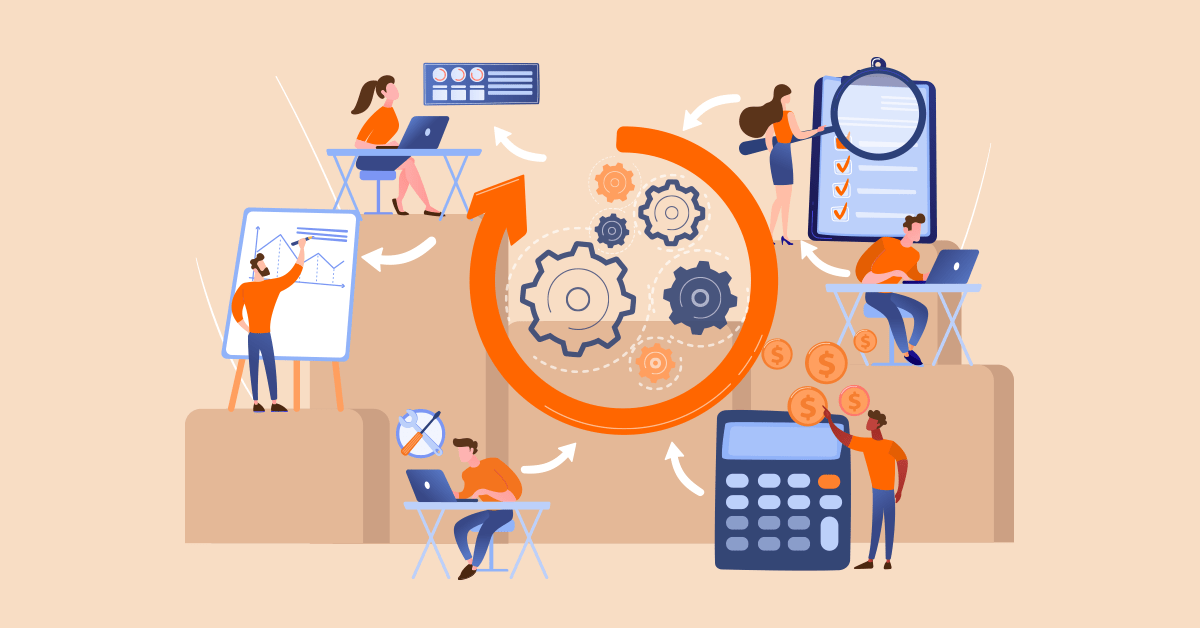 As companies return to the office, finalising plans for remote work or a hybrid approach, there is an opportunity to gather data on employee productivity metrics and employee behaviour to make more informed decisions around people, processes and technology.
For organisations already in action in their usual operating models, any feedback or assumptions about the success of timely and robust data transitions can validate and track constancy for the future. When you are managing work and projects, taking advantage of the productivity baseline is beneficial.
It is a powerful strategy for measurement and an important step in maintaining business continuity in times of change. One of the most important concerns facing HR and managers today is measuring productivity.
Productivity Assessment
The productivity in a simple formula can be equated to output/input; However, measurements are not always straightforward. It is necessary to analyse the result based on the benchmarked context, which is sometimes called the baseline. For example, realistic targets are set for sales staff.
Employee productivity measurement sets the necessary criteria for how a company operates. The findings motivate stakeholders to contribute to increasing business performance. For the knowledge economy, employees have to do more than usual to keep the business afloat.
Productivity Baseline
The baseline is the reference point against which productivity results are measured. In the context of project management, the baseline is a clearly defined starting point for your project plan. This is a definite reference point for measuring and comparing the progress of your project. When measured against time, cost, and scope, a baseline is called a performance measurement baseline (PMB). This allows you to evaluate the performance of your project over time.
The baseline is a straightforwardly defined reference point that establishes the organisation's current capabilities in specific operating parameters such as productivity, effort variability, and so on. An organisation may have an organisational baseline with a support or complementary baseline in each commitment, business unit or operating group as it is necessary. Most customers in outsourcing deals insist that sellers/service providers increase productivity every year.
Case Study: 98% lead validation for global telecom
Download Now
How to Track Employee Productivity Metrics?
In modern businesses, employees like feedback and want to keep them engaged. In a technology-driven setup, productivity measurement involves capturing time with an automated tracking application that collects productivity statistics for different jobs and team members. Here employees can review their logged hours and how much time they have spent for each task and compare it to a benchmarked base, using which they can improve.
Specialised tracking software includes Birds Eye View, featuring:
Monitoring what's happening on the ground with hybrid teams and monitoring it in real time
Providing introspection for performance management
Helping in making strategic decisions for the internal development of the organisation.
Productivity monitoring software tracks the activities of remote employee applications during work hours so that work patterns and real-time status can be combined. Time and schedule compliance productivity statistics help to perform micro-segmented analysis.
1. Employee Productivity Metrics
Productivity baseline is a metric that comes to mind when it comes to a forecast for a new job. The whole cycle of establishing a productivity baseline is a responsible structured exercise that requires every organisation to invest in building a strong foundation.
Baseline metrics are calculations made over time (one type or another of the usual averages) that provide a basis for comparing past performance with current performance.
Performance metrics provide HR with indicators that determine how our employees are performing. Values ​​can be measurable data points like productivity, but for many jobs, especially those that require soft skills such as good listening for a customer service representative, performance metrics are not always easy to measure. Employee performance metrics don't just measure how employees are performing for growth and promotion purposes. Performance metrics help you create snapshots of your team, which can be valuable in terms of performance reviews.
The right metrics lead to business success, even if quantifiable data is not available. It is worthwhile to try to capture the contribution of these types of employees in some capacity.
Performance metrics play a role throughout the employee journey. During the recruitment phase, candidates can learn that performance is not only managed but that all team members are supported to succeed.
At the time of hiring and during the onboarding stages, the manager should confer expected performance levels, how to set goals, and how team managers will support the members. While on-job, employees are provided opportunities to make continuous improvements by making use of the performance metrics as a measuring tool. As a result, employees experience that personal success and performance management aligns with business objectives. It is therefore recommended to move away from the traditional stick-and-carrot route of rewards and demotions, instead of looking at performance appraisals as a daily priority. In this way, you will build a productive team that will make the business successful.
2. Productivity Metrics in a Remote Workforce
Organisations are beginning to realise that the hybrid work environment is here to stay, and so is the work system. When you have employees working remotely, individually, and a mix of both, you cannot rely on specific individual employee productivity metrics. HRs and managers have less visibility of the productivity levels of their employees and the workload accumulated. At the same time, any mismatched schedules and miscommunication can lead to deprived collaboration and teamwork.
The movement to use objective productivity metrics through advanced monitoring tools applies to employees working in a variety of ways. This approach helps to create an effective, fair and efficient hybrid work environment. In addition, you can work to resolve any issues that cause deviations from the baseline, such as burnout or work mismatch.
Measuring employee productivity is one of the most important features of job management. Typical metrics variances include:
Number of tasks completed
Rate of tasks completed
Quality rank of completed tasks
Activity levels during work hours
Feedback on outcome
Time logged for relevant work
Productivity metrics provide you with meaningful data about your business and your employees. However, productivity alone should not be used as a tool to motivate employees or evaluate individual performance.
3. Redefine Baseline
Employee performance is directly linked to business health. An obvious way to track the productivity of your employees is to track them using metrics, and not always in numbers. You can use approximate time and effort rate, quality and customer experience (CX) indicators to complete employee productivity metrics.
Keep your team productive while working from home
Know more
Some of the Key Initiatives Integrated into the Measurement Can Power Employee Productivity Metrics
1. Setting KPIs for Hybrid Employees
In any industry, you need KPIs to measure the success of your process. KPIs provide an impartial, data-driven approach to the personal performance of your employees, even if they are working in different locations. These metrics tell you whether your employees are struggling or excelling. It also indicates potential problems before they become a major organisational problem.
2. Setting Planned-to-Done Ratio
The team member can determine the amount of work possible and analyse the work completed. In a nutshell, the planned to-do ratio is obtained by dividing the number of completed tasks by the number of completed tasks, taken in percentage. Of course, there can be many reasons for incomplete work or jobs put on the backburner for good reasons. Metrics make it easy for management to get the components that govern productivity and also know how well the employee tried other schemes from the pipeline.
3. Measuring First Call Resolution (FCR)
The minimum time required for the FCR is one of the properties measured in CX. When the request is resolved in just one call, your customer support team demonstrates that they are competent and qualified. Many follow-up calls and callbacks take longer to resolve a ticket and show poor productivity. Using baseline metrics using FCR event logs helps measure employee productivity in contact centers.
4. Customer Satisfaction
It is difficult to collect counts for customer satisfaction; however, they are ways to measure how satisfied you are with your products and services. Develop a workflow set up in a business channel to gather customer feedback, for example an automated survey launched after a ticket closes or a link to an online customer.
Modern tracking software features chat and digital assistants collect customer stamps. Customer interaction time logs captured in productivity tracking software for hybrid employees can be used to analyse how individual agents and teams are performing. Even occasional surveys help gather customer feedback.
5. Return Per Employee
Having the means to determine what value the team member contributed when translated into total earnings reflects the productivity level of the employee. Although the metric revenue per employee for sales and marketing is higher, it can be applied to any role of the employee as long as his work is measurable.
The Outcome
Tracking and measuring productivity should be a key factor in managing your business. Productivity serves as a reference point for identifying baseline deviations, highlighting best practices, and tracking performance over time. In today's competitive market, it is important for any organisation to have fairly accurate measures of productivity of its various operations. A productivity baseline fills this significant gap in an organisation's IT portfolio, and enables it to determine its own productivity and take steps to improve based on it.