Posted on:

September 15, 2021
Time tracking tool- The future of remote work for enterprises
Get started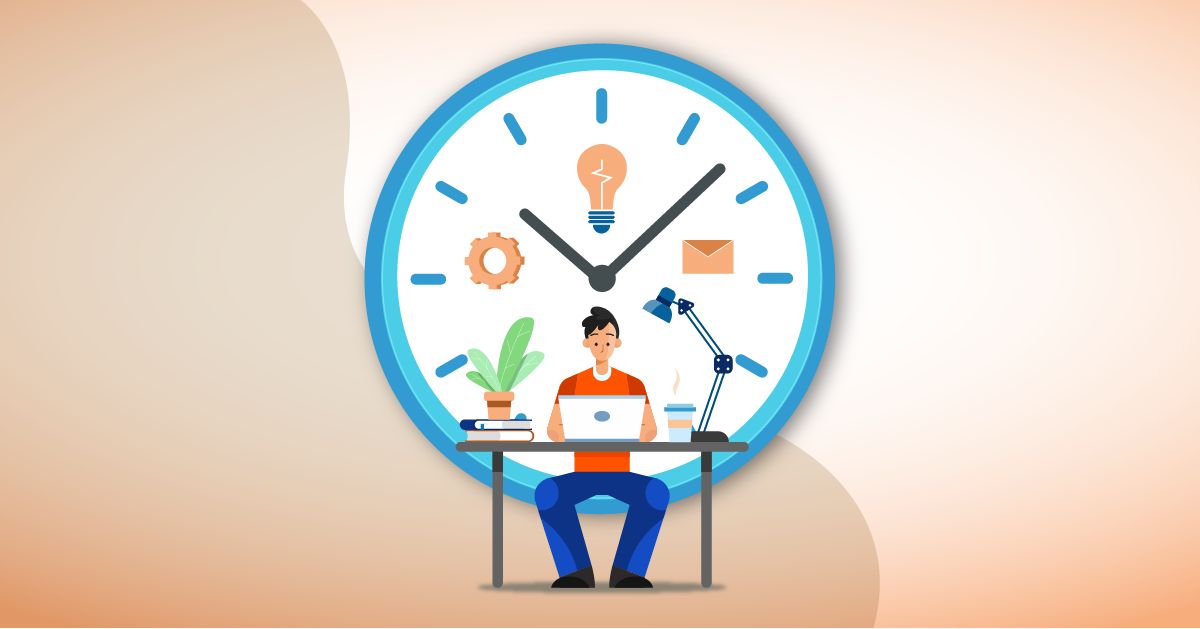 Remote working is the new normal. With employees of several enterprises working remotely, a mix of knowledge management tools along with time tracking is essential. Time tracking tool bridges the gap between tracking employee work hours and helping in seamlessly reporting that information for supervisors. This information helps with scheduling work hours, aligning tasks, and determining hiring needs.
Moreover, it ensures that employees do not get overpaid or underpaid but accurately. All of this process should not be time-consuming but should be an element to boost productivity. That is why organizations are heading towards enabling an automated method of producing timesheets as a part of their regular workflow.
What exactly is a time tracking tool?
The time tracking tool is used to record certain information regarding the monetary benefits that employees get. On what basis they get money or their pay, all that information is dependent on their total work hours, overtime, activity status throughout their shift.
Companies need their employees' work hours data for effective management of client billing, payroll, and legal purposes. The timesheets and activity graphs obtained through time tracking software will help simplify all the details for organizations. These timesheets are recorded digitally or electronically involving employees' login and logout hours as well.
How automated time tracking tool can be a step ahead?
Despite the fact that the money or compensation process is involved, employee activity tracking and creating timesheets can be a tiring process and even lead to chaos. For not letting that tiring process further lead to mismanagement, organizations have started adopting automated timesheets over manually curated ones. The reason is evident and that is the businesses becoming digital and their transition to hybrid work.
Using a time tracking tool will help organizations to acquire details of employee working hours by installing them over their work systems. That time-tracking application or software will automatically fetch the total login hours when employees turn it on as per company policies.
Does time tracking play a crucial part in amplifying employee productivity during remote work?
It is argued that people are likely to be more productive when they know that their activities are being watched. When people know that they are being observed or are under social pressure, it is clear that in certain situations they perform better.
Similarly, we can estimate the level of productivity and task progress of employees when they are under supervision. When employees would be aware of their activities being monitored as per company policies during the workday, they will provide more inputs. This supervision, however, should not hinder employee privacy in any way. Time tracking tool allows supervisors to track employee time, shifts, working hours, overtime for effective coordination of timesheets and remote workforce management.
Why should your business invest in time-tracking?
Businesses need to ensure that their regular workflow runs smoothly no matter if teams are hybrid or fully remote. The reason is simple if businesses and employees would be satisfied with the daily workflow, only then they can enable seamless customer experiences.
Remote employee monitoring software can fill the void of manual supervision. In the past months, to redefine productivity strategies in a hybrid work environment – businesses had to rely on AI-backed time-tracking software with Machine Learning features.
Managing tons of timesheets manually when teams and supervisors are away from each other and differences in physical proximity only add to the chaos of managing remote workers. Timesheets generated through time tracking tools can be used for many time-management-related purposes and for productivity monitoring also.
5 vital reasons you should go for a paperless solution like time tracking tool
1. Traditional timesheets are time-consuming and unreliable
One cannot guarantee that employees are actually working once they do clock in. Also, who can ensure that they are not marking attendance for their coworkers?  Digital timesheets are easy to access and process whereas manual ones will be prone to human errors and time theft. Thus, time-tracking software keeps a record of all activities from the moment employees clock in till the time they log out adhering to their shifts.
2. Analyze timesheets for boosting productivity
Can supervisors analyze timesheets and get ideas about employee productivity tracking in less time? This can be possible if your business is using a time tracking tool. Digital timesheets acquired through productivity tracking software can help to store employee activity data on a unified dashboard while presenting easy and real-time access to employee productivity status.
3. Understand employee activity status in real-time
The data fetched by remote employee monitoring software will help managers to know when their employees are working or sitting idle. For instance, if an employee is sitting idle, supervisors would automatically get a proactive alert on their activity. On a similar note, if a support agent faces any difficulty in handling a customer's problem, supervisors can barge in on an employee's screen anytime and tackle the situation.
4. Build a culture of transparency
Employees cannot play with time-theft when they are under the supervision of time-tracking software. As compared to manual timesheets, time-tracking software will show employees their accurate login details, for how many times they have been logged in, and what time they can log out as per their shifts. This will create transparency and give clarity to employees in their time-tracking activities.
5. Compatibility with other apps
Integrations are a must in every software that offers thorough assistance in streamlining regular workflow. The best remote workforce monitoring software should work with CRM (customer relationship management) software and integrations with learning management systems (LMS) for effective employee training in remote work.
Summing up
Paperless timesheets are not the only option that your business needs for accurate time management of employees. It should act as a catalyst in productivity enhancement and foster the transparent culture of time tracking and managing productivity at your organization.