Top 10 workforce productivity management software to ensure employee productivity
Want to see leapmax in action?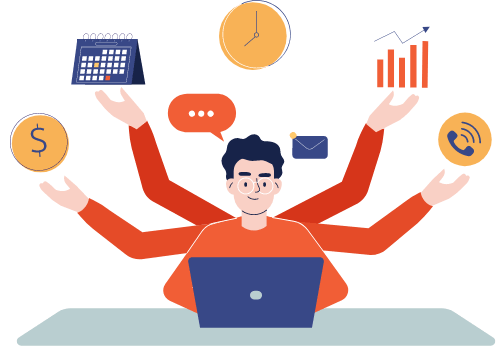 How is your organization keeping up with the new normal and enabling a great customer experience simultaneously? If you don't have an answer, this information is precisely for you.
Businesses are looking forward to how remote work significantly impacts global industries. CX and operation heads rely on workforce productivity management software to bring more clarity and efficiency to businesses. But why is this the case? Let's cut to the chase and see why implementing solutions like remote workforce productivity tracking software can be a successful business idea.
Here's everything you need to know about workforce productivity management software. Take a look.
---
What is workforce productivity management software?
As its name refers, workforce productivity management software makes things easier in handling a remote or hybrid workforce. Employee productivity tracking software offers real-time insights on employee work efficiency, with the overall time dedicated to their shift hours further segmented into productive vs nonproductive hours. This data collected by user activity monitoring software analyzes employee behavior, measuring productivity during work hours while keeping track of applications used by employees throughout their shift hours. This data can help supervisors in managing compliance and quality efficiently by tracking where employees lack and changes in their work behavior.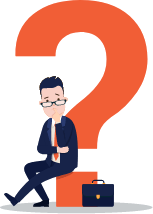 Not sure which activity monitoring software suits your organization
---
Why do businesses need to track employee productivity?
A famous saying is known as – "People are hired for their talents and fired for their behavior."
Employee behavior can be considered a critical factor that needs to be monitored. Especially in times like today, when most businesses are going hybrid and hiring workforce with remote jobs, it is crucial to understand the difference between what employees do vs what they are supposed to do.
Let's take an example to know things in a better way. At the beginning or mid of shift hours, some employees like opening weather forecasts or surfing the internet for news, while others spend their free time growing professionally. Their other activities apart from office work tasks could either be productive or non-work-related. To bridge the gap between constructive vs non-productive performance behavior, businesses can do employee monitoring through activity tracking software. This technological support helps to make hybrid workforce management easier for organizations.
---
How does employee monitoring make a difference?
Monitoring workforce productivity can help make employees accountable for their work. Lack of productivity in hybrid workforces and disengagement among them can lead to missed deadlines and loss of morale. Monitoring employee productivity and efficiency is a proven strategy to make data-driven decisions on how to improve their regular operational processes and productivity.
Also, it is worth noting that monitoring needs transparency. So, employee productivity monitoring should not look like an attack on employees' privacy. The strategies made by companies should involve the cultural and workflow transparency that leads to telling them about them being monitored and on what basis. As, monitoring or tracking employee productivity without informing them will be a counterproductive move leading to dissatisfied employees who feel alienated, disconnected, and not trusted.
Maintaining the right balance between employee privacy and productivity can add a lot of merit to team performance and efficiency. Be sure not to overstep and be fully transparent with your team members.
---
3 unproductive behavior that employee monitoring software detects and corrects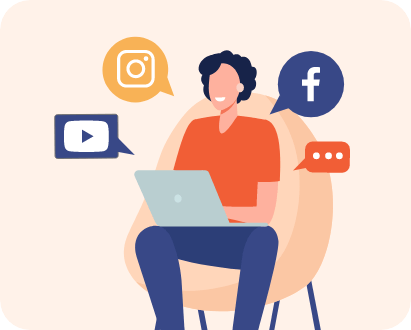 1. False performers
This type only performs when management is strictly observing and scrutinizing the performance behavior. Various reports demonstrate that employees are more when being watched. Thus, to cut the need for such micromanagement and have proofed insights of employee activity, user activity monitoring software comes as a great assistance.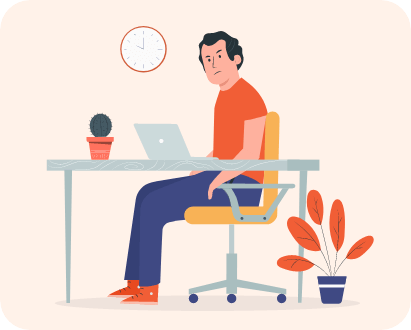 2. Passive employees lacking self-drive
In case a direct responsibility minute happens, employees act differently. Some would take an additional coffee break whereas others would read business-related material suddenly to expand their knowledge. Employee monitoring software identifies actual workaholic behavior through analytics.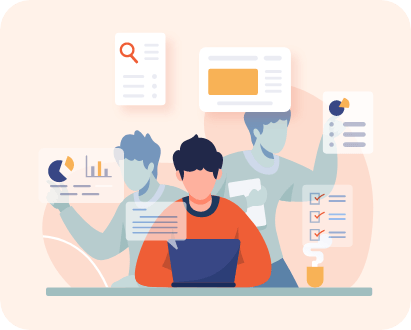 3. Disorganized staff
This segment of employees can be seen as holding too many tasks at a time, missing deadlines, or having a rough time submitting assignments. Employee productivity monitoring software measures the activity in the form of numbers and analytics that give precise descriptions of who is doing better than others or equalize the amount of work to be done.
4 major benefits of workforce productivity management software
What would you get out of measuring employee productivity? We have mentioned the key benefits for you to dig deeper and take full advantage of employee productivity management software.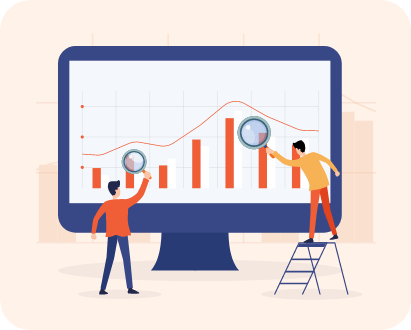 1. Offers Transparency
Employee productivity tracking software allows employers to overcome productivity roadblocks and improve overall employee accountability. The tools available in employee monitoring software like dashboards to get a quick overview of what work has been done. It allows managers to get a quantifiable, honest picture of what is going on behind the scenes.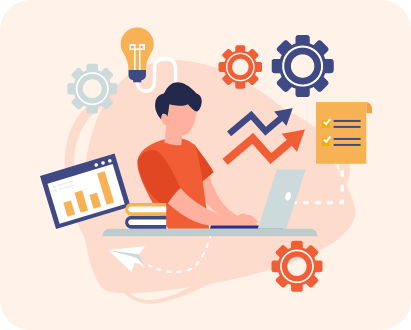 2. Improves Productivity
Employee productivity tracking software helps managers track day-to-day work, check what elements hinder employee productivity, and assist in making evidence-based feedback. Not only does it help to detect and analyze the productivity gaps but helps to fill them through user behavior analytics.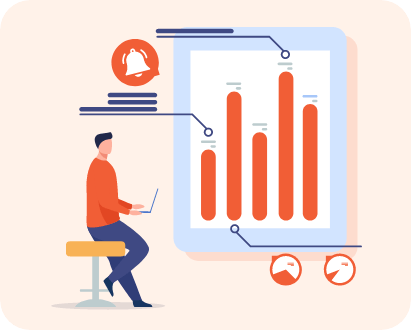 3. Provides a Real-Time activity Status
Employee productivity tracking tools are instrumental in offering real-time updates of employee activities. It provides an accurate presentation of the live activity of employees. Some employee productivity monitoring software even provides real-time barge-in on employee screens.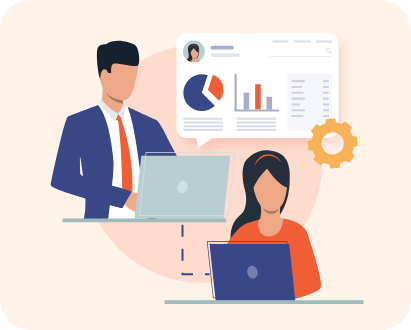 4. Track accurate billable hours of GIG workers
Most businesses rely on activities based on the number of hours. Employee productivity tracking software helps to give a detailed insight into the time invested per task. The analytics helps to generate an accurate invoice for the end client, allowing for better management of hourly team members and freelance workers.
5 key features that help you measure employee productivity
Employee monitoring comes with different types of approaches to user activity monitoring. We have listed down the 4 main types that are considered as the critical forms of monitoring when it comes to employee monitoring software categories. All these segments come under productivity measurement of employees that decide overall business efficiency and help to interpret feedback on employee performance.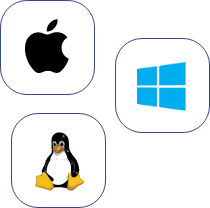 Operate Leapmax on these platforms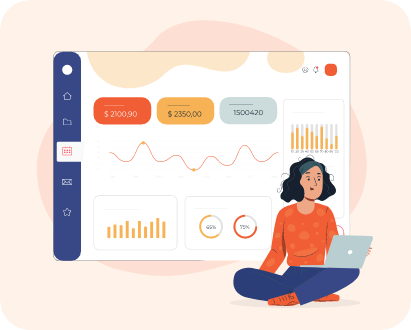 1. User behavior analytics
Micro-segmented analytics based on minute details of employee productivity can be a prime indicator to improve workers' regular workflow and operational efficiency. In-depth details help to analyze user behavior and provide managers with help to detect any suspicious activity and prevent data theft.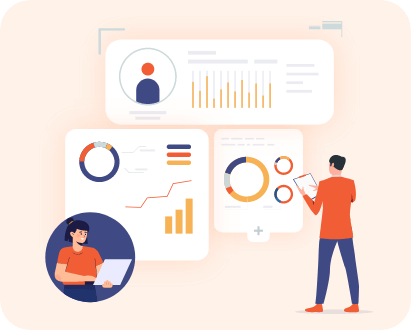 2. Application usage
Application or website usage involves the activities done on various apps or tracking the URLs that can be considered as non-productive for employees. For instance, in call center quality monitoring, specific applications are of no use for the agents, such as social media platforms or anything that is out of their KPIs.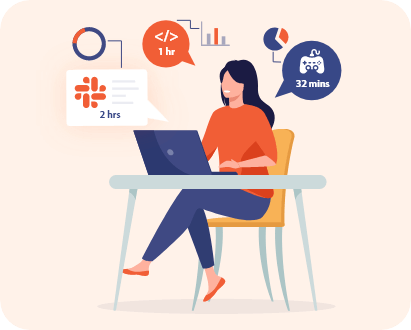 3. Activity tracking
As the term suggests, activity tracking involves tracking every minute of employee activity through screenshots. The flow and intervals of taking screenshots of workers' systems depend from company to company. Activities determine how productive or non-productive an employee was during shift hours.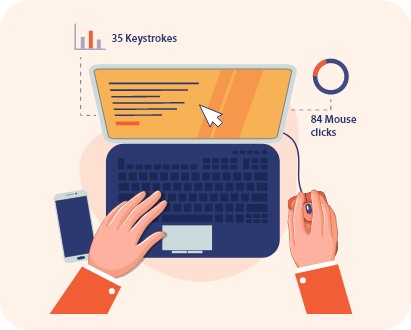 4. Keystrokes and mouse clicks
Keystroke monitoring and tracking mouse clicks ensure the flow of activity done by employees. How many keystrokes happened in a day? More than that, it is about ensuring that there is no threat to any vital data and information so that keystroke blocking is enabled in user activity monitoring software.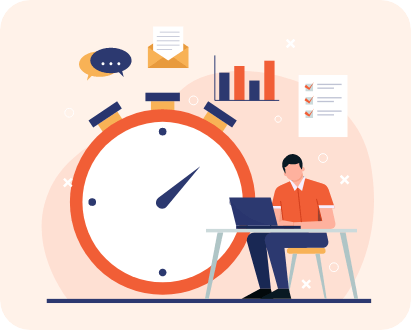 5. Time tracking
Total login hours, break duration, idle time - all these aspects decide for how much time employees clocked in and if it matches workers' shift hours or not. Tracking time also helps employers to know the status of employees working remotely or working on a GIG basis. GIG refers to independent contractors or temporary workers. Managers can count the total payroll hours that can be done by time tracking through time tracking software.
Analyze & Enhance your remote or hybrid team performances
---
The 10 best workforce productivity management software in 2022
Now that we have covered why workforce productivity management software is needed and where it can help, let's move to the best players in the employee monitoring software market. Here we are going to walk you through a range of employee monitoring software that is bringing transformation in how hybrid workplaces are thriving today.
1. Leapmax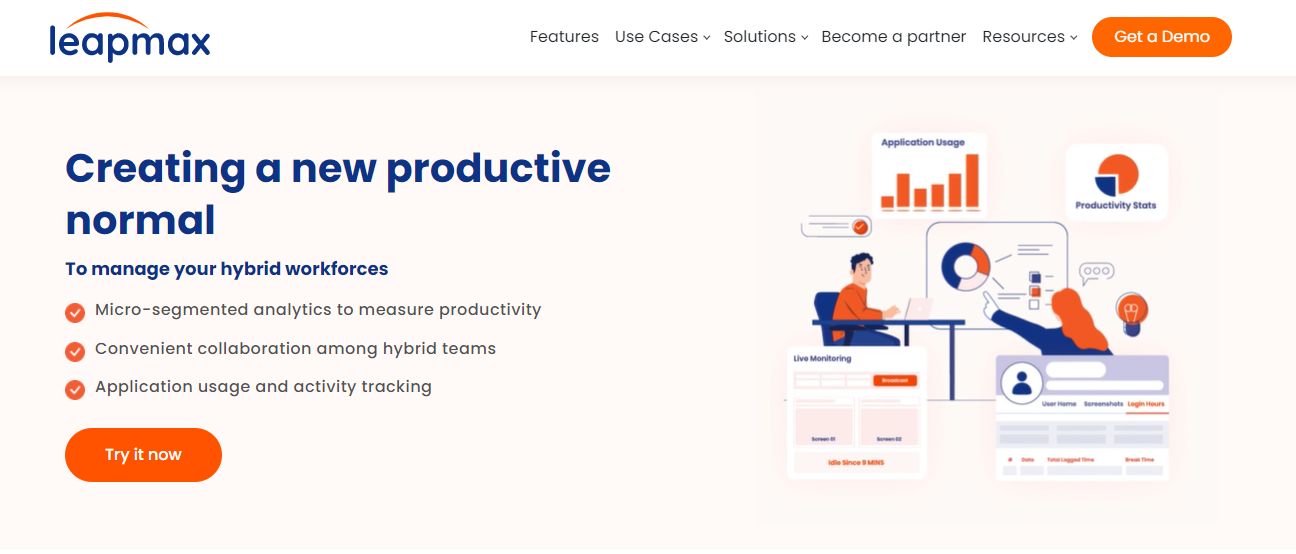 Leapmax is an AI and ML-backed employee productivity monitoring software for remote teams that not only detect or identify the loopholes in employee work performances but categorize activity or idle status, applications used, break duration as productive vs non-productive.
It also fosters collaboration, protects crucial data, helps in maintaining compliance and quality through integrations and Machine learning-based analytics. Assuring compliance and quality is one of the primary reasons we consider Leapmax the best employee monitoring software.
Choose the best productivity platform for your team
2. Timedoctor

Another employee monitoring tool in the market is Timedoctor. Employees can clock in this tool's timer before they start a task – helps in calculating the time spent and sites accessed during this time. Teams don't have to enter anything manually. Employers can access the data to analyze employee behavior patterns and curb unproductive behaviors.
3. Activtrak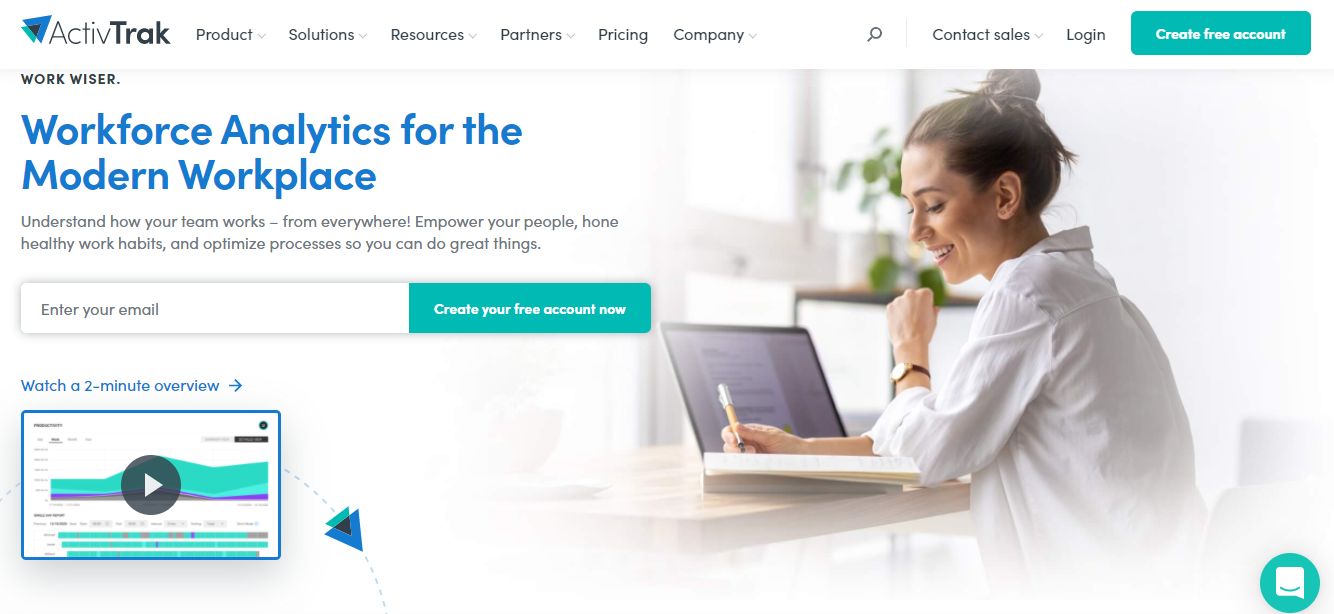 It is a cloud-based employee monitoring software program that tracks employee behavior, productivity, efficiency, workload balance with comprehensive workforce analytics and reporting features. It can track employee hours and differentiate between productive versus unproductive work behavior.
4. Workpuls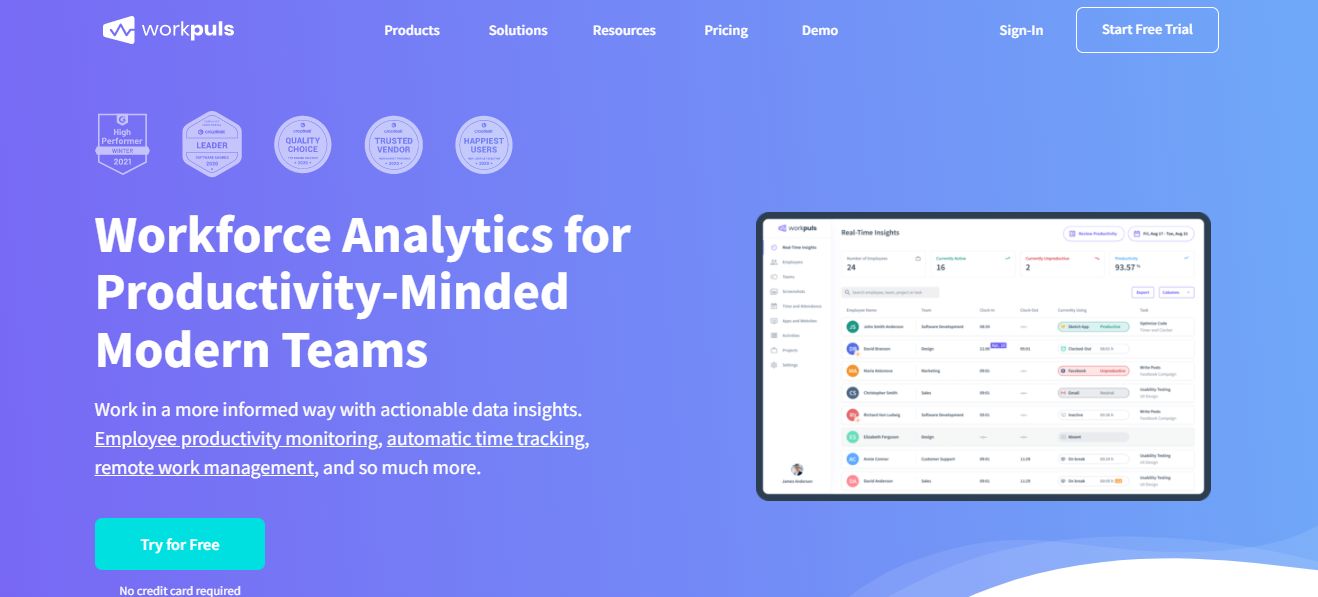 This employee monitoring software is an excellent solution for companies that comes with all the practical tools you need to monitor employees successfully. You can enable the software in a visible mode when the employee is clocked in on their owned devices.
5. Veriato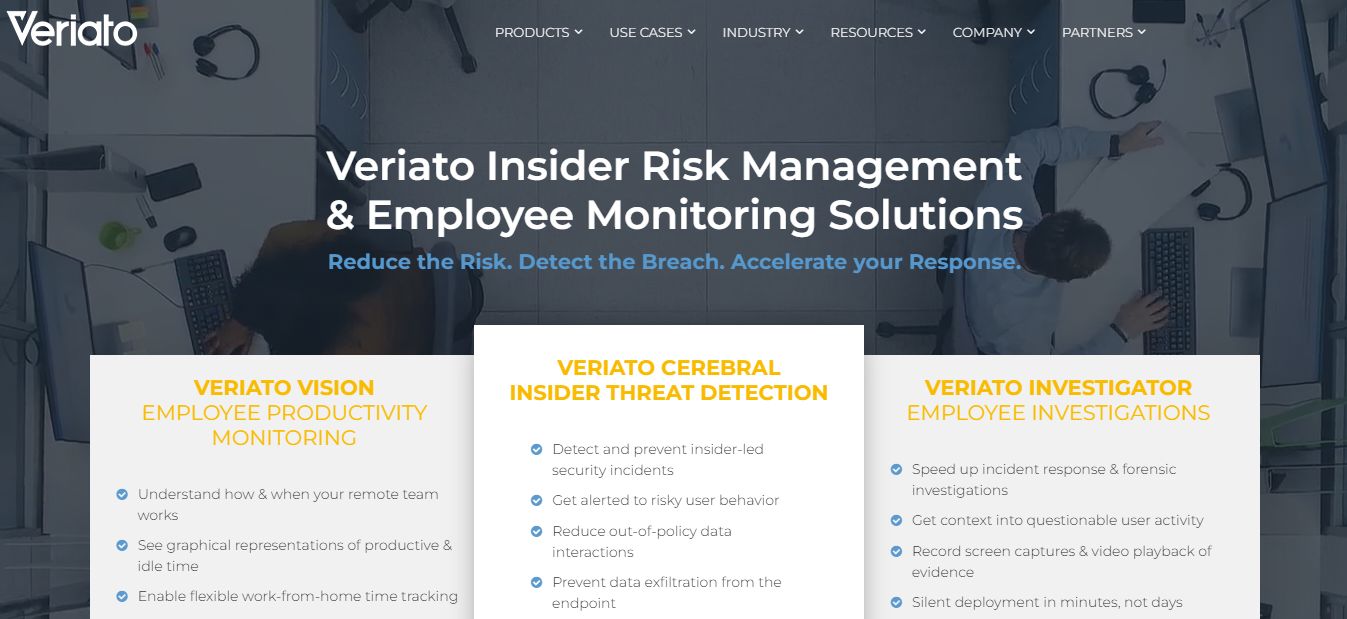 This workforce productivity monitoring platform is a robust threat detection solution suited for businesses in the financial, healthcare, technology, government, and manufacturing industries. It provides insight into employee behavior and control over what you want to monitor.
6. Clockify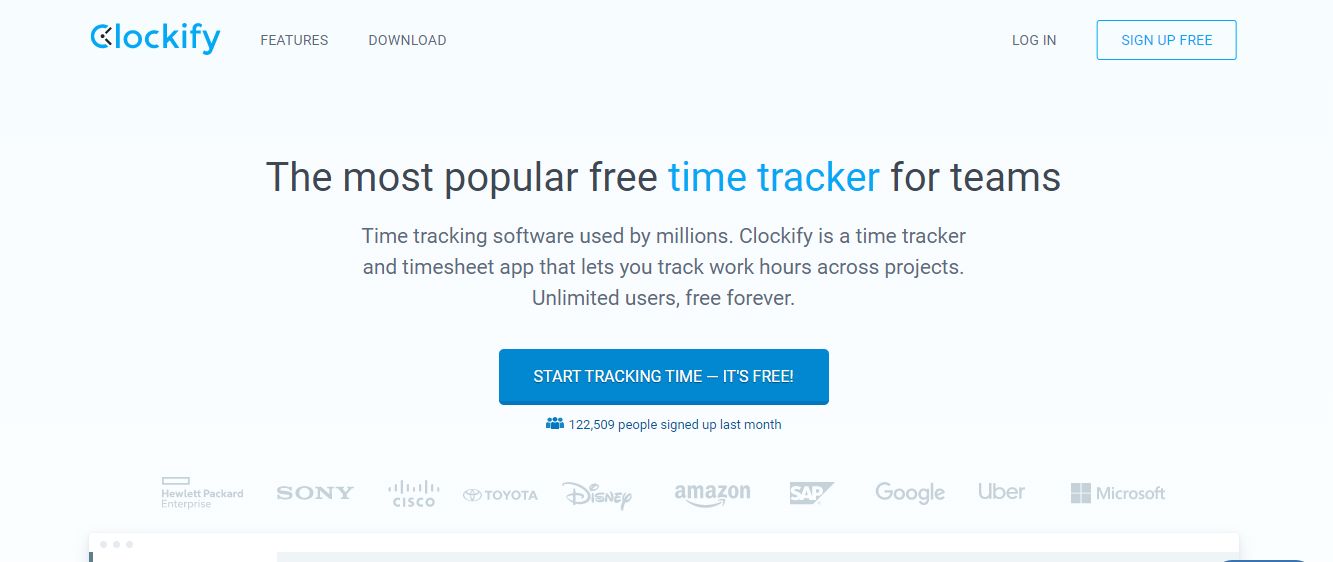 Clockify is an employee monitoring software with a wide array of tools like time tracking and timesheet monitoring functionalities. It has an intuitive dashboard helping managers see what team members are working on and the status of project completion.
7. Teramind
This user activity monitoring software is majorly for security threat protection by offering a data loss prevention solution designed to secure your company's network and data. Managers can detect user behavior on web pages, applications, emails, online meetings, file transfers, chats, social media, clipboards, searches, and printing activity.
8. Interguard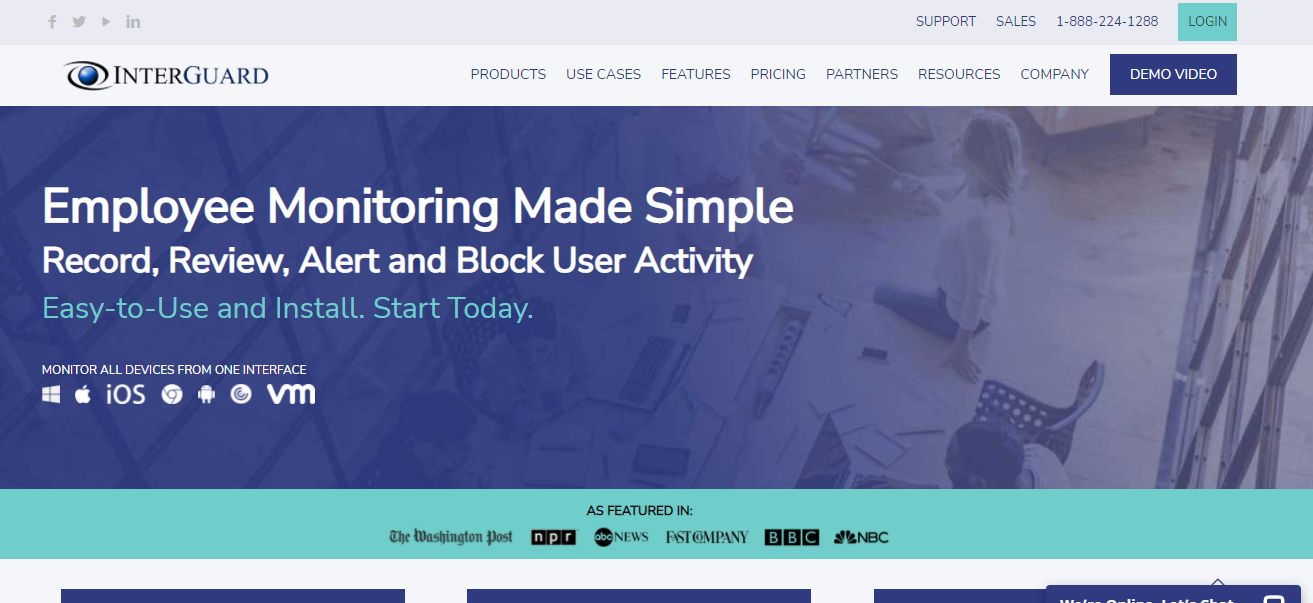 This comprehensive employee monitoring solution can be deployed as a cloud-based or on-premises solution meant for businesses that want to track remote workers through tools that monitor applications, email, website searches, social media, website history, files, and chats.
9. SentryPC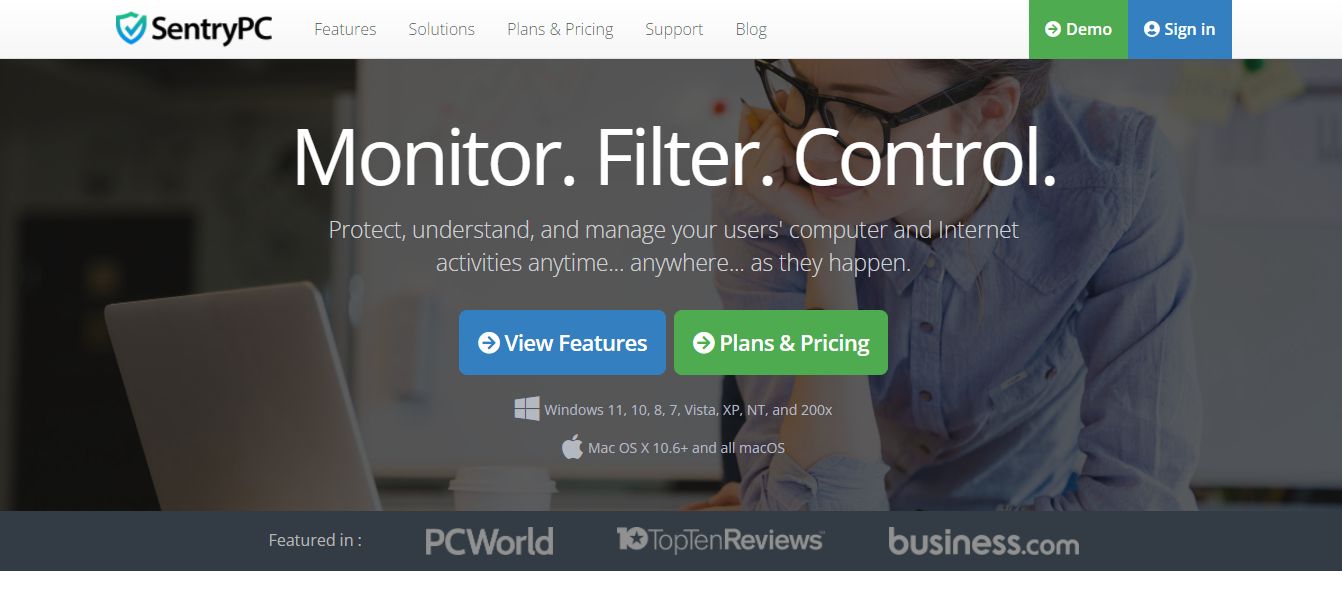 SentryPC tracks activities like login and logout, downloads, password changes or resets, and computer installations and uninstallations. It records employee IP addresses, website details, and a timestamp of when employees access certain websites.
10. Monitask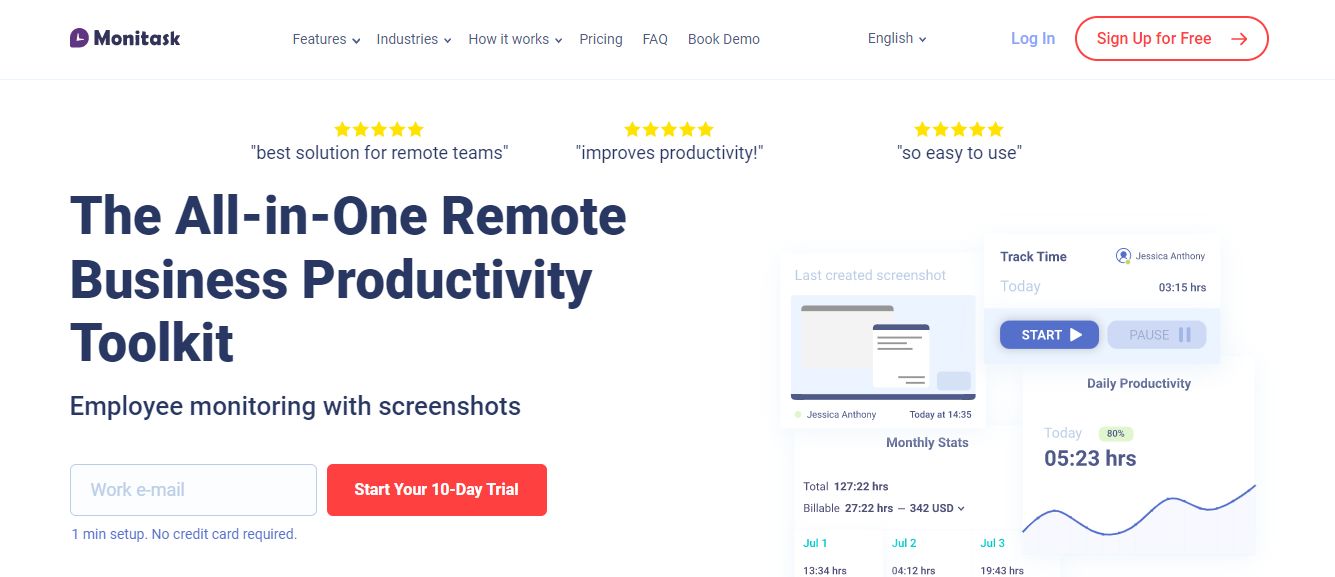 This productivity monitoring software helps you track employee performance to help drive productivity with project management capabilities. It ensures projects get delivered on time and within budget while tracking activity status and application usage monitoring.
Conclusion
Workforce productivity management has to be seamless when it comes to the hybrid working style. It reduces the workload of supervisors that have massive teams to handle but could not connect because of discrepancies. Technology is the king in the present scenario and there are so many remote workforce management tools available, but as we saw in the above information, implementing a good workforce productivity management software could genuinely transform the way hybrid teams perform. Thus, you must choose the right and the best employee monitoring software with legit features and capabilities that move you ahead of the competition even when your teams are working in hybrid.
---
You'll never want to go back
once you Leap
Get a Demo