Posted on:

May 21, 2021
The 2022 guide to employee web usage monitoring
Get started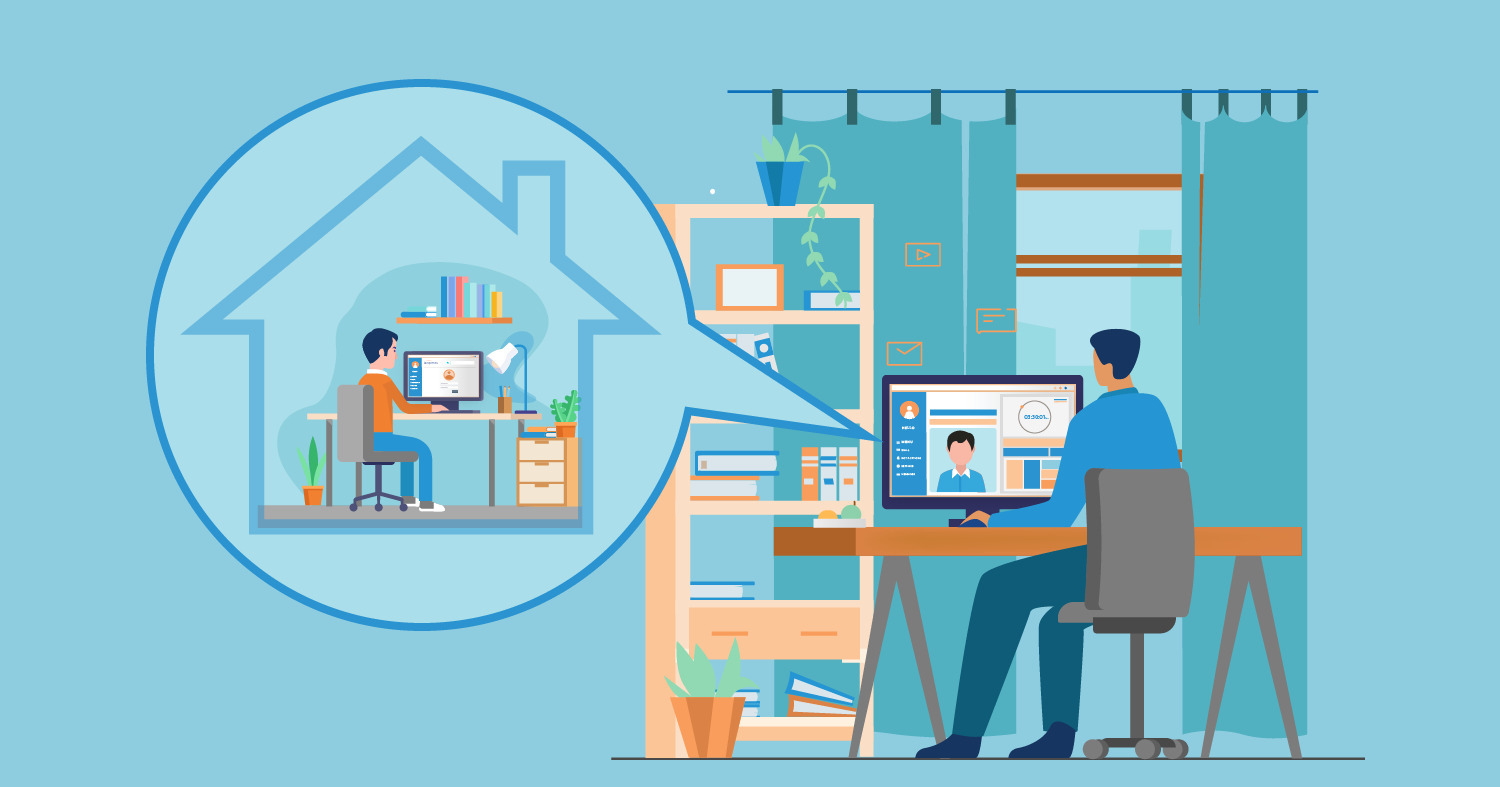 As work from home was the last option that the companies could implement in time of crisis; employees were perplexed in maintaining the work-life balance. However, employees are experiencing the taste of flexibility in work since the pandemic happened. Organizations are looking to adopt tools like remote employee monitoring software for productivity tracking, web usage monitoring, virtual collaborations, etc.
Due to the swift surge in remote work across the globe, businesses are not indicating any signs of returning to their physical space. To this date, employees have been working virtually without any supervision around. They can slack off, sit idle, or do other chores but still can return to their office tasks in no time. Such things can take a toll on their productivity levels. If they cannot concentrate for a long time or keep getting distracted by the things at home; it might reduce their dedication towards work.
Elevate your remote team performance with Leapmax
Know more
As a result, they might start spending time on non-work-related things such as continuous scrolling on social media, reading news, watching TV, and so on. With no remote workforce control solution in place, other things can easily divert their focus. While businesses cannot think about manual supervision in today's critical times; incorporating user-activity monitoring software can be of great advantage.
Simply, because it encompasses all the elements that are necessary to stimulate the present hybrid work model. Let's move forward to a simple guide on how remote workforce monitoring can help in checking employee web usage activity and enhancing work from home productivity.
Why do employees need to spend time on the internet?
The internet has become an inevitable part of today's business landscape. It plays a significant role in many companies as a part of their work processes. Businesses depend on internet research, online tools to store and transfer data, get an in-depth data analysis, enable real-time chats or meetings, and include many other aspects of regular corporate workflow.
However, the same internet being a helper can disrupt the production workflow as well. Employees, having the convenience of working from home check out various non-related websites or surf the internet to socialize. At one stage, the internet could be an efficient platform to streamline and simplify things.
On the contrary, supervisors won't have any idea of what their employees or agents are doing when they are not working on-premises. Therefore, businesses are looking for constructive yet permanent solutions to keep a strict check on remote employees.
Employee work tracking software is a vital aspect for any company to enable and track their off-site remote employees. Businesses can implement this strategy by connecting activity tracking software to the corporate network through a secured VPN (Virtual Private Network). This way, managers can monitor the traffic and web usage by the employees individually or disallow access to anyone taking advantage of the work hours.
Sometimes, companies have to face network credibility issues because of slow internet and much consumption. User activity tracking software can help to prevent extra internet consumption and bandwidth by banning unnecessary websites and access to ensure fast connectivity among all users.
What are the 3 challenges employers can face while monitoring web activities?
There can be many challenges in the way of employers but one of the most important and hardest parts would be to monitor the actual productivity hours of the employees.
Identifying employees who barely work and those who continuously work is crucial so that every employee can take absolute accountability for their own work. Employees might feel it is not appropriate to watch or monitor the work they do. However, with the right strategies, companies can move in the right direction.
Let's understand the challenges in brief that stop employers to implement an employee monitoring system.
1. Employee resentment
Not all employees will agree with your idea of monitoring especially when they juggle between work and home life. Thus, they would or might resist by perceiving that remote workforce monitoring is there to force them for working like robots and to deliver maximum output in a particular period. This pressure to make them perform might lower their job satisfaction- creating a toxic culture in the organization.
2. Privacy concern
Employees or customer support agents need assurance on their work hours and performance. Remote workforce monitoring may lead to some serious issues taking a toll on their mental health as well. Employees might feel worried if their company is monitoring them during non-work hours too. In productivity tracking software, features like keystroke logging or screen recording could capture content like passwords or bank details that might fall into the wrong hands.
3. Morale and trust issues
Every employee's dedication always depends on the appreciation and feedback they get at their workplace. While being at home and away from colleagues and supervisors, employees might feel detached or undervalued. In addition, if they get to know that their company is monitoring them without their consent, it can seriously affect their morale and hamper productivity.
How to overcome these 3 challenges for seamless remote workforce monitoring?
Enable effective employee web usage tracking with user activity tracking software. Let your business see the ultimate growth while facing remote work battles and ensure absolutely remarkable productivity with no threat to the data and work hours. Here are a few practical tips for you to implement as the best approaches to remote workforce monitoring.
1. Use employee monitoring policy
Without considering legal liabilities, an organization cannot perform employee monitoring. It is critical to ensure that your business follows all the national or state policies and laws to deter any future legal disputes. Having a policy curated for both employer and employee can help to streamline remote workforce monitoring and protect the business. With a signed web usage monitoring policy, employees will understand that company is monitoring their work hours, online activities, and network for better protection.
2. Go for ethical web monitoring
Employee privacy should be of utmost importance. Therefore, the limitations and strategies to monitoring should be pre-decided with every stakeholder's agreement. Encouraging employees by taking their feedback on if they are comfortable with the web usage policy will make them feel heard. They will know that the company values their opinions. The inclusive policy will establish the foundation of trust between the employees and the employer.
3. Use a secure user activity monitoring software
When you have effective policies, it is also important to choose the right tools. There are many aspects that businesses cannot overlook. Employee network monitoring or remote workforce monitoring is incomplete without efficient activity tracking software. The tool through which your business can keep a check on:
Every website or application that employees visit during work hours
In-depth analysis of how much time they spent on those sites
Notify supervisors of employee's inactive hours or time wasted on non-work related things
Case Study: 98% lead validation for global telecom
Download Now
3 Benefits of monitoring web usage and reporting productive hours
Regardless of the industries, enterprises and BPOs (call centers) need activity data to scrutinize how in-house and remote teams are spending their productive time. It is important to identify peaks in productivity and performance for your entire workforce or specific departments.
Let's head towards the benefits that user activity monitoring software offers along with discovering productivity leaks, detecting bandwidth usage, and disallowing unwanted access. Make the most of activity tracking software and get assurance in:
1. Increased productivity
When employees know that their organization is monitoring their work hours, they will be more productive. They would focus more of their time on making their productive hours count and let the employers know how dedicated they can be towards work.
2. Enhanced accountability
Activity tracking software allows supervisors to track every work-related activities that employees perform. While the employees would know the monitoring policy, they will be accountable for the work they do and take full responsibility for their tasks. Alternatively, managers can identify employees taking too long to complete the tasks.
3. Few security risks
Companies can strictly watch the applications and websites that violate security concerns. Therefore, employees will know the potential risks they can face if they access those sites and apps. Moreover, user activity tracking software helps to give insights into someone spending more than the required time on particular websites.
Summing up
An efficient web usage monitoring software has the ability to track all the employee web or app usage data over devices and workgroups. User activity monitoring software lets the administrators set specific rules to receive proactive notifications when employees violate the company's safety policies.
The best employee monitoring software will help to refrain employees from unproductive web browsing to block certain URLs not mandatory in regular workflows. Using activity tracking software is critical for detecting unauthorized programs, discovering disengaged or unproductive employees who play computer games at work, watch series or kill time by taking frequent breaks.