Posted on:

June 7, 2021
Small changes that make big differences to your data security during remote work
Get Started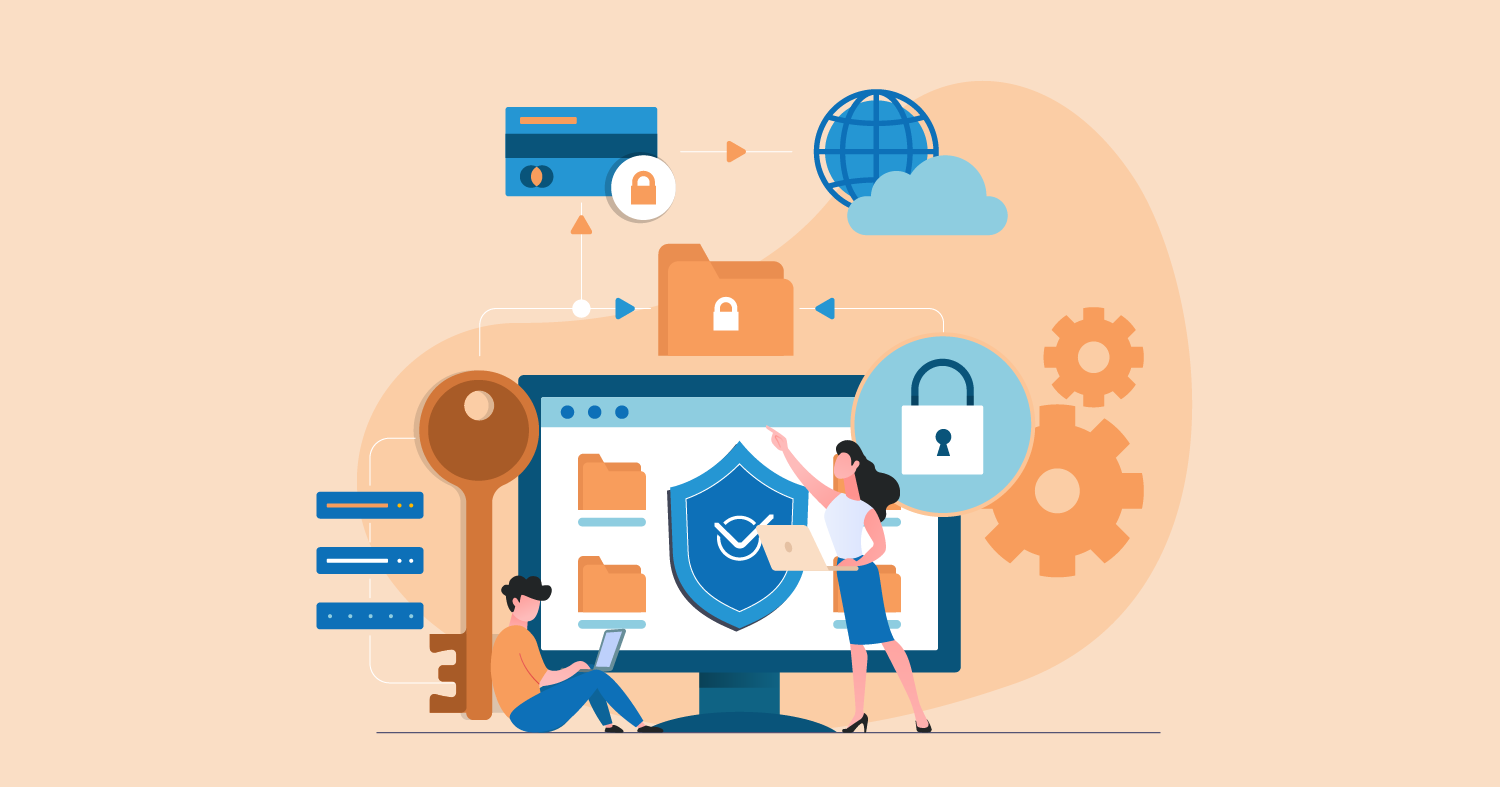 Work from home brought a sense of security for employers as well as employees. It helped them to make things run when there were businesses almost falling back. Remote work was in place long before things were too hard for businesses to handle. Companies realized its potential to the core when they faced issues with transitioning a massive amount of employees to work from home.
However, technology was also there to lighten up some burden from employers' shoulders. Remote collaboration tools facilitated the flow of communication between the business owners, supervisors, and employees. The tools help them connect virtually and in real-time removing all the geographical and time zone barriers. Virtual connectivity resulted in effective collaboration and streamlined workflow during remote work. It created social cohesion and gave a boost to a unified hybrid work culture that organizations will need in the next normal.
Network and data security during remote work
Remote work has taken on a greater significance, enabling businesses to fight effectively with economic uncertainty and employees to keep their jobs without putting their health at stake. Even under the best circumstances, remote work can offer some serious security challenges. The lines between physical office space and home have blurred. Employees are working in less secured environments while trying to adjust to novel ways of working.
From employees using unsecured Wi-Fi connections to networks transferring confidential data, remote work has increased safety concerns for businesses. Employees during work from home are more likely to misuse applications or websites that can be a threat to internal organizational data. This way, crucial data can be vulnerable to insiders and cyber threats.
Most of the employees use personal devices like computers or smartphones to host or attend virtual meetings wherein crucial data and information get shared. In major cases, such personal devices are not equipped with data security software that increases the risk of malware attacks on both devices and corporate servers.
Businesses that lack the required infrastructure to ensure remote work security can have to bear losses, eventually. The biggest challenge for certain businesses is to find a middle ground that fosters effective collaboration and secures the remote workforce's vital information.
In a hybrid work model, remote workers also need support from the organization's help desk and IT staff to deal with the technical issues. A healthy security strategy in place can include devices that do not allow personal use and maintain a combination of data security software with a VPN to secure a remote workforce. Data security challenges can put companies out of business. Targeted data breaches can halt operations and impact major trade secrets.
According to IDCs white paper on the data age, by 2025, almost 90 percent of the global datasphere will require some level of security including data with harder requirements such as personally identifiable information (PII), corporate financial data, and medical records. (Source)
Organizations require the participation of employees at all levels along with an efficient technical solution. The gap between the data that is not secured and the data vulnerable to upcoming threats emphasizes the need for bridge-carrying technologies that would implement data protection while working from home.
4 Practices to strengthen data security and detect threats
In today's business landscape, data is a crucial business asset that demands security round the clock. Thus, here are some of the policy guidelines and security changes encompassing bigger capabilities to foster remote work security. Take a look.
1. Keep employees informed about the threats
For starters, business leaders should educate employees about the potential risks of data security during remote work including how every employee is responsible for protecting it. This can be done by implementing certain practices that would help to enhance remote work security. The best thing to begin is to make an effective cybersecurity policy that would require all the employees to review and sign it.
Make sure that these security measures are communicated to your employees regularly. Assist your employees in recognizing phishing emails so they report such scams in no time. Remote workers will be liable to comply with those safety measures by prioritizing data protection during work from home.
2. Access control is more critical than ever
Most companies spend years fortifying their IT infrastructure. Now is the time of remote work and many employees are using unsecured networks leading to data privacy threats. Malicious activities can take advantage of billions of login records to get front door access to an organization's massive IT infrastructure.
Companies need to equip remote teams with the tools to control access to their accounts and networks. Organizations can move to 2FA (Two-factor Authentication) or Multi-factor Authentication (MFA) for data security management. These processes would require supervisors to control access with multiple authentication requests and encourage staff to incorporate strong passwords and passcodes.
3. Ensure internet connection security
By implementing this practice to enhance remote work security, your business will be able to detect unsecured connections. Make it clear to your employees that you expect them to use the company's VPN (Virtual Private Network) to enable secure connections. Even if working remotely, VPN overload can be an obstacle to remote work security.
Prioritizing VPN use for specific users and managing VPN tunnels with monitoring traffic can help to safeguard the extensive networks. Data protection software with VPN integration capabilities will clear the path and deter malicious threats.
4. Monitor employees' cyber hygiene
Even with the best practices, remote workers unintentionally can sometimes fall short of safeguarding expectations. Therefore, security risks should be identified and addressed beforehand. Recognize that your employees are working in an unfamiliar environment. Business leaders should encourage them to seek help during unwanted circumstances and avoid a culture of blame. There are numerous remote employee monitoring systems available to track your employees' web usage activities. Let your employees know well in advance that you track their activity in order to ensure remote work security.
The technology backing up data security
As remote work continues to emerge as a central component of a hybrid workforce, management with digital transformation is critical. It is vital to note that technology backups work as security arrangements and are not a hindrance. With AI-backed data protection software, addressing the most prevalent threats to data security becomes easier. Companies can significantly reduce the likelihood of data breaches and malicious activities resulting from remote work. In today's business landscape, data has an actual value with all the vital information incorporated in it.
Therefore, security heads and IT experts recommend an absolute range of solutions that offer both software and hardware-based encryption. Establishing cybersecurity policies is just the beginning. It is equally critical to ensure VPN security and access control management so that employees worry less about the potential threats and spend more time focusing on their work.
For employees with system administrative rights, real-time chats and alerts can help identify any behavior issues and stress concerns. This way, businesses can track their well-being, team relations, and productivity.
Organizations, in some cases, onboard third-party support – building team capacity for critical programs and restructuring teams to support other business units. In such scenarios, security teams need to work closely with IT and HR to manage the volume of joiners and leavers throughout the organization. All these new or support staff would perform remotely. Thus, your business will need to adapt approaches to manage access initially. Best of all, data protection software can streamline such instant activities effortlessly.
Takeaway
While efficient technologies and safeguarding policies can help, the truth is employees who are the primary source of enabling workflow can become the avenue for security risks. Policies with administrative controls and data protection software solutions can help in enhancing remote work security. When remote workers are educated and policies to secure remote workforce are implemented, organizations can feel confident in growing even after dealing with challenges pertaining to remote work security. Safe network, data encryption, and access control to confidential information are the elements to strengthen remote work security. Certain challenges in remote work security are driving CTOs and CIOs to embrace digitalization in remote work while making sure that these remote working capabilities are robust, secure, and future-oriented.