Posted on:

July 7, 2021
Enable workforce monitoring software to improve warehouse's back-office efficiency
Get Started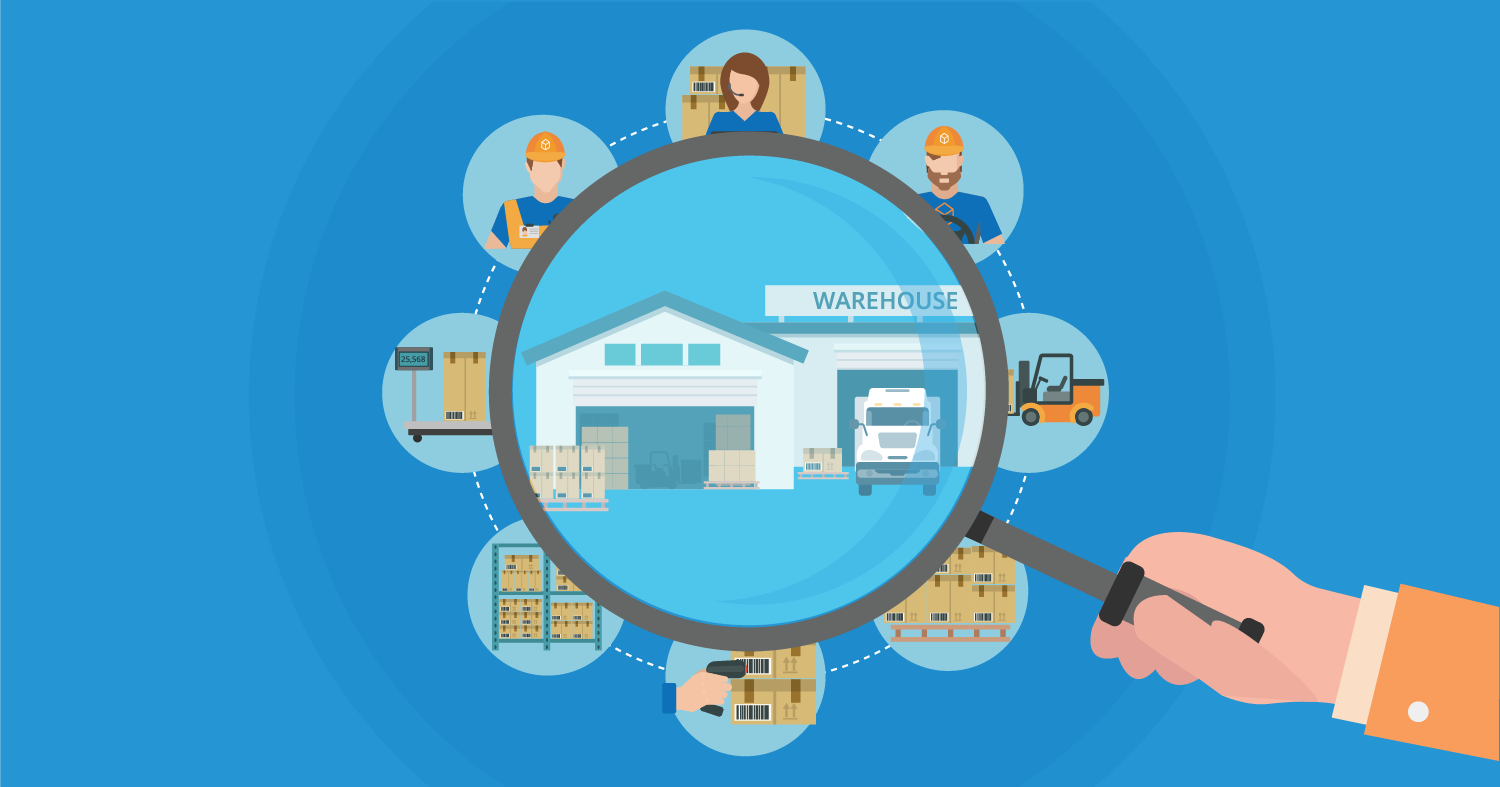 Measuring how employees are performing and dealing with everyday workflow is the need of the hour. Workforce monitoring software helps in facilitating employee productivity in today's business landscape.
Effective warehouse management is the key to offering quick service deliveries and distribution of goods without delays. It covers 24*7 back-office and on-premise operations that go from receiving, identifying, storing goods to packaging, marking, weighing, and delivering products to customers. From order pickup drivers to delivery executives and to check employee efficiency, warehouse operations need constant tracking and support availability. However, only receiving and delivering goods and stocks is not enough!
Some basic warehouse operations' fields that require your constant attention
Businesses in the supply chain cannot compromise with inventory storage capabilities, order management, and workers' roles. The faster and seamless the processes are, the sooner the inventory will become easy to maintain. Some of the basic elements in balancing and managing back-office operations can include:
Recording all information on newly received inventory and assigning roles to employees to maintain it.
Managing employee hours and keeping tabs on per worker's items responsibility
Detecting the unpackaged, disorganized items and make a record of them.
Putting away the labeled items and segregate accordingly to file them in records,
Keeping vendor data in check and secure crucial information from cyber threats and inventory information leakage.
Updating inventory records to check the latest stock levels and orders, respectively.
This continuous operational chain used to have limited resources to get in control of the inventory tracking. Traditionally for record-keeping purposes, bundles of papers and bulk of files were the only option. Now, as technology has taken over the usual workflow of business operations in every industry; organizations are looking for solutions to keep regular operations intact.
Today's technologies not only activates seamless workflow but help in making massive data precise and easy to decode. There is a wide variety of tools available to help your back office operations improve. From warehouse management systems to workforce monitoring software, investing in the right technology can help you streamline your warehouse processes efficiently.
It is important to seek what works best for you. Especially in the times like today, when things are uncertain and businesses have to push their boundaries without putting too many resources out there. There are no centralized work criteria in warehouse operations. Rather, it is so diversified that employees have to make sure they are accountable for the work they do not matter if they are on-premises or handling back-office.
Moving forward, let's talk about what are the factors that can affect a warehouse's back-office operations and how your business can overcome such situations.
Concerns that can be a hindrance to streamline your warehouse back-office operations
The sudden spread of the pandemic had affected warehousing demand because of lockdown and reduced manufacturing activities. Where some of the daily activities had to suffer, back-office operations strengthened the warehousing industry by shifting consumer preference from offline mode to online. Well, after bearing lockdown consequences, many businesses are coming back on track. We cannot ignore the fact that today's business landscape demands to thrive in hybrid work culture. Organizations have realized the many benefits that remote work can offer in the long term.
If warehouse' back-office operations are not in order, it becomes impossible to serve customers seamlessly, manage vendors and handle workers. It might seem easy to plan but becomes difficult to execute. For instance, you cannot improve something without an in-depth analysis of the bottlenecks and gaps. Thus, it is vital to fetch details if you want to utilize your resources to the fullest.
Any obstacle within the chain can impact the entire process negatively. Businesses in the warehouse industry require such tools to actively monitor and review the inefficiencies. If not managed correctly, warehouse operations can run into plenty of issues. Thus, to save it from poor management and disorganized back-office operations, businesses need to identify the disjointed teams and redundant processes.
For that matter, let us throw some light on potential back-office operational hindrances and how you can overcome them with workforce monitoring software while improving employee efficiency.
Ineffective task management
From warehouse supervisors to pickers on the floor, ineffective task management in every role needs to be monitored. Accountability becomes crucial while assigning tasks to own the inventory and manage records related to receiving and delivery of the items. Who takes care of inventory or what time is allotted to a specific worker or supervisor and which shift that work gets the job done? Tracking this can help businesses to identify delays and unproductive workers who did not perform the tasks correctly.
Solution
What is better than having visibility into every worker's task performance? Automating the calculation of average processing times an employee used to perform the task. Moreover, in the present remote work culture, virtually scheduling tasks and assigning roles to make back-office workflow much easier. Get complete visibility into employee performances, real-time web activity, and backlogs with employee monitoring software. Optimize task assignments in a jiffy for workers who switch between front and back-office operations.
Inventory mismanagement – Theft and data losses
Inventory management needs a lot of security measures that bring forth round-the-clock tracking. For each stage of the inventory management process, you need to include teams including managers and front-line staff. Here, staff-buy becomes crucial where you have to control assigning the right people for the job. The reason behind being cautious is to not rely on every worker who can take advantage by leaking important information or a less experienced one who can get under the trap of cyber-attack.
Solution
Inventory management requires effective planning. Make strategies continually and keep updating plans regarding inventory management. Too many documents, files that hold the vital information of inventory assets need to be in monitoring all the time. So no employee can take advantage by stealing anything from inventory. Having records will be useful and by tracking metrics, you can manage workers and inventory items in a better way.
Employee downtime and lack of productivity
Business leaders know the value of productivity at work when they are bearing costs to get things done. How can your business keep tabs on employee productivity if your warehouse is in another location or your back office employees are working remotely? How do employees work and behave when there is no supervisor around? It begins with gaining transparency into how they work and the time they put in each day. Revealing task objectives and achieving performance data can help you streamline further processes. So, how can you do this in today's remote work era?
Solution
With workforce monitoring software, managers can improve employee productivity. When you get insights into work adherence as per shifts and scheduled tasks, you can measure employee efficiency in tackling tasks. Improve and forecast task accuracy by understanding through behavioral analysis and visibility into actual work activities. Even the most effective technologies cannot help if employees do not understand the criteria behind them. Thus, be transparent and open with employees about monitoring.
Consider automation (Employee monitoring software)
Does your organization capture and manage crucial KPIs of your regular operations? Do you know how your employees' critical productivity can impact everyday operations specifically in an industry like warehouse one? Measure the everyday productivity of your employees with workforce monitoring software that can bring out quick results and metrics. It will not only show you employee productivity data as analytics but will help you implement better communication with workers.
An efficient employee monitoring software will help you scrutinize employee performances and amplify the feedback culture between leaders and workers. Identify task accuracy issues, notify employees of performance errors, and give them instant alerts on urgent information in real-time. Warehouse operations and back-office support will become seamless when all teams become engaged in keeping things in order every day.
Include a maintenance plan beforehand so that you know and track how many deliveries a worker does or how many hours per worker takes in inventory management. By measuring per order and per shift, it becomes easy for supervisors to assign tasks accordingly.
Takeaway
Businesses in the warehouse industry should act according to the era of remote work and save time on daily operations. Back-office efficiency is not easy to achieve and maintaining inventory along with bulky reports is quite a hard task when not done properly. Workforce monitoring software simplifies these difficulties for you and makes your daily workflow more convenient. Make your KPIs clear and set guidelines for employees. Employee monitoring software provides insights from a centralized dashboard that represent real-time visibility into employees' work through periodic screenshots. It enhances collaboration and communication between supervisors and workers as well.
Therefore, if you are looking for solutions that help you in achieving better results in employee efficiency and improve back-office productivity, the workforce monitoring software will be of great help.