Posted on:

December 24, 2021
How does knowledge management improve remote workforce efficiency?
Get started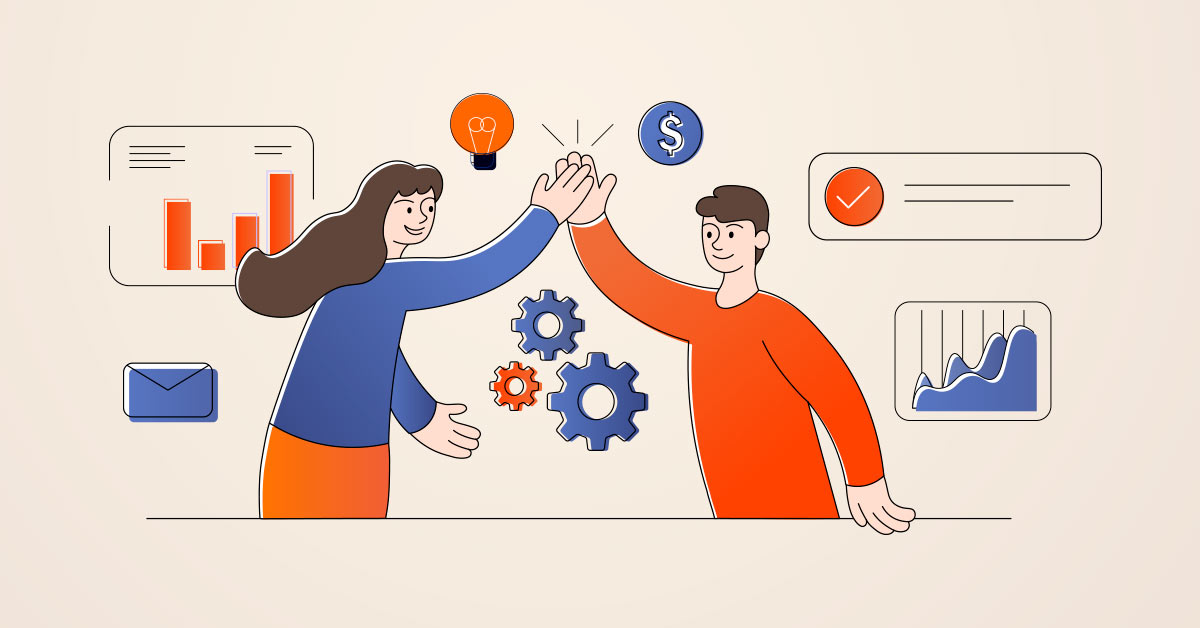 The way of working has changed since Covid-19 has hit the world with lots of challenges. However, it has helped people to work virtually and live with limited resources. From work-life balance to cut on travel expenses, the world has learned to deal with the new normal.
In a situation where humans are at risk of being in physical proximity to each other, technology has come up as a saving grace while making sure there is no challenge in remote work efficiency. Businesses keeping up with today's normal need to ensure that they have access to keep remote workforce efficiency levels intact. One constructive way to do the same is through the help of a knowledge management system.
If your business has made remote work a part of their regular operational workflow then have a look at how a knowledge management system makes a difference.
Improve your hybrid workforce performance
Learn more
How does the knowledge management system help?
A knowledge management system helps manage remote teams and ensures your employees remain productive. A solid knowledge management system paired with a well-designed KM strategy can make distinct changes for remote workplaces ranging from enhanced communication to boosted confidence and more. It also helps build a better experience for external stakeholders, clients, and customers.
In most business verticals, knowledge is spread across different departments. While working remotely, maintaining a record of scattered information becomes a task to make sense of it. With interactions between coworkers happening online, helping each other out can become tricky. This is where the knowledge base for customer service comes in. An efficient KM protocol can consolidate vital information and make it accessible to everyone collectively.
4 factors of Knowledge management that helps to improve remote teams efficiency
Knowledge management is more than sharing information amongst employees. Data is spread across the organization and its different verticals. Each team works on different things, thereby requiring different knowledge. A knowledge management strategy paired with a good KM system can ensure information segregation is seamless and help people work together better from different parts of the world.
Let's look at how KM enables productivity and makes remote working simplified
1. Improved connection to people and knowledge
With remote work, your employees don't have the chance to meet and connect during breaks. They can't interact on a one-on-one level and form meaningful relationships. Mentors play a huge role in training and helping younger professionals, but remote work might be difficult. Using KM, organizations can tag their knowledge objects ranging from data to people and enable employees to find the right people. Similarly, one can tag terms and other key information to help employees understand processes better.
2. Greater accessibility of contextual information
Remote work means communicating across digital mediums and sometimes different time zones. Speaking to people regarding the information or guidance you're seeking can become time-consuming. A Knowledge base for customer service enables findability and accessibility to resources in your organization, helping employees find the contextual and correct information that they require. With KM, one can find the necessary information on their own.
3. Increased collaboration among remote workforces
Working together is an integral part of any business. Exchanging ideas, expertise, assistance, thoughts, and more helps teams reach more intelligent solutions. Moreover, it helps people grow. However, with hybrid work, people can't brainstorm in meeting rooms apart from the virtually built ones. From creating unique processes based on knowledge to finding the right people who have that knowledge, there must be a system that manages the knowledge flow within the company. And KM software does just that. Through its help, all of these functions become a coordinated effort.
4. Using an efficient Knowledge Management system to maximize results
Once you have a knowledge management system, it's only the beginning of great work and success. But the software won't enhance your efficiency by itself. The entire remote team has to work with it. From the initial step of creation to finally sharing information, it's a team effort.
Setting realistic expectations on what is to be shared, informing employees what's required and isn't, pairing up the KM system with other remote tools like video conferencing software, and others are things to keep in mind.
But once an efficient Knowledge Management software is in place and proactively used, you can speed up your access to information, increase your C-SAT, get optimized support costs, and more. Remote working teams will become time punctual and proficient with this system.
Conclusion
The benefits of KM for remote working are commendable. It goes a long way from improving efficiency to bringing employees closer despite the distance. Get ahead of your game by planning an effective knowledge management strategy that'll make things better. Adopt a KM software and use it as per the strategy. This way, your business will achieve the best results and grow faster than ever. But beyond that, your team will be content, and so will you. Start planning today and put this into action.