Posted on:

January 7, 2022
5 effective tips to ensure call center productivity
Get started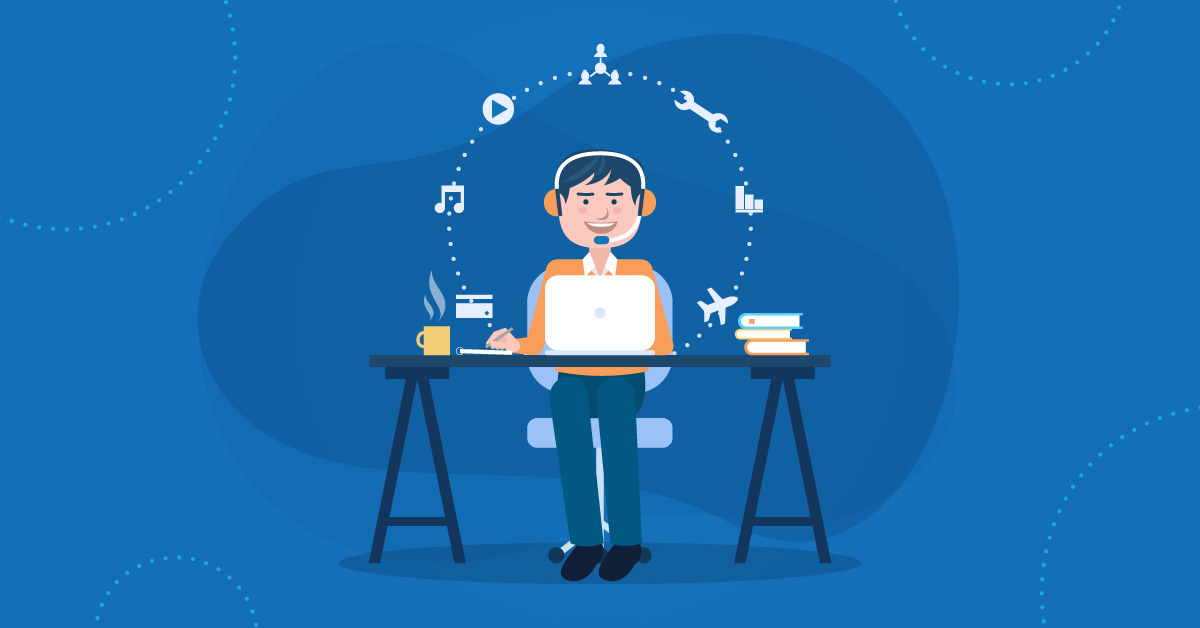 Call center productivity should be treated as a major aspect that cannot be overlooked especially when the goal is about boosting SLAs (service level agreements). To be successful in operations, organizations need to be mindful of the process efficiency and how agents perform.
What is call center productivity?
Call center productivity is all about the work done by agents and staff to ensure every process runs smoothly. It refers to how quickly and efficiently the work happens.
Has the battle been won already? No, it is just the beginning. Businesses might know what they want to do but do they understand how to do it? Employees' work efficiency and their accountability towards work can directly impact the call center's overall productivity.
Case Study: 98% lead validation for global telecom
Download Now
So, why is productivity important in a call center? If agents are focused and feel connected to their organization, their productivity and performance behavior will reflect in their work. On the contrary, low employee morale and dissatisfaction among employees would lead to negative customer experiences also.
Employees giving productive inputs help to accentuate the output and efficiency of the organization. To maintain that balance between employee productivity inputs and organizational efficiency in today's hybrid work scenario, it is vital to understand the key components behind the smooth-running of daily functions.
How can a call center improve its employee productivity?
A remote workforce management software can do the right things for you. Wondering what might be a great deal for you to choose from. No fear! We have done the groundwork for you. Keep reading to keep going towards your productivity management goals.
The major challenge arises with the question of effectively managing a remote call center. When employees are looking for flexible options with access to both in-office and remote environments, it is crucial to make smart choices that match employee as well as operational needs. For intelligent decisions, businesses must know what to look for first and then act on it later.
4 important metrics that decide the overall process efficiency and productivity of agents
1. First Call Resolution (FCR)
This KPI shows how many customers had their issues resolved on the first contact with agents. If the first call resolution seems high that means your employees are being productive and helping resolve the customer's problems in first contact while not getting in multiple interactions. This is a good indicator of the overall call center productivity.
2. Average Handling Time (AHT)
AHT refers to the time duration a call center agent spends on resolving queries related to customers. Low average call duration (ACD) means support agents are efficiently handling customer calls. Reduced time does not indicate the productivity of employees but it does show that they are being accountable toward their KPIs.
3. Customer Satisfaction
Scoring usually means to rate something as you like it. The customer satisfaction score is just the same. It decides how much a customer is satisfied with the services or solutions he gets from agents. CSAT is generated by customers on a scale ranging from 1 to 5 where 1 signifies highly dissatisfied and 5 as highly satisfied.
4. Average Time in Queue
The average amount of time in queue shows the total time a customer has to wait to get their queries solved on a call with a support agent. If the waiting time is long then it will lead to a poor customer experience. Whereas if the waiting time is for a shorter duration, the more likely it is for a customer to be satisfied with the service.
Maximize your hybrid team productivity
Read More
5 effective tips to ensure contact center productivity
Now when you have performance benchmarks to accurately measure your agents' performance and productivity, it is time to go with appropriate strategies to achieve call center productivity.
1. Focus on quality and constructive feedback
Support agents or employees, no matter where they are working from, need to know their performance based on call center metrics. The feedback must be constructive and not dominating. It should not be focusing on what they did but what agents can do to improve performance.
Employees often leave companies when they feel overly criticized or micromanaged. Thus, it is important to enabling a solution that monitors productivity and helps supervisors to give the right feedback based on accurate employee productivity insights.
2. Measure improvement on key metrics
The right insights are followed by how businesses define them for improvements. Call center agent monitoring software helps businesses to have analytics as proof of employee liability toward the organization. When agents understand their KPIs and call centers know what improvement can be done on those call center metrics, productivity graphs provided by employee monitoring software will keep track of the improvement.
3. Use the right contact center software for boosting employee productivity
Choosing the right thing from numerous options can be hard especially when hybrid work productivity and operational efficiency are at stake. Implementing the solutions that keep track of call center productivity metrics, help track the time and activities of employees should be the key parts of the agent monitoring software in BPO you will choose. Make sure it is helpful not only for office teams but can enhance employee productivity for remote teams also.
4. Share real-time statistics with your team
What is better than being transparent with your teams? Hybrid team connectivity is important and what's more important is to share their evaluations, the methods for how you got that evaluation such as using employee productivity tracking software, and how your teams are supposed to improve. When support staff will start seeing all their efforts are measurable and can change with improvement, they will do more to add to your call center productivity.
5. Foster team-building activities to appreciate the work
Remote teams are somehow away from the regular office culture. They must feel connected and engaged with the company. Therefore, using the hybrid workspace smartly and there must be a remote team collaboration tool for better virtual connectivity to keep things going engagingly. There should not be any negligence in strengthening connectivity with remote employees. You can establish a weekly or monthly culture of team-building activities to appreciate the work done by employees and encourage their morale.
Summing up
Ensuring call center productivity can become easy by merely detecting what needs to be done and on what basis. Furthermore, when improvements are made on proof and transparency, the easier it becomes to attain that goal of employee productivity.