Posted on:

December 14, 2021
6 resolutions to increase your hybrid workforce productivity in 2022
Get started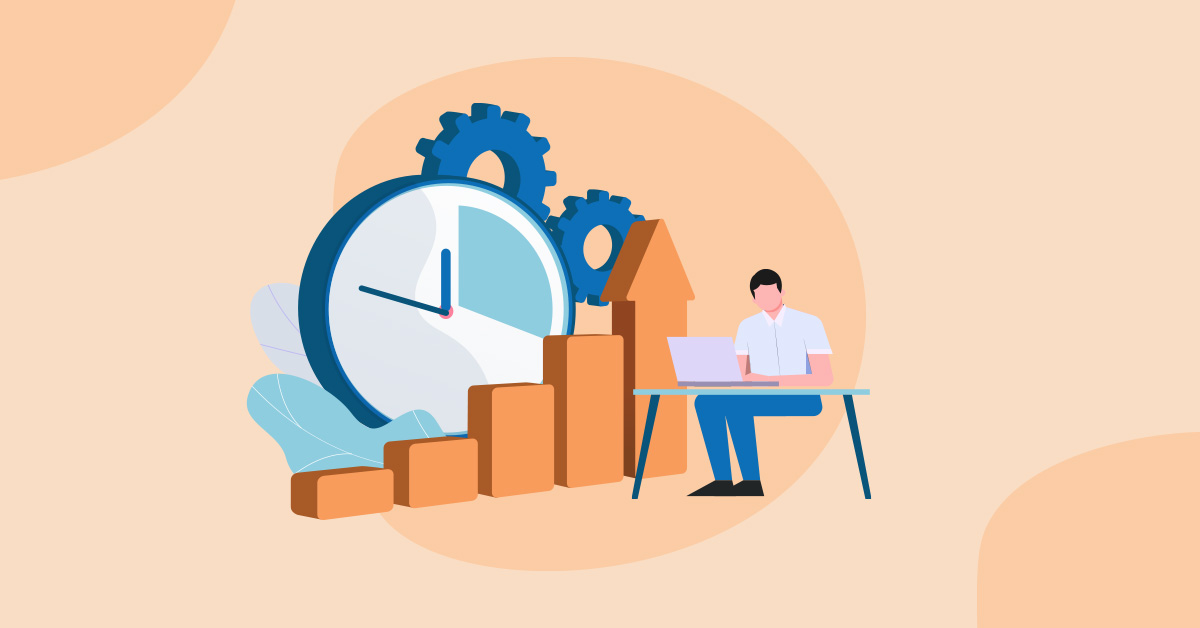 Enhancing hybrid workforce productivity has become a major goal for organizations since workforces are opting for opportunities full of flexible working. But why there is so much fuss around increasing productivity and that too for workers who are away? 
Hybrid workforce productivity as a catalyst to business efficiency
Increasing employee productivity acts as a major factor in boosting a company's performance. The reason is evident, employees working in different geographies do not work under supervision, hence, they have the liberty to slack off from their work anytime. So, how do companies ensure the productivity of those offsite employees without compromising the productivity management of onsite ones?
By leveraging the right tools and strategies that will help your business flourish with the sky-rocketing speed even when there are crises around. Remote work has come up with a major benefit that many companies are still left to recognize and that work anywhere and anytime. 
Productivity is the vital factor that decides the overall performance output of the employees. Engaged employees who deliver as per their defined KPIs with thorough but data-driven supervision can successfully meet project deadlines. All those set priorities are impacted by employee productivity. Here's the thing! 
The data collected from measuring employee productivity provides an opportunity to improve the regular activities and performance of employees.
Here are 6 resolutions that your business can enable to enhance hybrid workforce productivity
1. Check-in with employees and learn what they need
Understand the challenges of your employees when they are working from home. Make sure that they feel connected to the organization even when they are not proximate. Some employees can be hesitant to connect unless asked first and some may feel neglected within the team.
Resolve this complexity by enabling an robust employee monitoring system that will help your business to understand how employees are performing, where they are lacking, and why they are not productive enough. Having clarity to what your employees need will definitely remove your doubts regarding their productivity and fulfill the gaps that prevent them from giving effective outputs.
2. Make resources available to remote workers. 
You can only fulfill the void when you have resources available. When your business has all the data available regarding what your employees want, you can provide the right resources to them. Employee monitoring for hybrid work makes it easy for you to fetch that data.
The elements that separate those workers who are productive from those disconnected ones depend on the types of resources and tools they are thriving on. It is better to understand the requirements of hybrid workforce productivity and enable resources accordingly.
3. Foster inclusive management plans 
A major setback that most businesses face is aligning proper productivity management for hybrid workforces. You might have a strategy that convinces you to keep going forward with the way you are currently managing onsite and offsite employees.
If your employees do not clearly know what they are supposed to do, they would not perform well in the first place. Companies need tools that keep every employee and supervisor on the same page regardless of different geographies, workspaces, and time zones. 
4. Focus more on quality assurance
There is no point to get details of hybrid workforce productivity unless you have the metrics to calculate and analytics to take further action. What do supervisors, team leaders need to check or look for when they are tracking employee productivity?
There should be some KPIs set for employees that they need to focus on and supervisors can keep track of them through tools like employee productivity tracking tools while monitoring the output of employees.
5. Have transparent and productivity-driven goals
Transparency is the key to achieving long-lasting goals. Without complete visibility, employers cannot observe when their employees are taking on more than they can handle. Even if the workload remains the same as in-office, remote work comes with its own set of challenges; providing the stress of work-life balance to employees.
However, one thing that should be the key consideration is that being busy does not equal being productive. When employers are clear about their intentions of collecting productivity data with employees, they will be able to progress with maximized results.
6. Improve employee morale 
Employees cannot work productively until they feel appreciated. Affirming feedback can really make an impact on how they work and provide output. It is easy to give feedback to in-office teams whereas reaching employees who are away and letting them know how you feel about their performance is not that easy.
Therefore, managers need a competent remote collaboration tool that helps to foster real-time communication between supervisors and remote agents. Employee productivity tracking tools encompassing collaboration features can help companies to initiate improvisations and boost employee morale.
Over to you – An everlasting shift to productivity-driven hybrid work model
A seamless, productive, compliant and secured hybrid work model will be crucial in next coming months or years as organizations are swiftly shifting to enable remote work across their locations. There are so many questions on whom to bring back, when is the right time to call employees, and how they can get back to offices.
In today's world, having an in-office environment where employees come together to innovate and collaborate is crucial. That is why technology like employee productivity monitoring software can be a great asset to invest in for managing hybrid workforces.