Streamlined CX begins with maximized productivity
A Forbes survey revealed that 70% of contact center managers are satisfied with remote work productivity and intend to continue working remotely as their standard workforce model.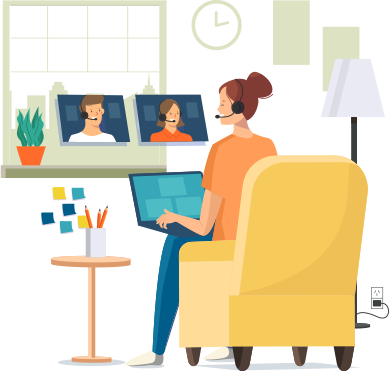 The ongoing popularity of remote work has benefited organizations with limited resources and people. The most significant advantages of remote working will be the improved staffing flexibility with a large pool of agents across multiple locations and the capability to handle call volumes without geographical barriers.
Discover underlying operational challenges to CX
Productivity Shortfall
Support teams handle multiple calls at a time, creating a stressful environment and negative customer experiences.
Agent Attrition
Employees in a call center have a high rate of burnout, turnout, and poor productivity.
Repetitive Unresolved Tickets
A single bad experience of a customer takes up an average of seven positive experiences.
Low Agent Retention
Continuous hiring and onboarding sessions make it difficult for managers to assist their agents.
High Agent Error
Quality teams' dwell on high error rates due to incomplete or low findability of the correct information.
Ever-Increasing AHT
Customers find the query resolution unsatisfactory when they must wait longer than usual.
Time to Proficiency
Enabling valuable skills, competencies, and tools in agent training requires extra time, effort, and knowledge.
Combating remote work battles to ace quality
Contact center heads clearly understand the opportunity of remote work to streamline operations and reduce extra expenditures. Considering how feasible remote work would be for agents and supervisors, there is no better way to boost productivity, avoid distractions and make your customer experience hassle-free.
Upgrade Monitoring Software
Train, coach, reward, and check performance on a single platform to improve and act accordingly.
Follow Hybrid Work Model
Reduce noise and distraction by giving your agents their personal space to focus better.
Engaged Training Sessions
Reinforce good habits and fix nasty habits by training with targeted assistance in a classroom-like online experience.
Empowered Collaboration
Ensure swift communication from supervisors to agents while keeping your remote interactions lively with collaborative outcomes.
Reward & Appreciate
Build trust and strengthen agent-manager relationships for a job well done and reward the best talent.
Customer-Centric Operation
Motivate employee engagement and achievement with the right tools, tactics, and skill-based routing.
Non-Traditional Metrics
Focus on real-time customer feedback, NPS, and a balanced scorecard to improve agent performance.
Why choose Leapmax?
Simplify remote work across your company with our solution's powerful capabilities and ensure the productivity, security, and efficient management of a remote workforce from a single AI-enabled integrated platform.
Employee Productivity
Time tracking
Mobile & Desktop Screenshots
Video Conferencing
Apps & Website Usage Tracking
Team Collaboration
Learning & Knowledge Management Tools
Mobile App for Agents & Supervisors
Keep your customers
close.

Keep your employees

closer.

Let's Talk
Connecting your business in a remote world
At Leapmax, we design, develop, and deliver intelligent, secure, and scalable enterprise-level remote workforce management solutions for major industries.
Learn what's working and why
Discover new remote work insights and employee productivity opportunities with Leapmax as your trusted work from home solution partner.
Leap forward with Leapmax
Remote workforce management has never been this easy.
Give Me A Demo
You'll never want to go back
once you Leap
Get a demo