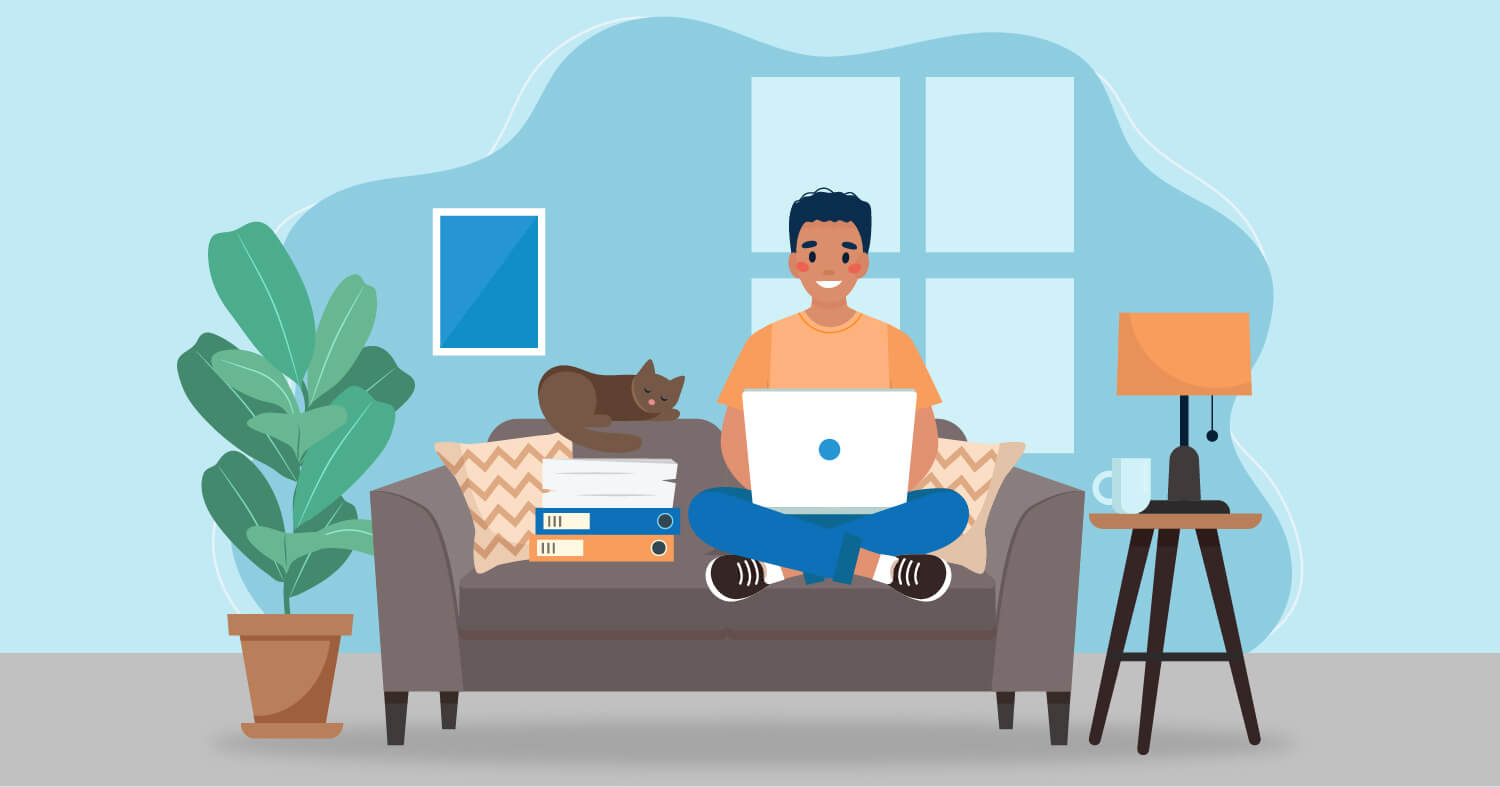 6 ways to make work from home employees love their company & their jobs
Posted on:

April 15, 2021

Remote working was in practice a decade ago but was not as prevalent as not many companies had embraced it before. In the recent past, several advancements were made in Artificial Intelligence which provided a solution to many organizations to cut down their operational costs and to face cutthroat competition.

With the coming of the pandemic and post-pandemic, the market fundamentals have completely changed. The industries, on the verge of closure, found a golden opportunity for revival by converting most of their operations to remote working. Remote working is a win-win situation both for the company and remote workers.

Remote working not only reduces operating expenses for the organization but it also gives remote worker ample time to have a work-life balance and work according to flexible timings.

Even with all the advantages, many workers are still finding it difficult to cope with remote working. They lack the office atmosphere and their interaction with their colleagues and also feel they are being left out from any decision-making activity. This increases their alienation from the company, which adversely affects their productivity.

Some remote workers also feel neglected when there is a lack of communication or miscommunication with their managers. This makes them feel that they are not a part of the organization.
Best practices through which organizations can help their work from home employees
Following are some of the ways through which organizations can help their work from home employees to feel more engaged and love their jobs:
Effective feedback
Providing feedback to remote teams in a virtual workstation is one of the most critical things today. The employees are the ones that are keeping everything running while working from home. When there is no physical contact with them, sharing feedback is much more important in building a connection with the team and making them feel involved.
When a remote worker gets some feedback from their managers, it helps them in improving their performance. It also helps them in decision making, motivates them to do better by understanding their weak areas, and further helps in team building.
In a study of 65,672 workers, it was revealed that those who got feedbacks had lower turnover rates by 14.9% in comparison to those employees who did not receive any. In another study with 530 work units, it was found that teams that received feedback from their managers showed 12.5% greater productivity. (Source)
Feedback doesn't necessarily have to jump between an employee and their manager. There should an option of peer-to-peer feedback which is a great way to connect workers working from home. In peer-to-peer feedback, coworkers cheer each other for all their hard work and the efforts they put into every task. By stimulating peer-to-peer feedback, employees may start communicating beyond their work area which can help in boosting their engagement at work.
Establish regular communication
Setting up regular communication virtually with the remote workers is very important to help everyone remain on the same page and understand everything that's going on. Managers need to make themselves available when they are managing remote teams. It can happen often that remote teams may feel disconnected from what's going on in the company.
Establishing regular communication can help the remote teams to overcome any challenges that come with their remote work.
To communicate effectively with remote teams, proper online meeting tools can be used, either through skype, zoom, etc. To communicate on a company platform with a secure and stable connection, there are various AI softwares that comes with features of encrypted video conferencing, integrated live chat tool, etc.
Conduct social events
It is very important for workers and especially remote employees to connect with one another outside of their work-related meetings. For the virtual workforce to bond with one another and making working from home fun, virtual happy hours or some game nights can be conducted.
Virtual events might not be the solution to every problem within an organization but they can definitely improve the complete experience of the team members and create a feeling of community.
There is a concept in psychology called the Johari Window which means to build up and enhance relationships in groups. The crux of this concept is simply that to build trust within a team, each and every individual is motivated to open up and share their personal experiences. This helps the members understand their co-workers better and also helps in providing any support they might need to work in an effective manner. (Source)
Support newly hires
It is important to understand that a manager who hires an employee is the one responsible for their success. It is because they know everything about their employee, from their skills and talents to their weaknesses. Thus, it is important to support newly hired workers whether they are remote workers or on-site workers.
But it is also important to understand that when remote employees are hired, they aren't able to absorb the on-site team feeling. This is where their managers can help them in making them a part of the team in which the members are working on-site and off-site. To motivate the newly hired remote workers, the managers can send them either a positive message or a welcome kit.
It is crucial to keep in mind that the remote workers are not having a typical onboarding where they are given a tour of the company and introduction with their colleagues. It takes more effort than that to make the newly hired remote employees motivated and engaged with their jobs. The managers should also be there for the remote workers in case of any query or if they are experiencing any type of difficulty with their work.
Managers can provide appropriate training and resources to support the newly hired remote employees during their onboarding. Managers can make sure the remote employees have their log-in details with them, have a clear knowledge of how the company software work, etc.
Acknowledge employee contributions
It happens that when remote workers work, they aren't working exactly like the on-site workers with complete dedication and no distractions. But remote workers put in more hours than their on-site workers and still feel like they are not a part of the team. The only solution the management can take here is to make employee recognition a prime concern.
This can be achieved by using an online recognition platform such as using virtual meeting platforms. This gives every employee the ability to observe, share their views and get recognition in real-time for their efforts. When remote employees are recognized for their efforts from their managers and peers, they feel connected which further improves their self-esteem.
Embrace flexibility
One of the main advantages of working from home is the flexibility it provides to the employees. When it comes to weekly team meetings or sessions, a particular time is decided around them but with work, remote workers should be given some sense of autonomy or freedom for how they work for the rest of the day.
Developing trust between the managers and their employees is very important for employee satisfaction and to get the work done. If companies start adopting a flexible work culture, it will not only help the organization but also the employees in creating a healthy work-life balance.
Takeaway
By now, it is clearly understood that work from home will continue to stay for a very long time in the coming years as it has become the new normal. This means understanding how to control and involve remote employees by adopting various employee engagement strategies is far more important than ever.