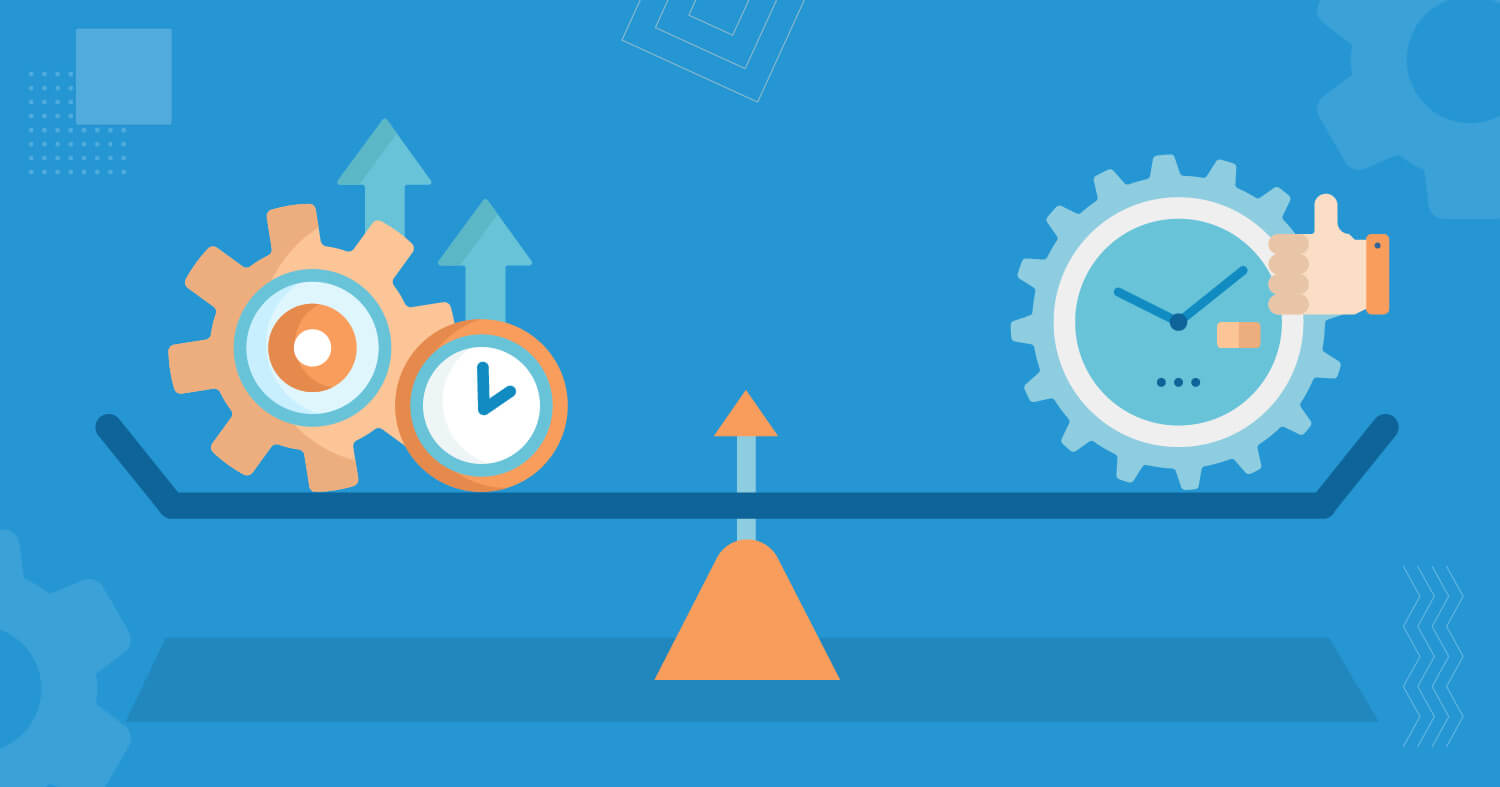 Productivity vs. Efficiency: Which should your remote teams strive for?
Posted on:

February 15, 2021

Let us begin with understanding the concept of remote teams.

A remote team is a group of professionals that is set up differently than a traditional office team. These professionals belong from different parts of a country or even the world, with different work time-zones, cultural backgrounds, and different skills. It is a virtual set-up wherein people from different geographical locations work together on a unified project. In the age of work culture transcending the limits of a regular office, remote teams are employed for a variety of reasons by organizations and companies. Remote work reduces certain overhead costs, allows the hiring of eligible individuals from any place in the world, and allows professionals the convenience to not have to relocate because of a job, among other benefits.

In this blog, we are discussing whether remote teams and remote team managers should focus on productivity or should they focus on efficiency in their work culture.
Productivity vs. Efficiency
Productivity, by definition, is the ratio of work input to work output. It measures the amount of work output that a work unit produces by utilizing inputs like capital, resources, and labor. A highly productive work unit means that the work output of the unit is greater than the amount of work input.
Efficiency, by definition, is the measure of using limited resources to produce the best output or results. It is the ability to do things well and without wasting resources.
The main difference between productivity and efficiency is on which side of the work structure each of the terms focus on. While productivity measures the volume of output, efficiency focuses on the volume of resources being used and without waste. While productivity is easy to measure, efficiency may not always be measurable. Efficiency is also dependent on the quality of work along with the quantity of work. At the same time, productivity is also not always tangible. If the work is more technology-based, it might be harder to calculate until, say, the end of the project when earnings may come in.
From the basic definitions, it is clear that both productivity and efficiency are important parts of a work-flow. It is in fact, possible for a team of professionals to be both productive and efficient. The maintenance of both depends on the analysis of different factors and conditions at work.
Now that we have an understanding of productivity and efficiency as concepts, let's look at which one is more important for remote teams? Or are they both equally essential?
Productivity and efficiency in remote teams
One of the best indicators of productivity at a workplace is employee performance. A study held by Stanford University professor Nicholas Bloom and other scholars in 2013, with employees of a NASDAQ – listed travel company showed that there was a 13% increase in employee performance and in-turn in productivity when workers worked from home, in remote teams, for 9 months. Research also shows that by allowing people the ability to control their work environment, employees can be more comfortable and focus on their work, thereby producing more work in less time.
Not having to commute to and back from work is something that many people appreciate about remote working. Research shows that 1 out of 4 employees quit because of the commute. Travelling also leads to costs on public or private transport that can take out quite a chunk of a person's earnings. Therefore, the absence of travel expenses leads to saving more money and time. Wastage of time is also a major factor in the decrease inefficiency. Workers are also able to increase their efficiency with work by choosing when to work and having an overall managing time better. Employees of remote teams are also able to maintain better schedules in terms of exercise and food which leads to less illness and ailments. Days are not wasted taking sick leaves with healthier employees. This is also a practice that is crucial in the social climate that 2020 has brought on.
However, it is also important to note that even though there are a lot of positives mentioned above; one of the main downsides of remote working is the lack of social structure. Humans are social beings and sometimes not having social interactions with co-workers and a lack of clear distinction between a professional and personal setting messes with the efficiency of a worker and the productivity of a team. Sometimes it just affects the morale of a team. This issue is more evident in collaborative projects than individual ones.
So, now to answer the main debate – Productivity vs. Efficiency of remote teams – which factor to focus on more?
From the above discussion, it is clear that productivity and efficiency are very much inter-related.
An efficient workforce leads to increased productivity.
Therefore, remote teams need to focus on both. As we have discussed and seen from research like one held in 2019 by the outsourcing company, Airtasker that productivity in remote teams is greater than that of traditional teams at physical workplaces. With people working from the environment that suits them the best and often on their own time, they can work very comfortably and efficiently. The input of work and resources from both the employer and employees is often minimal compared to work output. The more efficient the team, the measure of productivity would be higher.
Remote work has changed the organizational setups of most workplaces, especially in the light of recent events. With the shift from physical to virtual workplaces, a lot of characteristics of work culture have changed. The two major factors have been efficiency and productivity which from an overall analysis have been on the rise.
But as was mentioned above, with people being cooped up within their homes for months on end and without the social structure of a workplace, remote teams can often face a lack of morale. There are factors at home that can be distracting as well and lead to employees being less efficient.
How to keep up the efficiency and productivity of remote teams?
Managers of remote teams need to ensure that they take steps to ensure that a change that at no point does distance among team members leads to a disconnect between the team. A disconnect can lead to a fall in the productivity of a remote team even with the best efforts put in. If the efforts are not leading to great results, it would also demoralize the team and decrease efficiency.
It is also important to consider that no matter how good the performance of a team is, it can always be better. Work practices can always be improved. Switching up work practices can also prevent the onset of monotone with work among workers.
Some measures to increase efficiency and productivity in remote teams are as follows: 
1. Managers need to keep the accountability factor prevalent even in remote teams. This can be easily established by allowing team members ownership. In remote teams, workers are already working from autonomous settings; therefore managers can use that criterion to allow them sole ownership of a certain task or project. This practice will lead to high efficiency from an employee who now is solely responsible for the task and would prefer to get it done correctly and as soon as possible. There will be no waiting around for inputs for the team or the provision to depend on someone else to correct the task.
2. To follow up from the above point, managers should create a balance between employee autonomy and employee communication. Setting up proper communication systems is essential for a team to work effectively and efficiently. Clear communication not only helps remote team employees in understanding the expectations from them but also keeping every team member up to date on the latest developments. Proper communication setup also helps managers train new members joining the remote teams. A lack of communication can lead to low productivity with most of the work going into acquiring information correctly instead of working on it.
3. A manager needs to have a clear understanding of the strengths and weaknesses of each team member of the remote team. This will help the manager utilize the strengths of different team members in different situations to ultimately lead to increased productivity. The efficiency of team members can then be amalgamated into the best combination to create a remote team whose performance productivity is considerably high.
4. A remote team is essentially a group of professionals working on their own and sometimes on their own time. However, this can lead to a disconnect between team members and make it hard for individuals to consider themselves to be a part of a team. To prevent this from happening, managers can hold certain team-building exercises, suiting the needs of the team, to increase familiarity between team members. It can be a matter of recreation, strengthen relationships and help the team producing better quality work when employees feel like they are working with friends.
5. Managers can employ project management software. Software to efficiently handle and store project records will ensure that productivity levels stay stable even with changes in levels of human efficiency. A human being may falter, as is very normal. But with software to back up activities of a team, the team can not only stay adequately connected but also add features to work systems that will take team productivity to greater heights.
6. Lastly, and very importantly, managers need to provide feedback and praise a job well done. Arrange individual or group virtual sessions to congratulate good work from the team members. This act of appreciation can boost employee morale and encourage them and other employees to work better. More efficient employees mean a highly productive team. Along with appreciation, give out feedback to your employees. The feedback system should also be established among team members. The system can provide guidance, information, and assistance to perform better or how to improve work. This system also establishes constant communication among team members. Proper communication among team members will lead them to perform better on collaborations and show the same level of efficiency in a group project as in an individual project. This creates a collaborative workplace that is also increasingly productive.
To sum it up
A remote team needs to focus on improving efficiency as well as productivity. These topics are related to each other and there is no existence of one without the other. Focusing on being efficient will automatically lead to productive outputs. Both the quality and quantity of work need to be analyzed to understand how to both efficient and productive.
There is no one way to be productive or even efficient. The establishment of the same is also both the manager's responsibility as well as the employees'. A good work environment is the most important factor. Creating a good work environment depends on a lot of factors that the whole team needs to define and decide on. It is also important to remember that these factors can change over time. Efficiency and productivity aren't always fixed measures. They not only depend on individuals but also on individual projects as well as circumstances. Workplace systems, especially in remote teams, need to be flexible. With team members sometimes spread across the world, a rigid productivity system might not guarantee the best results. Another major factor that team leaders often overlook is that a highly efficient team member does not have a standardized look. Efficiency can be different for different people. Not everybody works the same way, especially in remote teams. It is up to a manager to merge all levels of professionals into one efficient and productive system.
Managers and team members in a remote team should learn about each other so that they have an understanding of who they are working with. As mentioned above, familiarity and proper communication can lead to a well-structured, efficient, and productive team where professionals work in the best interests of not only themselves but also of their team members.