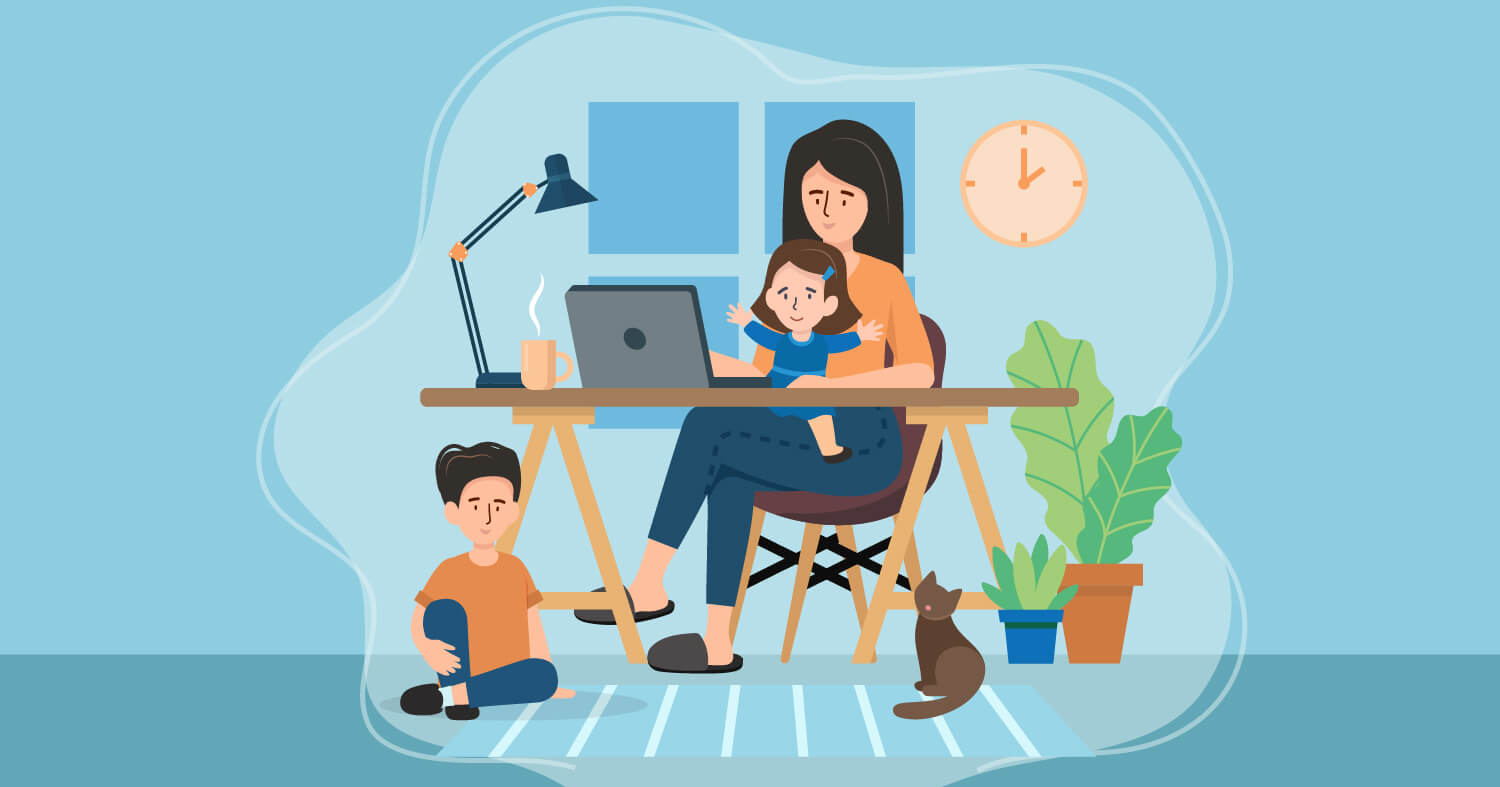 Remote work: Managing business and personal life
Posted on:

April 13, 2021

Remote working was in practice many years ago in some of the IT industries where physical presence in the office was not mandatory. But with the global crisis of pandemic which took a heavy toll in terms of human lives, now it has become imperative for remote working to be adopted by a large number of companies as during this crisis many companies had suffered heavily in terms of financial losses.

To recover such losses, the best options for the companies is to drastically cut their operational costs at all levels by allowing some of their operations to be performed through remote working. It is also safe for the employees to work remotely as it has many advantages for both the employers and employees. In a way it's a win-win situation for all.

For employees, it's a respite from daily commuting to the workplace, it gives them a better opportunity to manage work-life balance and they can have quality time with their families and attend to their organizational tasks without any hassle. On the other hand, for companies, there is the reduction in rent on office space, lower expenses for providing ergonomic seating arrangement for the employees, reduced expenses on logistics, electricity, security, etc.
Challenges of remote work for employees
With a rapid increase in work from home, many employees are still struggling with the challenges posed while managing their personal and professional lives. It is of paramount importance that they work on tackling such challenges to ensure their productivity to the tasks.
Some of the challenges of working from home to be tackled on a priority basis are listed are below:
Maintaining proper communication
When it comes to remote working, there is always a chance for lack of information or miscommunication happening between the management and the remote workers. For remote workers, it becomes a really big challenge especially if their team works in the office but they don't and miss out on all the discussions happening without them. Such communication issues not only can affect the productivity of the work but can also affect the self-esteem of the remote employees.
Remote collaboration
It's a common challenge for many remote teams to collaborate with one another from different locations. When the team members are in the office, they can clearly interact with each other with their documents, projects, etc., without any limitations but when working remotely, it poses a challenge not only in terms of interacting with one another but also in terms of their security.
Dealing with network issues
When there is work from home, there can be issues with regard to internet connectivity due to either outages or system fault. At times, such stoppers become so frustrating when remote worker is in the midst of some important project, communicating with any remote team member or attending any meeting online. This results in affecting their tasks and missing out on the discussions discussed in the meetings which in the end, eventually affects the remote workers concentration and effort which was put in the task before.
Overwork
It has been observed that remote workers overwork because many times, they fail to switch off and make it the end of the day. It happens various times that when they are busy with some task or any project, they forget to take breaks in between and also forget to realize the reasonable time to call it a day. It also happens that the moment they log out and have a notification pop up either in their laptop or any other electronic device which, if they try to catch up, they end up working overnight and forgets to stick to their office routine.
Feedback
There's always a thought of lack of productivity and effort in tasks with the remote workers when they have to work from home. The constant supervision and attention they used to get from their seniors or supervisors while working at the office is lacking while working from home. This, in turn affects the remote workers dedication and efforts put into the tasks while working from home which in the end, definitely affects the remote workers competence but also affects the productivity of the company.
Dealing with distractions
Since office and home boundaries are not clearly demarcated for remote workers, they may sometimes have to attend to their domestic chores like grocery shopping or some other miscellaneous work which in the end affects their productivity and compromises their team progress.
Employee health
The sudden shift to a remote working setting has been very stressful for many employees. When they are alone and have no physical connection which they used to have in their office, they easily get stressed and start feeling anxious. They also have difficulty in adapting to the sudden increase in workload while working from home which affects them both, physically because of sitting for long hours and mentally. In a recent survey of around 7,000 professionals conducted by Blind, it was found that 73% of workers are burnout and 27% say that it's because of no separation between their work and personal life. (Source)
How can employees tackle such challenges?
Some of the ways through remote employees can tackle such challenges are listed below:
Handling the communication issues
To tackle this challenge, it is important to facilitate a proper two-way communication between the management and the remote workers which can be greatly accomplished by using a proper online communication tool such as an integrated live chat tool or through encrypted video conferencing instead of communicating through emails or text messages in order to prevent any type of miscommunication or loss of information.
Remote collaboration issues
The most important thing for remote collaboration is to have an effective communication medium and email is not one of them. To have a safe and secure collaboration with the remote teams, artificial intelligence's tools can be used such as encrypted video conferencing and integrated live chat tool. They allow the remote teams to collaborate with one another easily without any additional signups to chat or video call with their team members safely and securely and discuss on their projects and tasks without any limitations.
Dealing with network issues
To handle such a crisis, it is always advisable to have adequate mobile data to run the internet on a laptop. And besides this, remote workers can use various artificial intelligence software that consists of certain tools that can identify faults in both on-site and remote workers' network connectivity beforehand to prevent any interruptions before logging into work, thus, not affecting their tasks.
Managing overwork issues
This can be partly mitigated by adopting fixed office timings where their login and logout timings should be fixed and also where the workers can take certain breaks to refresh and recharge themselves. In order to keep a track of their login, logout, break timings, how much time they devote to a certain task on screen, etc., certain artificial intelligence tools can be used which will benefit the remote workers in keeping a check of their daily activities during their working hours by not affecting the productivity of the tasks and preventing themselves from overwork.
Timely feedback issues
This can be solved by various artificial intelligence tools through which, remote employees' activities can be monitored at all times during their working hours, track their workflow and productivity practices which allows in giving an overall assessment to them from their superiors for the improvement in their performance in the future.
For instance, with the help of employee time tracking software and employee activity monitoring software, every activity or any application that a worker is using and how much time is devoting to it during their working hours can be tracked. With the help of features like user status, regular screen capture, remote barge-in, every remote employee's online or away status can be monitored and how much of their active time is spent and on which activities or tasks.
With the help of such tools, their idle and productive hours are recorded by their supervisors which produce a productivity graph of the worker at the end. This allows for a feedback from the managers to the remote workers to address his shortcomings and also for his continuous improvement.
Dealing with distractions
To opt for the best solution for work from home for such distractions, there should be a demarcated space where no one should be allowed to disturb when the remote worker is logged into the company's dashboard. There should be a dedicated space in their house with the right infrastructure which enables the remote employees to sit at their system without causing any damage to their performance.
One of the common ways through which such demarcation can be done is by using ergonomic furniture while working from home. Setting up ergonomic furniture to create an office space in the house not only benefits the remote worker's health which gets affected because of sitting for longer durations but also increases their concentration and increases their efforts towards the task.
Employee health
To ensure physical and mental well-being, remote employees can take part in social events organized by the management to catch up and connect with their team members where they can discuss their emotions because of the pandemic or some specific problems like isolation or poor motivation through virtual conferencing tools, zoom, etc.
If there is any event conducted on mental health by the company, for instance, stress-relieving techniques by yoga or meditation, remote workers can join them virtually through video conferencing tools as it will help them in navigating their stress and also improving their physical health simultaneously.
Conclusion
In today's times, it can be seen that work from home is being adopted by many companies. It definitely has some great benefits for both, the organization and the workers but it also comes with its own challenges. However, these challenges are not unsurmountable and there are ways and means to solve them effectively so that remote workers can have a better work life balance and also remain productive for their organization.