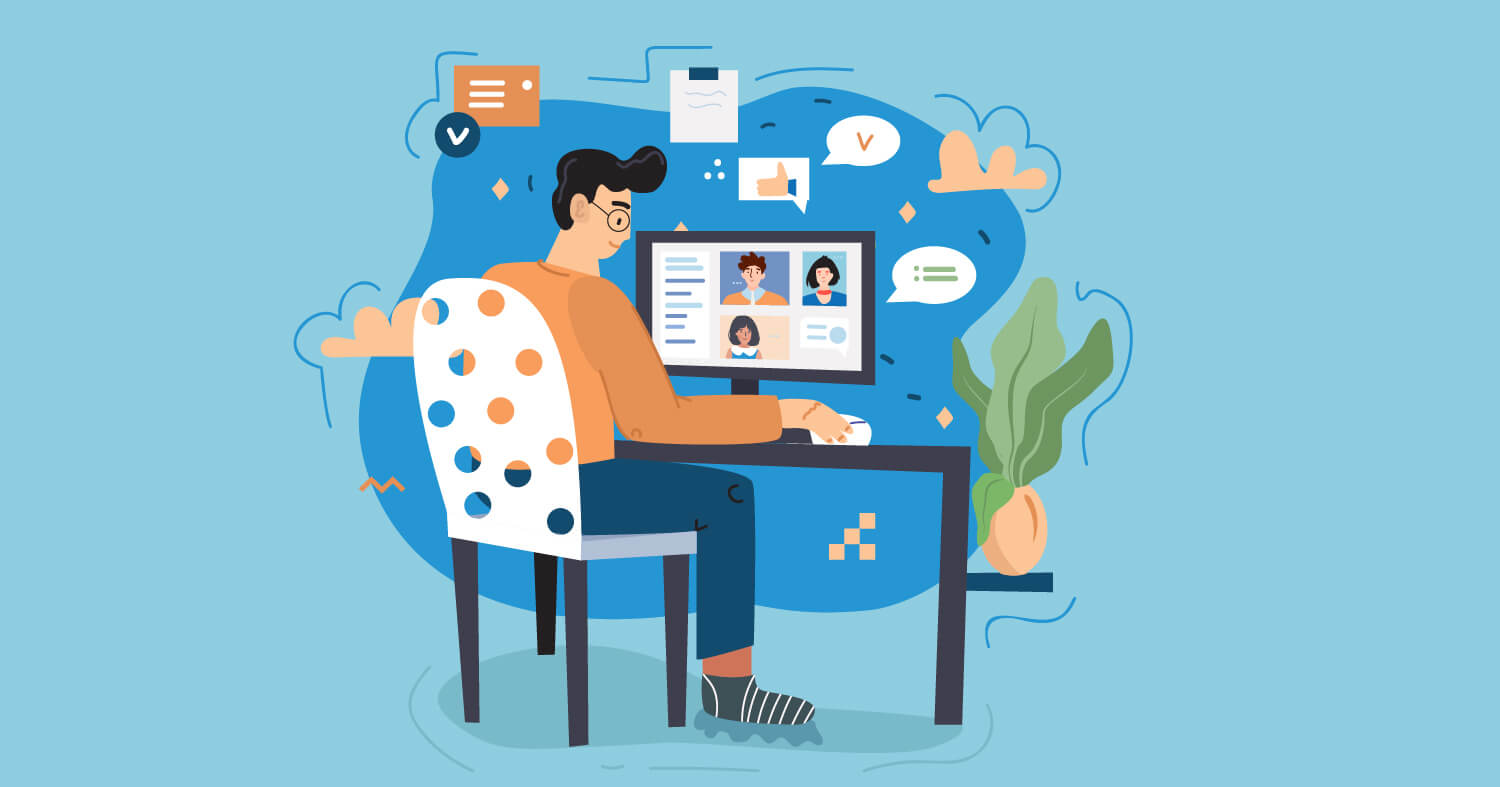 Making it work from home in the future
Posted on:

April 14, 2021

Every worker has different reactions towards their working conditions. Some are comfortable working onsite and others are more comfortable while working from a remote location. With exponential growth in Artificial Intelligence and the Internet of Things (IoT), most of the tasks can be performed remotely for which up till onsite presence was mandatory. This has led us to consider that remote work will continue to prevail for a long period.

Due to and post-pandemic, several companies have diverted most of their tasks to remote working considering its long-term benefits. The biggest cause of concern now is that some workers can work with ease in a remote location but some of them may find it difficult to work remotely as they are used to working in the office along with their fellow workers which they will be missing in a remote location. This may further affect their and the company's productivity.

To boost up their morale, HR managers can talk to them individually and address their genuine concerns and instill in them a feeling of belongingness with the organization.
Why is it challenging for organizations?
Following are some of the few challenges experienced by organizations with regards to remote working:
Time management 
Time Management is a very big causality in remote working. Here, the remote worker is now not bound by a 9.00 AM to 6.00 PM routine. They may, therefore, find it difficult to manage time at home. They may be distracted from household chores or may not be having a dedicated workspace that is away from any types of distractions. Also, now as they are working on a flexible schedule, they may find it difficult to allocate different time slots for different tasks at hand.
Supervision challenges 
When employees work from home, they have the liberty to work without any directions and supervision from their managers. It helps them to solve their problems on their own and also allows them in improving their analytical thinking abilities.
However, all the employees are not the same. Some employees need constant monitoring and supervision otherwise they can easily make wrong decisions which will affect the task and later will eventually impact the reputation of a company.
Data security challenges 
This is a common challenge for many businesses. Transforming their working mode has been a difficult decision mainly because of keeping the data secure. According to a study conducted by OpenVPN, it was revealed that more than one in three organizations have experienced a cybersecurity incident because of an unsecured remote worker, and around 90 percent of IT workers feel that remote working is not safe and remote workers are at huge risk. (Source)
Tracking performance 
Another significant problem organization faces with their remote workers is in keeping a track of their performances. As compared to onsite working where every performance of a worker is tracked and monitored by their superiors or managers, with remote workers, this is not possible. The organizations have no idea whether their remote workers are working meticulously during their working hours or not.
Employee feedback
As remote workers are beyond the reach of the company, it becomes difficult for the manager to evaluate their team members either for promotions or increments and for their continuous development. The constant supervision they sued to get while working onsite is lacking while working from home which in turn affects their dedication put into the tasks.
How can organizations tackle these challenges?
Following are some of the solutions with regards to the remote workforce:
Well defined HR policies for remote workers
The need of the hour for the companies during this time is to delegate most of their activities to remote working as it is a win-win for both the companies and employees. But, it is very different for HR managers to manage remote workers as it is against managing the onsite workforce.
To effectively manage remote employees, companies should have a well-defined HR policy that should be clear and without any ambiguity and remote workers should be aware of it. Such HR policies should not only contain the standing instructions and code of conduct but should also mention what it expects from remote workers during discharge of their duties in remote locations.
There should be transparency in HR policies and HR managers should ensure that employees have read them and understood them. Such HR policies should also describe the limits of infringement on the worker's privacy which seems necessary for their effective working.
Dealing with data security challenges 
With the increasing growth in science and technology, there is a huge demand for artificial intelligence and machine learning by various types of industries. To prevent any data leakage from remote workers, there is various artificial intelligence software that can be used to detect malware and ransomware through its complex algorithms in identifying potential cyber threats.
There is various AI software that many companies have started using which helps them in keeping a track of their remote workers by ensuring data safety. Such software contains tools like website whitelisting which allows the user to only use authorized websites which can stop every possibility of data hack or leakage in a work from home setting.
Employee well-being 
It happens sometimes where the remote workers who work from different locations might feel like they are not completely accepted in the organization's culture. They report feelings like loneliness, isolation, stress, anxiety which are not only bad for the employee but also for the company productivity.
To tackle this, the top management can schedule various informal sessions for all the employees to catch up with each other and get to know each other. Here, they can connect, and discuss their emotions and experiences through virtual conferencing platforms.
The management can also conduct some workshops or events on mental health where they can provide some stress-relieving techniques. They can conduct live sessions to help the remote employees in controlling their stress and also improving their physical well-being simultaneously.
Employee feedback 
To tackle this, there is various evaluation software available like taking screenshots of the remote user screen and keeping a check in their working.
Then, there is another tool like admin barge-in, when a remote worker is handling a client and finding it difficult to deal with them. Their admin will barge in and help their remote workers. With the help of such tools, the manager can evaluate the remote worker and provide them feedback on their performance. They can also discuss if there are any areas of improvement which helps the worker to be more productive during their working hours.
Tracking remote employee performance
With the help of artificial intelligence software which consists of various employee performance monitoring tools, it becomes easy for organizations to monitor their remote workers' activity. They can track their workflow and productivity. Tools like user status which monitors every employee's online and away status during their working hours identify which employee is working and which employee is on break.
With the help of regular screen capture, a worker's screen can be captured at any moment by the supervisor which allows them to get an insight into a worker's engagement at their work and on which tasks they spend most of their time. Such images can be later analyzed to identify the remote workforce behavior and to identify if there is any unusual behavior detected.
With the help of such tools, it becomes easy for organizations to monitor and keep a tab on each activity that their remote workforce is using or devoting time to during their working hours.
Conclusion
As work from home has come to stay for a very long period, it is necessary for the company management to have designed effective and transparent policies for the remote workers so that their productivity remains on a high level.
The future of work from home is very bright as in the present scenario, work from home is the best option till any other better option comes into place.