Employee monitoring and productivity platform For hospitality industry
According to McKinsey, over 20% of the workforce could work a week remotely as effectively as possible if working from the office.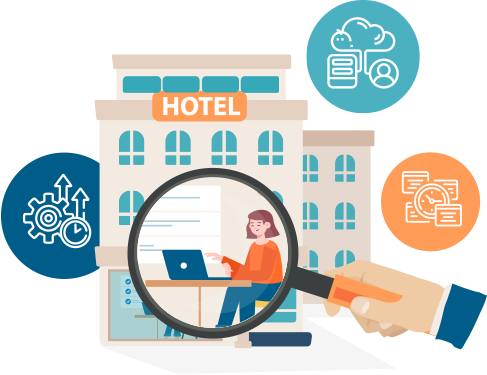 Hybrid work has become a norm today for many industries. Thanks to the innovation and collaboration tools, a people-centric sector like hospitality today is experiencing profits even after getting hit by COVID-19. Through cloud-based hybrid work solutions, leaders can manage hotel processes and operations at any time, from anywhere.
Hospitality requires careful attention to the service details
Deadline Adherence
Adhering to deadlines and finishing predictable tasks on time is the first step to win customers; call for solutions that eliminate slow workflow.
Authorization Access
Teams in a hybrid work model need to have limited access to the data reserved for the management over their respective areas.
Time-off Compliance
Hospitality services cannot afford to play with quality or overpay anyone with fewer work hours, identifying the need for time-tracking.
Conflict Avoidance
Keeping scattered crew members' schedules in the system can bring conflicts regarding tasks, leading to poor morale and staffing issues.
Security Challenges
Crucial customer data and privacy is sometimes vulnerable and is at risk of misuse by falling into the wrong hands; need proactive safeguarding.
Employee Scheduling
Scheduling employees' tasks and hours can easily occupy the manager's time, demanding an advanced and efficient solution.
Absence Management
Delay in work because of a worker falling ill or any login negligence needs a system that notifies all the available workers to help fulfil the vacant space.
Electronic records and centralized management
Recent developments in AI technologies are gaining popularity in service delivery, and COVID-19 has precipitated its use across hospitality management needs within a fraction of time while keeping costs down. Hoteliers, already bearing the repercussions post-pandemic, can streamline day-to-day operations that impact guest experiences in a simplified way.
Safety Adherence
Showcase visible precautionary and welcoming efforts as per safety protocols to nurture your guest experience with efficient employee training.
Activity Reporting
Get insights into high-level projects, employee numbers, and locations to improve operations and keep your clients happy.
Digital Timesheet
Keep a relevant representation of your crew timesheets to manage better without wasting time on paper records to prevent unwanted errors.
Crew Scheduling
Easily create schedules, get proactive, automated alerts on who missed their daily performance, and start late or abandoned work early.
Mobile Tracking
Go easy on track with having a quick peep into the task flow of your crew through mobile and get updates on login hours, location, and more.
Labor Cost Compliance
Track working hours of the hospitality crew paid by the limited time they work for and give rise to profitability with better compliance.
Prevent Wage-theft
Never let employees go unsupervised or give unnecessary wages without checking on productivity time, log-outs, and break regulations.
Why choose Leapmax?
Simplify remote work across your company with our solution's powerful capabilities and ensure the productivity, security, and efficient management of a remote workforce from a single AI-enabled integrated platform.
Employee Productivity
Time tracking
Mobile & Desktop Screenshots
Video Conferencing
Apps & Website Usage Tracking
Team Collaboration
Learning & Knowledge Management Tools
Mobile App for Agents & Supervisors
Keep your customers
close.

Keep your employees

closer.

Let's Talk
Connecting your business in a remote world
At Leapmax, we design, develop, and deliver intelligent, secure, and scalable enterprise-level remote workforce management solutions for major industries.
Learn what's working and why
Discover new remote work insights and employee productivity opportunities with Leapmax as your trusted work from home solution partner.
Leap forward with Leapmax
Remote workforce management has never been this easy.
Give Me A Demo
You'll never want to go back
once you Leap
Get a demo