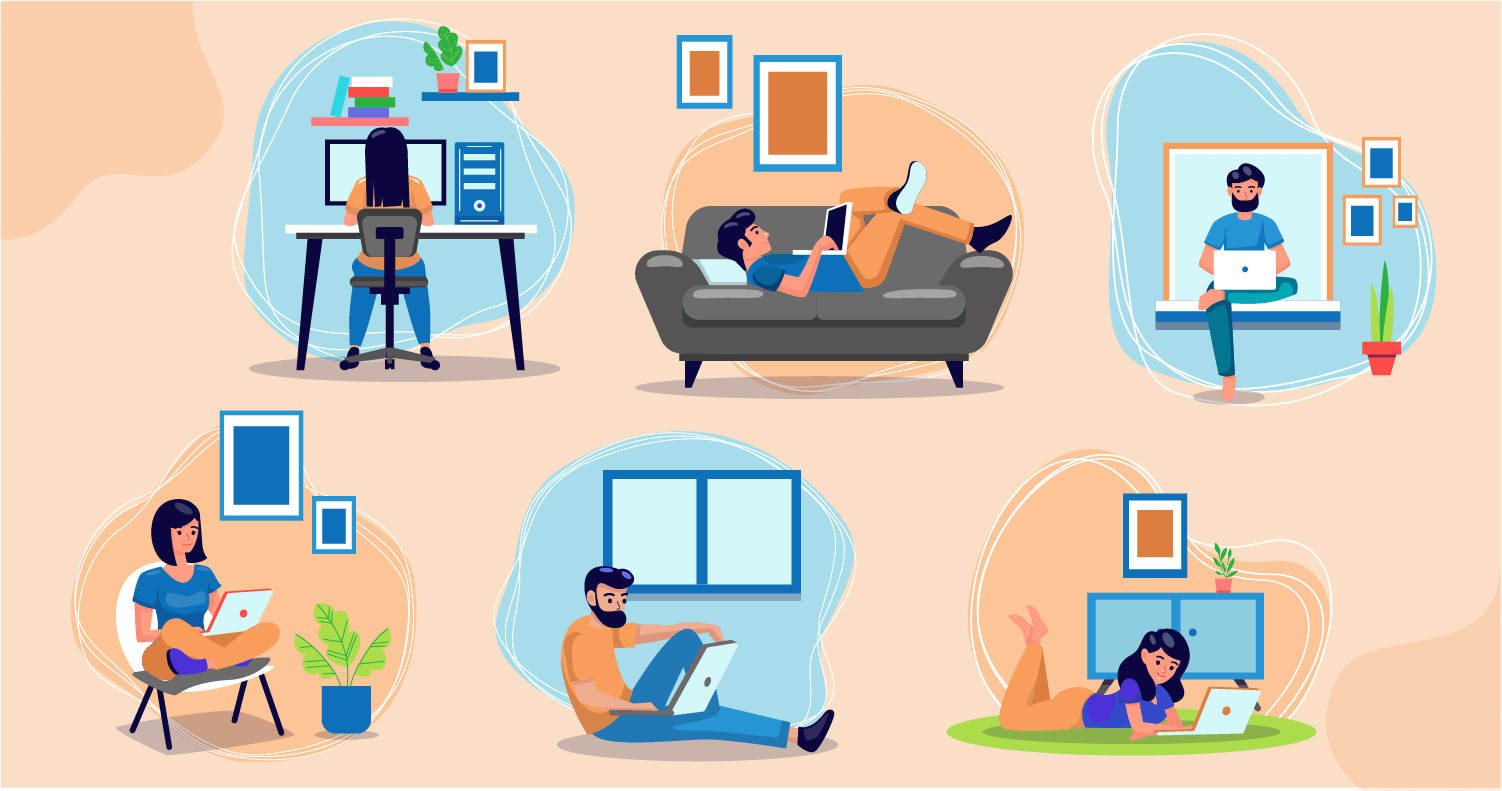 Future of work from home: Hybrid working solution & safety protocols
Posted on:

April 28, 2021

The Covid-19 pandemic was the first human tragedy to push companies to realign and refocus on their workflow strategies when this sudden makeshift occurred. Many businesses did not know how to cope up while taking care of their clients and employees. One year down, every individual has faced their consequences, whether it was a financial loss, fitness issues, businesses shutting off, and so on. Above all, when the economy was collapsing, employers panicked about what could go wrong if they migrate all employees to remote work and do not get the desired results; they would bear unwanted losses. Putting everything at stake, companies still took a step forward to try but with nothing in hand like new technologies and workflow strategies at their disposal. The result? People experienced unprecedented levels of disruption in their houses and at work levels because of the impromptu transition and improper planning.
Hybrid working: The next normal
Though the companies did a solid job in the first phase regarding the safety and stability of the employees, those needs are evolving; calling for a more authentic approach and tailored work from home solutions in the next phase of the future of work from home. They adapt the hybrid workforce model that combines remote work and office work collaboratively and effectively. Hybrid working allows employees to fit work-life around home lifestyle rather than sticking to fixed logged hours in the office. It is like blending the in-office work with the work from home where teams can work well on time without hassle irrespective of their geographies. Hybrid working is not confined to one structure as it can look different in various businesses. However, it typically follows the onsite presence of needed staff and right reasons while others can come alternatively. Sometimes, it fosters critical in-person meetings to track who is on what page less stress and commuting.
The second trial: Future of work from home
The future of working from home has transformed because of the pandemic scenario. Every company ensures that employee well-being is at the forefront while not letting their employees suffer because of the workload. The second phase of the pandemic provides an opportunity for the companies to reiterate strategies that benefit employee experiences with individual differences such as mindsets and skills, lifestyle, and other vital factors. With the rapidly changing circumstances comes the ever-evolving new technologies with an advanced analytics-based approach. Today, enterprises worldwide understand how important it is to keep things in balance and make employees feel connected to their workplace. Therefore, they are trying their hands on ultra-modern technology like employee monitoring software that validates the success of work from home. Through such technologies, leaders can address employee experience more dynamically.
Businesses have struggled through significant disaster consequences since the pandemic started. When this global crisis is still going on, companies can make a well-developed strategy to keep themselves going and achieve maximum outcomes and growth in their respective areas. All they need is a well-defined approach towards a hybrid workforce model and technology like remote collaboration tools.
What do employees want?
Your organization's employees and their needs are always varied. Like so many companies now are navigating towards a return to in-office work, employees would have different perspectives to tell. For instance, your team members might confront different situations like having no childcare help at home or managing their kids' online school on their own. Some have significant health issues that might block them from returning to in-person work; others are interested in getting out of the house to sit in their favorite cubicles. As a leader, your organization needs to understand every perspective served there and treat everyone on the table equally. To keep treating everyone fairly, you need to have some solid protocols to ensure that remote employees are in sync with those working in an office. However, this also raises many questions like how they will communicate effectively if they do not meet each other frequently? Will they not care about their safety measures and go to work in the office unnecessarily? How will your organization remain flexible if the plans keep on changing? How will you keep everyone on the same page while taking care of everyone's mental health?
Many questions will need an answer if you do not work according to plan. Your organization needs to reflect deeply on which employees want what type of conditions to work in. There, hybrid working will help you have clarity in things. With work from home solutions like employee monitoring software, you need not worry about data security, employee productivity, efficient remote collaboration, and communication between the team members.
Hybrid working solution and safety protocols
To run business continuity efficiently, business leaders must make operational decisions with vital duties and functions. For example, in a hybrid working environment, when an employee is too busy or sick to work for a longer time, there should be alternatives to keep things in adherence. It assures the employee that the company cares for him and has given him time to recover in peace. In such a situation, empathy is the crucial aspect that business leaders can perform to reduce anxiety and stress in the workplace. Because of today's challenging times, discouraging negative behavior is essential, and not letting anyone degrading other's morale should be the key to boosting collaboration among team members. Implementing new beliefs with a positive outlook for every employee's safety (mentally and physically) in the future of work can be seen as:
1) Keeping strict privacy of those seeking medical help or are quarantined during COVD-19 to avoid fear among peers and not let the employee morale down.
2) They take utmost care of employees' well-being while letting them share their viewpoints and ideas that make them feel connected to their team.
3) Any restriction to sharing wrong information about the virus or imposing disbeliefs on personal experiences may not be a good idea.
4) Speaking out against the negative behavior of others and reporting it immediately after the pressure reach its peak to keep work stress in control.
5) Collaboration and team-building activities can foster an optimistic attitude in the team members working away from remote collaboration tools.
6) They monitor employees' activities to track their productive work time and progress on their tasks assigned with employee monitoring software.
7) Securing crucial organizational data oscillating between remote work employees and in-office ones with data protection software to deter any malicious activities done by cyber thieves.
Summing Up
The pandemic gave the businesses and even start-ups the hope to conquer remote work battles and be innovative. As it seems, the future of working from home is crucial to adapt by the enterprises. Organizational leaders might have delayed choosing the hybrid work model as a better substitute, but it is never late. It is time to foresee the better aspect of work from home and implement a tactic approach and work from solutions to streamline workflow as businesses demand and employees want!