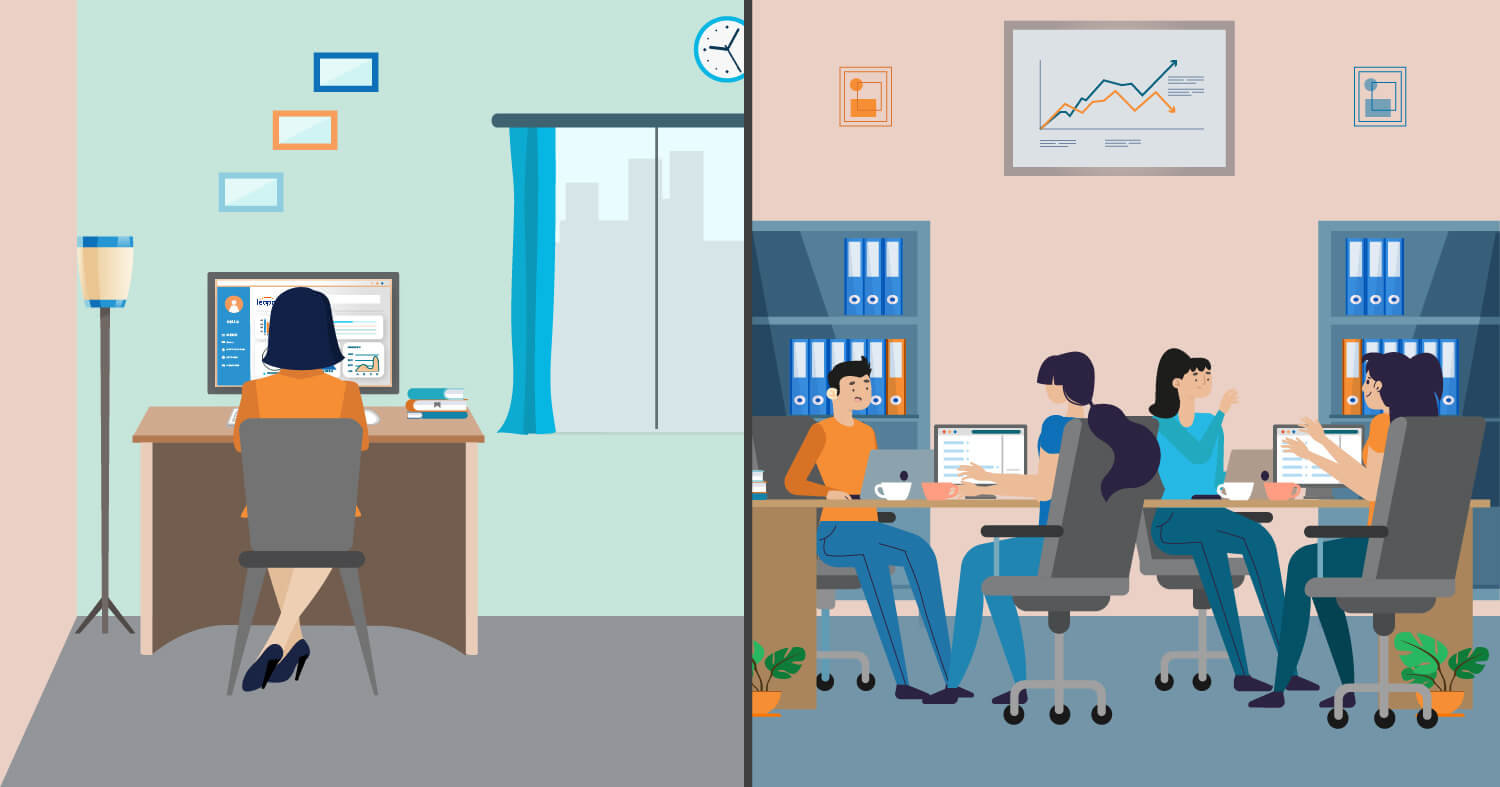 Managing remote teams: How to be ready for 2021 with a blend of WFH & office working?
Posted on:

February 12, 2021

In 2021, the remote working methodology will become established as the norm. Managers will have to find ways for managing remote teams. Long-distance bonding and team-building activities will become commonplace. Working from the office and working at the office will not seem different. More remote workers are saving money working from home. As per Coso Cloud, more than 75% of remote working employees were able to save money with remote working.

Homes will become offices. Tools for collaboration, remote management, and monitoring will be needed even more. Remote hiring, management, induction, transition, and knowledge sharing will become a business reality. So the time has come to be ready for the next wave of transition. A different one – where working remotely will be as effective as working together.
What is a remote team?
A remote team is a group of people working on a project and located at different locations. There are no restrictions on the geographical areas that remote team members can work from. Team members can be working from different cities, different continents, and different time zones.
What are the challenges of managing remote teams?
As per Harvard Business Review, more than 80% of remote workers feel more connected if they have the right software tools to manage their remote work. As remote work becomes increasingly common, managers and companies have to equip themselves with the right tools, techniques, and methodologies to effectively marshal remote workers. The following are some challenges of managing remote teams.
No proper communication management
Some organizations do not have the right tools to effectively manage their communication. Some organizations do have tools for managing remote teams. Management of the communication of remote workers is very critical. Because team members are sitting in different geographies, there could be pauses in communication. There could be misunderstandings too. Lack of coordination can delay projects. All of this can cause a breakdown of the efficiency of the project because it is a sum of individual contributions from team members.
Hard to track accountability
Ownership and accountability in a project improve the chances of a project's success. Without this, a project could be loosely managed. The control center of the project may be indefinitely transferred to various people, who could be related or unrelated to the program. Without accountability management, complacency could set it. Blame games and finger-pointing could set it. Proper order, regulation, and transparency could go away.
The intersection of people's personal versus work times
Although working from home creates opportunities for work-life balance, sometimes it does not in the case of geographically distributed team members. Meetings organized in the team may conflict with someone's personal time. There could be situations when team members may be working very late right into the wee hours of the morning only because their counterparts are awake elsewhere. In a remote working situation, such challenges may arise. So there is a need to manage this through the use of technology and an intelligent work scheduling mechanism.
Difficult to track employee performance
For projects that don't use tracking systems, it is difficult to track the performance of an employee. It is also difficult to monitor the activities of the employee. Although the employee is expected to work every day, there could be instances where an employee might not be working. Rather, working at random. Work output may not indicate this, but slowly the chain of bad habits starts to build. Lack of discipline slowly sets in. Without warning, the team member could be producing mediocre results.
Lack of cohesion
The disconnect is the biggest worry for managers who don't have tools for managing remote teams. Lack of team bonding could lead to many associated problems. Team members not communicating with each other effectively can lead to confusion. It could lead to missed deadlines, delayed projects, an increase in project costs, and many other side-effects. More projects are effectively delivered or not delivered depending on the level of collaboration between team members. In a distributed team setup, managers have to find ways to increase the cohesiveness of their team.
Burnout
What may seemingly be impossible, is a fact when working from home. Due to a non-rigid working environment, employees might end up working more hours than required. When working from a physical location, an employee could time their work schedule so that they finish-up fast and head back home. But in a work from home situation, their pressure or the trigger to go back home fast after finishing work is non-existent. This could make the employee take longer than usual to finish a task. Eventually, the pile-up of work hours may make an employee work more hours than required. This eventually leads to burnout.
What are the best practices for remote team management?
Set boundaries
A simple act of messaging someone during their personal hours could disturb their privacy leave alone be treated as an act of intrusion. Many people do not like their personal time to be intruded upon. But in a remote working environment, with teams geographically dispersed, there could be a lack of knowledge of personal time versus official time. This strong demarcation of office hours and non-office hours does not exist in a remote work setup, unlike in a physical location where all employees are collocated.
Managers can set boundaries so that team members are cognizant of each other's work time and personal time. Before communicating with a team member, at least there will be an intimation or a request for the same. Such a team practice will positively influence the behavior of the team. It will contribute to building positive and friendly relationships. There will be more respect and bonding between peers and colleagues.
Understanding differences
Cultural differences should be embraced and not discouraged. Managers have their task cut out to assimilate team members as a collective whole using tools for managing remote teams, regardless of cultural differences. Managers have to train inexperienced remote workers on subtle cultural aspects. Ignoring these cultural aspects can have disastrous consequences. Not so much to the team member. But to the general trust and faith in the project. Because cultural differences can create serious misunderstandings.
That's why online team building activities are important. Without such team building sessions, most team members feel alienated. When there is no proper engagement, team members could become downcast and depressed. They may feel like being outside the fence. There could be fear and worry that might crop up in their mind. Managers can keep their teammates engaged by using a technology-based collaboration platform. The mere exchange of emails would not suffice.
Setting expectations about remote working protocols
It is on the managers to set expectations for various aspects of remote working. Although there is a degree of flexibility when working from home, managers can encourage remote workers to work only the required number of hours. Expectations can also be set regarding the available and non-available hours. During the former hours, employees are required to be available to attend to customer support queries, answer messages, or even phone calls.
Remote working protocols also extend to cutting down on ad hoc meetings. Keeping all stakeholders well informed about meetings in advance is a best practice. Sudden meetings in the middle of nowhere may create a working pattern that could become the norm. Soon everyone could be doing the same. So timely meetings and scheduled meetings should be made on priority. It is also important to promptly respond to emails. Not replying to emails adds to the uncertainty. Even when working with official premises, not responding to emails is considered a bad official ethic. So when working remotely, not acting on emails is considered a no-go.
Brushing up on online communication skills
It is ok to not have a perfect written language. But it is not ok to be culturally insensitive when it comes to communicating over mediums such as chat messengers or even email. That's why managers who are managing remote workers are tasked to teach their team members good communication etiquette. It includes and is not restricted to offering salutations and pleasantries over email, responding to emails, setting out of the office messages, and many such good organizational behaviors.
Blending working from home with working from the office
In some cases, employees would be required to work from within official premises. As an example, a person administering a data center would be required to be physically present to administer the apparatuses. In such cases, depending on the situation, employees could be asked to combine working from home with working from the office.
Even post-pandemic, employees can be encouraged to adopt a work-from-home and work-from-office pattern. This pattern ensures that monotony does not set in. Sometimes traveling to the office can be fun. Sometimes working from home can be relaxing. Combining both is a very good way to keep the morale of an employee high. There is no mundaneness or boredom in the routine. A change of routine is always welcome.
Why use remote collaboration tools for effectively managing remote employees?
Instead of relying on one's sense of perception and judgment, which may go wrong, managers can use remote working tools to manage team members.
A remote monitoring tool manages employees based on data
Instead of hearsay, perceptions, and rumors, a remote monitoring tool manages employees based on data. This is a more transparent way of managing remote workers. It builds a culture of trust, respect, and accountability. Employees are equally encouraged to measure their progress. They gain insights into how well they have fared. Productivity reports provide the data on the same. Managers can also make business-critical decisions based on data. From the data, actionable intelligence can be generated. The intelligence derived can be further leveraged to drive operational efficiency and increase employee performance levels.
Help detect data and security breaches
In a distributed working environment, it is difficult to control what type of information is going outside the organization. Employees are required to sign a non-disclosure agreement. But they may unknowingly be engaging in dangerous behaviors that could be compromising an organization's security setup. Remote management tools help monitor such activities. Configurations, permissions, authorizations can control access to data.
Prevent employee burnout
Most organizations are finding innovative ways to prevent employee burnout and managing remote workers. This is a universal problem affecting teams and programs that do not have remote monitoring tools. There is no proper way to keep a tab on an employee over-exerting themselves. During a pandemic situation, due to the uncertainty, many employees could over-exert themselves. It could be an impulsive reaction to uncertainty that makes them work more than usual. Or it could be due to irregular work timings that may disorient their focus on goals and day-to-day results.
Resolve operational workflow inefficiencies
Remote worker management tools help the management make decisions based on data. It is accepted worldwide that data can solely be used to drive business decisions. Unlike in traditional management, where data was treated as mere numbers, modern-day businesses use data extensively. Data is not restricted to numbers. It could be in the form of ordinal, categorical, time-series, and empirical data.
Using remote worker tools, and getting statistics out of the tools, helps businesses make critical decisions that determine the outcomes of the business in the near and long term. Data science and statistical analysis integrated into these tools can be utilized to produce management reports. After generating the required reports, a business can decide on its future course of action for managing remote teams.
Remote collaboration
It is said that coffee vending machine conversations are as important as boardroom conversations. Even the little chitchats and banter that employees have over informal communication mediums can go a long way in fostering healthy working relationships. Ultimately, an organization as a whole move based on the social fabric within. If the working relationships between employees are smooth, then projects and programs can expect successful completion. The business can expect better outcomes in the form of products and services.
Conclusion
Remote collaboration and remote worker tools are becoming an important aspect of day to day business operations. As more businesses are adopting remote worker policies and procedures, the need for such a tool is growing and relevant. That's why Fortune 500 companies are choosing Leapmax suite of workforce management, productivity, and monitoring solutions to efficiently transform their businesses. Leapmax has been the reason why many organizations managing remote teams reduced their dependencies on physical offices.