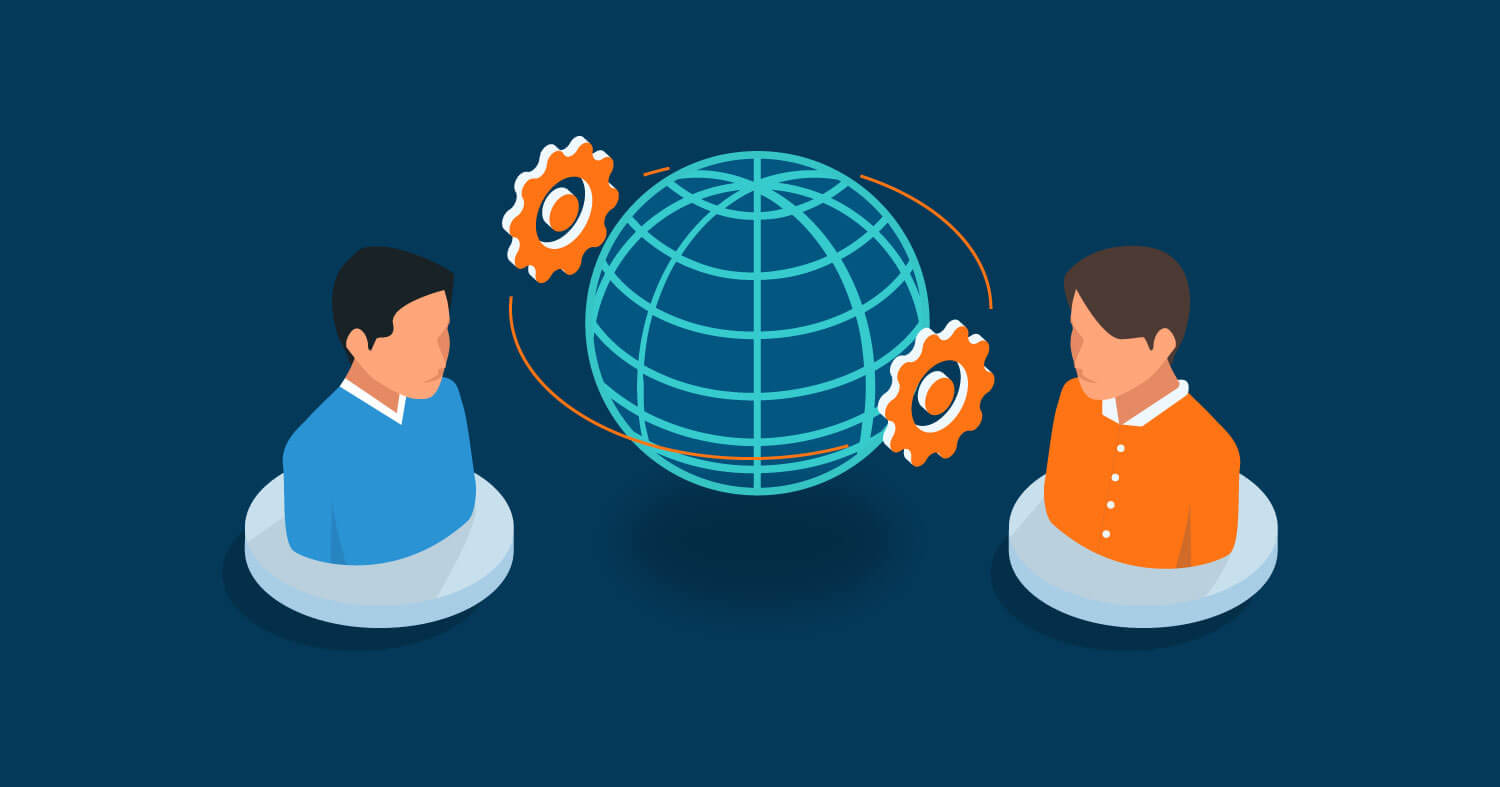 Co-browsing: All you need to know to train & monitor employees
Posted on:

February 9, 2021

For any organization, it is significant to possess an extensive perception of the behavior of customers to grow customer loyalty and to improve the business. It is all about customer engagement and keeping a tab on the journey and interactions with the consumer that happen across multiple channels.

Co-browsing is a perfect solution that provides real-time assistance and has changed the way businesses communicate. It is one of the high-end tools which inculcate a better customer experience. Let us read how organizations can empower and train their employees in their work on co-browsing and reiterate how it can benefit the business.
What is co-browsing?
Co-browsing or collaborative browsing is a real-time solution that enables customers to support employees to collaborate and integrate with a customer's browser. The employee can view the consumer's browser to identify the issue and navigate over the customer's screen. This can help them provide customer support assistance and guide the user interactively for sales. This leads to avoiding a lengthy discussion while the employees have access to navigate the customer's page just to identify the problem and provide a resolution.
Co-browsing gives the consumers an in-person experience during the entire process. It empowers your employees to consult customers' screens in real-time and support them through complex forms, demos, procedures, and transactions.
The difference between co-browsing and screen sharing
Screen sharing applications have been prevalent in the consumer market for quite some time but because of its downsides, the development of co-browsing took place which is a better alternative.
Co-browsing solutions let the employee and the customer be on the same page and it helps the agents fix challenges that are faced by the customers.
Screen sharing does the same but the entire customer experience is hampered as both parties in screen sharing need to install third-party software which can be tedious for the customer. Screen sharing is also less secure as compared to co-browsing as there is no way to mask sensitive data or restrict access.
Features of co-browsing
Co-browsing is a solution for many functions that customers could have difficulty in like sales, customer support, or website engagement.
Let us find out the features and benefits of co-browsing why it is more effective and preferred:
No downloads or installations
Co-browsing support provides instant in-context communication with the consumer. It requires no installations or plugins and delivers a better contextual experience to the customers.
Switching pages
Co-browsing helps the agents swap and shift through the webpages of the customer seamlessly.
Highlighter tools
The tools allow the employees to point /scroll or highlight relevant areas to guide customers in the right direction.
Mobile SDK
With the help of mobile SDKs, the employees can provide messaging assistance to in-app consumers. It makes co-browsing a hassle-free process without getting into unnecessary downloads.
Data masking
Co-browsing masks specific web pages that are crucial for the customers like credit or debit card information. It helps the employees to deny them access to customer's sensitive information and thus it becomes an extremely secure process.
Easy usability
It is a simple process for both the employee and the consumer to integrate Co-browsing. It can be used as seen sharing, video chat, live chat, or through the phone to resolve the customer issue faster.
Data security
It assures high-level security to the customers and the conversations that take place between the employees and the consumers through video chats, and other data-sharing procedures.
Benefits of co-browsing to improve businesses and customer experience
Customer service is way ahead just answering customer's calls. Technology has upgraded and various co-browsing software is in place available in the market to enable improved communications and solutions for customers. Co-browsing is a beneficial technique that makes the customers feel that they are in the same room with an employee who will help them resolve technical issues instantly without any hassles on a real-time basis.
Here are some co-browsing benefits:
Co-browsing protects your client's private information
Co-browsing lets the employees take control over the customer's computer system but this may hamper the privacy of the consumer and their sensitive data could be in danger. Co-browsing considers the same and enables masking or restricting the employee to access other tabs that contain important data of the customer.
Unlike screen sharing, co-browsing doesn't require third party downloads
The customers and employees just need to work on the browser and they don't need to install any other software to enable the smooth running of co-browsing. The employees face no challenge in interacting with the consumer and vice versa.
Co-browsing enhances customer loyalty and satisfaction
It is imperative to meet your customer's expectations and organizations make maximum use of the opportunity to provide the best service to their consumers. While the consumer is co-browsing with the company's employees they have full confidence in their work and thus give them access to their screens. This enhances their trust, loyalty, and experience as they are comfortable knowing that the employees are readily available for assistance. Employees can see clearly what the customers are doing and this builds trust among the consumers as they know the agents are readily available for support and assistance.
Co-browsing increases support speed
Co-browsing enhances the speed and ability at which employees respond to their questions as the problems are shared on a real-time basis and instant resolutions are provided without wasting time on callbacks or home visits.
Reduced customer service costs
It is highly beneficial for organizations as well. It helps in reducing customer service costs as with visual engagement, employees can offer quick solutions. The number of touchpoints made by customers is greatly reduced and instant resolution is provided by employees. There is no need for system scrutiny or home visits. Hence it reduces support costs and time.
Improved team and employee efficiency
Co-browsing empowers your employees to offer faster resolution by instantly focusing on customer issues visually through the customer's screen. It is the first touchpoint itself and hence it improves key team productivity metrics.
Co-browsing allows for browsing on other tabs
While co-browsing allows the employees to go through the screen of the consumer, it doesn't hamper him from visiting other websites while in the co-browsing process.
Co-browsing works for shopping cart and e-commerce abandonment
An employee can easily assist the customers to go for online shopping or complete their purchase with the help of co-browsing wherein the agents are integrated into your e-commerce website. Many consumers drop off carts as they fear the payment process is not sure how to get it done. Thus a sales employee or a customer support representative can assist the customer with the same through co-browsing. This enables the customers to have an improved online shopping experience.
Co-browsing increases ROI
With the help of a co-browsing, customer service employees provide real-time support on web page issues and their queries get resolved instantly. This leads to a higher conversion rate and better customer experience and loyalty. It boosts the ROI of organizations and customers as there are no extra costs attached.
What are the most common use cases of co-browsing?
Co-browsing is an advanced tool that delivers a virtual in-person experience and an interactive engagement with the customer. Here are some important use cases of co-browsing:
Co-browsing for customer service
It has been well established by researchers that employees and agents process visuals much quicker than written text. It is most lucrative and beneficial for them to provide visual support to engage customers and improve customer loyalty and experience than providing support through calls or text conversations. The co-browsing practice helps employees provide contextual information to customers as they are browsing your website. Co-browsing helps employees to show, rather than to tell.
Co-browsing for lead generation
The customer journey incorporates a myriad of touchpoints on multiple channels. Co-browsing helps employees to take advantage of the website of the enterprise and transform it into an interactive sales tool from a static tool.
The businesses witness a huge annual improvement and a substantial decrease in support costs. Co-browsing also helps in mitigating the sales cycle by supporting customers on a real-time basis and helps them make timely decisions.  They help consumers to navigate effectively or fill complex forms while sales conversion or website browsing.
Co-browsing for sales
A customer may face several hurdles while buying or making purchases through websites, for example while buying an insurance policy. They may be confused looking at various options and they may need assistance to do varied research on different channels, and make payments using different scenarios. In such a situation, co-browsing is the best solution. It enables employees to do video chats with customers and help them make the decision, make payments, fill forms, do better research or various products, and deliver a better experience to customers thus reducing costs of the company and the organizations as a whole.
Co-browsing by code use cases
Co-browsing using codes means to continue the issue or conversation with the same support employee from other communication channels. It is a 5-digit unique identification code. Let us understand the coding process through which co-browsing can be successfully implemented:
There are four options under co-browsing by code which are as follows:
Co-browsing by code with all options
This enables employees to provide technical support using all available channels and options like video chat, screen sharing with customers, live chat, etc.
Co-browsing by code without any options 
This empowers the employees to share the screen only with the customers and doesn't enable the agents to video chat or voice chat with them while they are in the middle of co-browsing sessions.
Co-browsing by code through the embedded tab
This option allows CTA or calls to action on the website to view the unique code.
Co-browsing by code through the chat button
On choosing this option, customers can indulge in a live chat widget with the employees by getting the co-browsing by code option.
Co-browsing for mobile apps
Businesses can enhance customer loyalty and interaction plus engagement through their technical agents and employees by integrating appropriate co-browsing software for both iOS and Android. The employees can support the in-app to customers in real-time so that they do not have to surf across to other support systems or channels. Organizations can deliver immediate support over preferred channels, even mobile apps to their customers.
How co-browsing improves team performance?
Co-working is an important aspect of the support team and makes them efficient and productive. It accentuates customer loyalty and engagement by bringing true efficiency to customer interactions with employees and technical agents. It greatly affects the top team performance metrics like:
First contact resolution (FCR) 
While the employees are visually engaged with the customers it allows them to quickly identify the issue and resolve it effectively. The result of this is providing a faster resolution in the first contact itself. It also allows employees to handle more queries and issues as they identify and resolve the problems faster.
Average resolution time (ART) 
Co-browsing makes issue resolution faster by visually acknowledging, and resolving the problem. With correct and detailed error points, the employee can deliver quick solutions. The time that the employees save can be used for other organizational work or important tasks.
Lesser touchpoints
Live assistance through video or voice conversations with the customers enables the employees to diagnose the complexity of the issue and provide a real-time basis and a quick resolution. The employees can provide the best solution at the very first touchpoint and lessen the number of attempts made in the future for the same problem.
Conclusion
Co-browsing provides great peace of mind to the customers who face challenges or issues while surfing the website. They know they have a support person available 24 by 7 for them while they are using a company's product, website, and portal. This can avoid having a plain conversation or just a chat with the employees; rather it gives them the leverage to share their screens with the employees without them having to install separate software. This helps in enhancing the ROI of the organization and reduces customer support costs as well. It's a win-win situation for both the customers and the businesses.