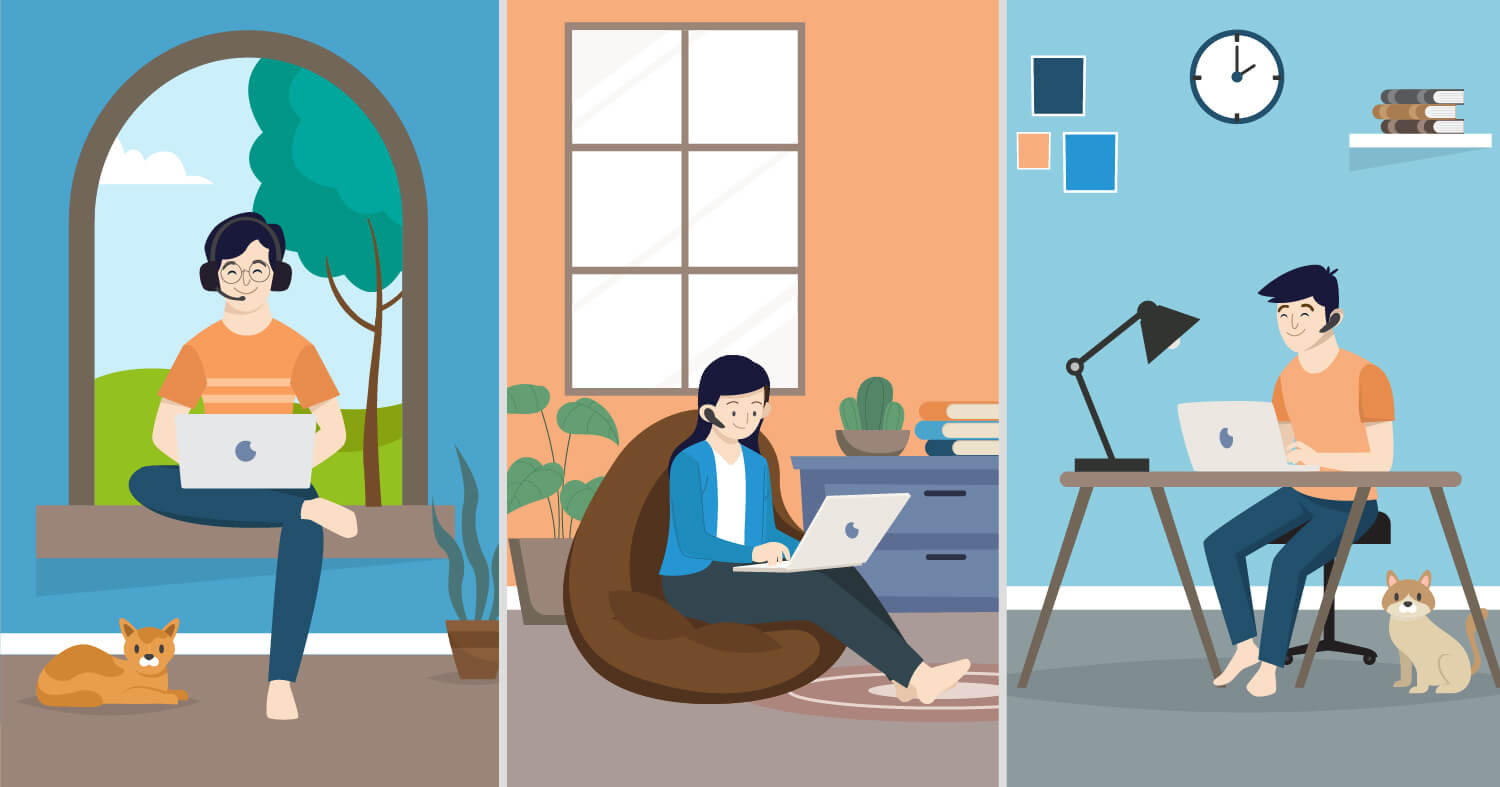 5 Simple ways to upgrade your work from home setup
Posted on:

March 23, 2021

Working from home was in practice before lockdown but it already existed in some of the industries. The pandemic has made it the new normal where the companies have now started realizing that it is not necessary to have a big setup for offices and employees have also realized that it is not necessary to daily commute to offices too far away locations.

Overall, this has made it possible for the companies to reduce their expenses on rent, electricity, transportation, providing ergonomic spaces to its employees with a better work-life balance. However, in post lockdown, some companies have adopted the hybrid system of engaging their workforce. As working in a hybrid model, some employees are working on-site and the rest are working from home. Therefore, such irregularities are creating challenges for businesses to manage their remote employees with having elevated productivity.
Challenges of WFH and tips to overcome them
There are some of the challenges associated with Work from home where companies and employees both are facing difficulties from low productivity, diminishing professional and private life, etc. A few of these challenges are discussed in detail in the following paragraphs with practical solutions to effectively handle them:
Time management
It is becoming difficult for the employees to manage their time because earlier they had to daily commute to their office and stick to set working hours. However, now as they have plenty of time, they are finding it difficult to schedule their time for office work.
Pro tip: It can be handled effectively by monitoring their login time and log out remotely and send this data for their payroll.
Distraction
During work from home, there are a lot of distractions for the employees where they might have to do some household chores or take care of their family/parents or to attend to their kids.
Pro tip: To overcome this, they should have a dedicated place in their house where there should be no disturbance and once they have logged into the company's dashboard, they should give 100% time to their work. Moreover, attendance calculating software will force the employees to comply with working hours.
Supervision
Remote employees have the liberty to work without any supervision and guidance. Although not all employees can work like that. They need constant supervision otherwise they will commit mistakes.
Pro tip: This can be taken care of through their desktop monitoring where periodic screenshots are taken by the software without their knowledge and shared with their seniors. Periodically, seniors can discuss these reports with them for analysis of their mistakes and making efforts to improve them.
Communication
Lack of communication has been responsible for a lot of business problems for the companies when coming to work from home setup. It is leading to a lack of swiftness in decision making which puts a stopper to the management to initiate timely actions.
Pro tip: To take care of this issue, there should be a use of communication software where employees can communicate through audio and video meetings with their fellow beings and their seniors easily and be able to make strategic decisions.
5 Simple ways to upgrade your work from home setup
Change is constant and with this, our work culture will also keep on changing. Now that work from home is being widely accepted by employers and employees, it is necessary to have the right infrastructure at home which enables employees to sit at their system without causing any damage to their performance. Some of the ways through which employees can upgrade their work from home setup are mentioned below –
Virtual Device Infrastructure (VDI):
Here, employees work in a virtual environment for additional data safety. It's a virtual environment that is created by the company in a virtual machine with its own operating system. It's a shared desktop where access is granted through multiple authentications and the output device can be a laptop system. Multiple employees can work on this virtual platform. The added safety is concerning the prevention of loss of data from the agent's machine. The backup is also created by default and saved in the main server.
Virtual Private Network (VPN):
Virtual Private Network is software that conceals a person's identity when they are surfing the internet because here, every activity is encrypted. As a result, not even the internet service provider can track the IP address. There are many VPNs available in the market with different degrees of their effectiveness
Communication tools:
To facilitate seamless communication within the remote workers, there are various internal communication channels available to the employees where they can share vital information, send files, write emails or can even chat with their colleagues and supervisors. Such tools keep them updated where they can access the company's homepage for the latest information, for example, company news, updated KPIs, etc. Such communication tools aim to bring all the workers in sync with the overall company policies, vision, guidelines and also to be well informed as to what is happening in the organization.
Admin barge-in:
Admin barge-in is used for monitoring the remote workforce. There are instances when the agent is negotiating with a skeptical customer and finding it difficult to get through, then their superior can intervene to help them out. This not only improves operational productivity but also instills confidence in the remote employee.
Internet connectivity Checker:
Admins can check the speed of the internet of the end-users by using this tool. If the internet speed of any of the agent's devices is low, it will immediately raise an alert to supervisors. Then they can inform the user and have it fixed. The goal of the Internet Connectivity Checker tool is to ensure the employee's complete presence and participation during working hours so that they do not miss out on anything due to network issues.
Takeaways
Work from home will continue to stay for a very long period and challenges will also be there. With the advancement of technology, businesses will find new ways to tackle those challenges and should constantly endeavor to ensure profit and business continuity in a rapidly changing working environment.